Russian figure skater Kamila Valieva is the definition of an Olympic frontrunner. The young athlete already made history at the 2022 Beijing Winter Olympics by becoming the first woman to land a quad at the Games after completing two clean jumps during the figure skating team event. The spotlight is shining strongly on her now, particularly with the women's short program coming up later this week, but the team event she helped win is now under further examination.
Tuesday night was supposed to mark a triumphant moment for the Olympic figure skating team event winners (with Kamila's "ROC" team in first, Team USA in second, and Team Japan in third), but the medal ceremony was delayed with little explanation. USA Today's Christine Brennan reports that a positive drug test from a Russian gold medalist is at fault. (The six Russian athletes competing on the ROC team are men's skater Mark Kondratiuk, pairs team Anastasia Mishina and Aleksandr Galliamov, ice dancers Victoria Sinitsina and Nikita Katsalapov, and, of course, Kamila.)
It's unclear who tested positive or how this potential doping scandal will impact the ROC team's gold or the individual athletes' futures at the 2022 Games. Until we get word of what's going on and what it means for the individual events, here's what you should know about Kamila, her Olympics experience thus far, the records she holds, and her famous quads.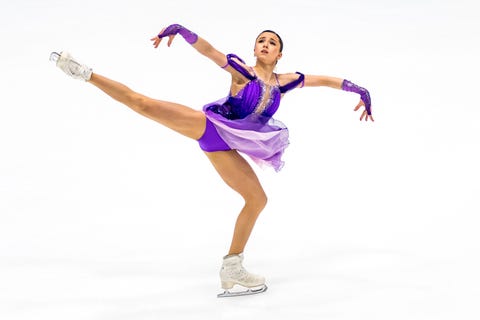 Kamila made history by landing two quads at 2022 Beijing Winter Olympics
While Kamila is not the first to attempt and land a quad (skating history buffs know to look to Surya Bonaly, who was the first to attempt it in early '90s, and Miki Ando, who was the first to land a fully rotated quad in competition in 2002), Kamila has the honor of being the first woman to land a quad jump successfully at the Olympic Games. And she landed not one, but two!
Here's a video of the moment Kamila landed her first quad:
HISTORY MADE!
15-year-old Kamila Valiyeva is the first woman to successfully land a quad at the #WinterOlympics. pic.twitter.com/rfXzOM09lH
She's the favorite to win women's figure skating Olympic gold this year
Kamila will attempt three quads in her free program later this week (she landed two out of the three during the team event). Given that she's been able to land quads somewhat consistently in competition compared to her competitors, she's a favorite to medal in the women's figure skating competition alongside her ROC teammates Anna Shcherbakova and Alexandra Trusova.
She shares a coach with her teammates and the 2018 PyeongChang Russian athletes
Kamila Valieva, Anna Shcherbakova, and Alexandra Trusova all share the same coach in Eteri Tutberidze.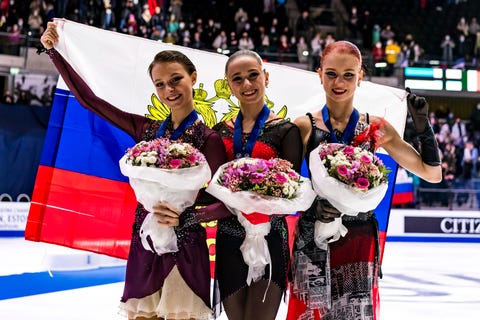 Eteri also coached 2018 Olympians Alina Zagitova and Yevgenia Medvedeva, who came in first and second respectively.
Kamila's got the CUTEST dog too
Everyone meet Lyova!
https://www.instagram.com/p/CBnhqLCIQ6Q/?utm_source=ig_embed&utm_campaign=loading
A post shared by Kamila Valieva (@kamilavalieva26)
https://www.instagram.com/p/CXLgIFjI844/?utm_source=ig_embed&utm_campaign=loading
A post shared by Kamila Valieva (@kamilavalieva26)
His name roughly translates to "Leo," and he was a gift from Kamila's mom after the skater won the 2019 Junior Grand Prix Final in France.
She only just qualified to compete at the senior level
Kamila is 15 years old and therefore only qualified to compete at the senior level during the 2021-2022 season, just in time for Beijing.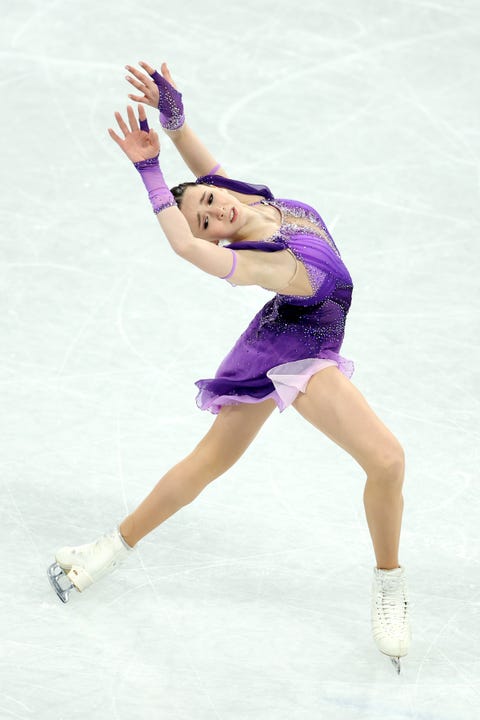 Off the ice, she's a painter
Some of her passions off the ice inform her skating. When Kamila competed at the novice level, her program to "Girl on the Ball" was inspired by Picasso. According to NBC, her "costume was even designed to be the same as the girl in the painting."
As long as Kamila is cleared after the drug testing controversy that is unfolding, she'll compete on Tuesday, February 15 at 5 a.m. ET for the women's short program before taking the ice again on Thursday, February 17 at 5 a.m. ET for the women's free program, which you can check out on Peacock or NBCOlympics.com.
WATCH THE OLYMPICS ON PEACOCK NOW
Source: Read Full Article