The following article includes references to mental health struggles.
The numbers don't lie — with 23 Olympic gold medals (and 28 medals total), Michael Phelps is widely considered one of the best Olympic athletes of all time (via NBC News). To the outside observer, the celebrated swimmer has a seemingly perfect life: His wife, Nicole Johnson, is the former Miss California, he has three beautiful children, and he has a slew of high-dollar sponsorship deals. Not to mention, he's attended four Olympics Games and left a trail of broken records behind him, changing the sport forever, per CNN. Basically, Phelps will be remembered by history as one of the greatest athletes ever — but the trail he's blazed has been lined with painful and difficult trials.
From the moment he attended his first Olympics at the age of fifteen, Phelps' life — including every mistake and struggle — has been put under a microscope for scrutiny by the press and public. But despite the challenges he's faced, he has pressed on — becoming an inspiring advocate for mental health in the process. This is a timeline of the highs and lows of Michael Phelps' life.
Michael Phelps was catapulted into fame at an early age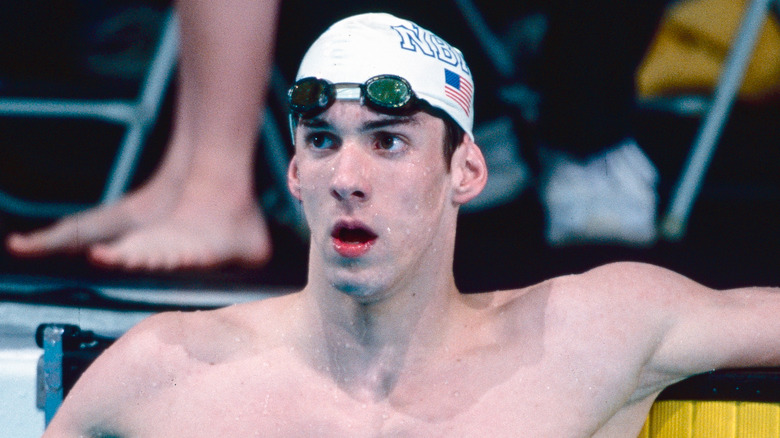 According to the International Olympic Committee (IOC), a young Michael Phelps was already a swimming "prodigy" before he was even allowed to hold a drivers license. At age 15, Phelps — already 6-foot-3 and winning competitions all over the country — became the "youngest American male swimmer to qualify for the Olympics in 68 years" when he joined Team USA at the 2000 Sydney Olympics (via ESPN). The Olympic newbie finished fifth in the 200-meter butterfly, per the IOC, and although he didn't take home any medals, he solidified his future as a superstar at the sport.
By the time the 2004 Summer Games rolled around, the hype around Phelps made him a celebrity before he ever stood atop the podium as a first-time gold medalist. That same year, the Chicago Tribune reported that the swimmer "had been on the cover of Time, Sports Illustrated, Sports Illustrated for Kids, the New York Times Magazine, ESPN the Magazine, Parade, TV Guide and Communication Arts, a photography annual," in addition to making television appearances before the Olympics held in Athens even started. 
The article proudly proclaimed that "fame agrees with Phelps" — a sentiment the swimmer himself would soon begin to doubt.
The Olympian struggled in childhood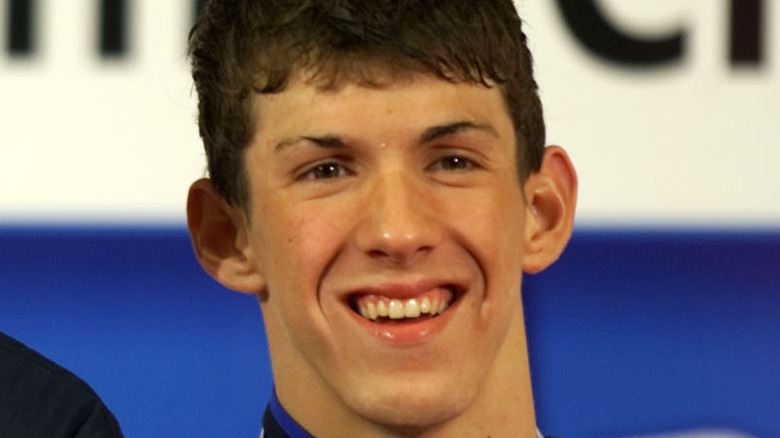 Although coaches saw his potential as a swimmer early on, a young Michael Phelps didn't always have a massive cheering section. In fact, some adults in his life once doubted his ability to succeed. As the Olympian later explained in a video for the Child Mind Institute's Speak Up for Kids campaign (via SI), he was diagnosed with ADHD as a child, which hindered his ability to focus and caused him to be "constantly bouncing off the walls." Phelps went on to say that he once "had a teacher tell [him] that [he] would never amount to anything and [he] would never be successful."
In the video, Phelps noted that he had been affected by ADHD his "whole entire life," adding, "It's something I continue to live with. It's changed my life since the beginning." However, in adulthood, he has come to terms with this and sees the positives of his condition: "It's something that I'm thankful happened, and I'm thankful that I am how I am … I look at myself everyday and I'm so proud and so happy of who I am and who I was able to become."
He had a difficult relationship with his father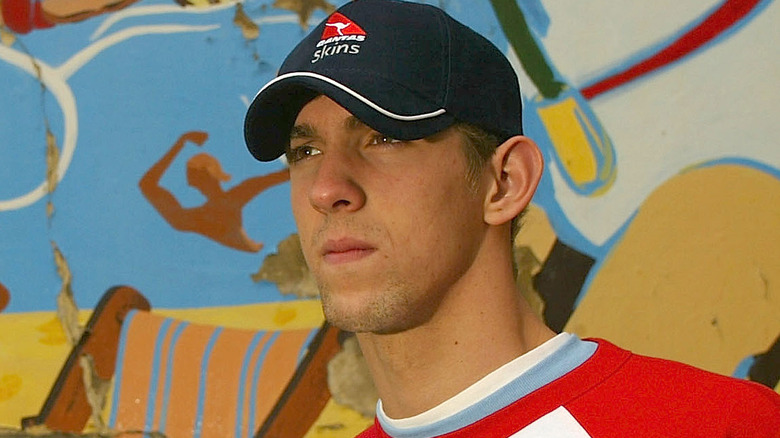 According to SI, Michael Phelps' parents, Debbie and Fred Phelps, divorced in 1994 when the future Olympian was only nine years old. Fred told the outlet that he couldn't pin down the reason that his relationship with Michael deteriorated: "Michael and I went fishing all the time, caught rockfish out on the Chesapeake. We went to ball games. It was wonderful. What happened after that, I couldn't tell you. I felt like Michael started to look on me as some sort of ogre. We started to separate."
For his part, Michael told SI that although he had "father figures" like his agent, Peter Carlisle, and coach Bob Bowman, "Not having a father always there was hard." So, the athlete relied on his mother, Debbie, to be his rock as he swam his way to superstardom, and the two only grew closer. The New York Times reported that moments after winning his eighth gold medal in Beijing, Michael made his love for his mother clear: "There's so much emotions going through my head, so much excitement. I guess I just want to see my mom."
Pressure after Athens cause Michael Phelps to stumble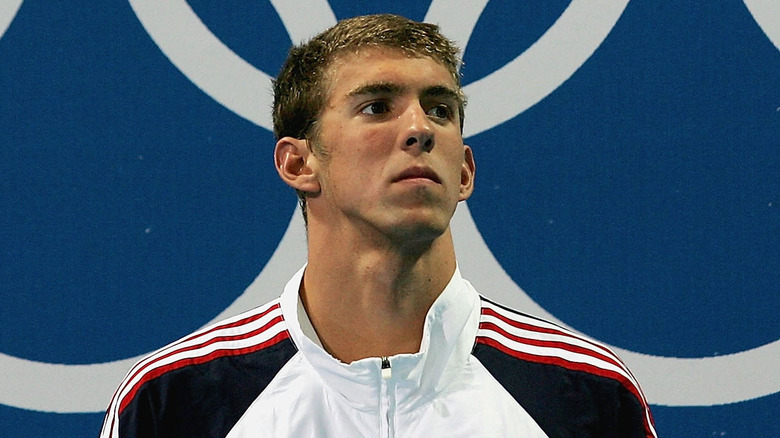 As expected, Michael Phelps dominated the Athens Olympics in 2004. The swimmer left the Summer Games with more medals than any other competitor, regardless of sport — a trend that he would carry for three more Olympic Games, according to the IOC. Phelps was 19 years old at the time — the perfect age for getting into trouble, as most former 19-year-olds know — when he left Athens a bona fide superstar. But in his post-Athens life, he began to stumble as the pressures of public life and major celebrity took their toll on the young athlete.
In November 2004, just months after bringing home eight Olympic medals, Phelps was arrested for drunk driving and a traffic violation. The New York Times reported that he was pulled over by a Maryland state trooper in his Land Rover after the officer "said he had run a stop sign" and failed a sobriety test. Phelps acknowledged that he had "made a mistake" despite his young age, telling the press, "I'm 19, but no matter how old you are, you should take responsibility for your actions, and that is what I will do."
Michael Phelps: an Olympic superstar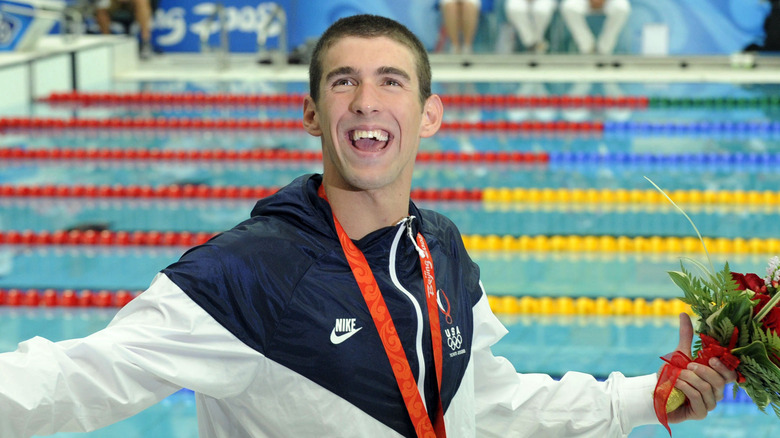 Michael Phelps left the 2004 Olympic Games a celebrity — but he left the 2008 Olympics a legend. Americans everywhere were suddenly converted to swimming fans as Phelps raced down the pool with superhuman speed in Beijing. Viewers began to wonder if he was some sort of biological mutant as he left his competitors in the dust — Scientific American even wrote an article discussing all of Phelps' alleged physiological advantages soon after the Games — and donned their "Phelps Phan" t-shirts to watch with bated breath as the swimmer snagged another gold. Phelps left Beijing with an unprecedented eight gold medals, breaking the record previously set by swimmer Mark Spitz (via ESPN).
With Phelps' Beijing achievements came more sponsorships and bigger checks. NPR reported that sponsors pledged to give Phelps a $1 million check if he "hit the eight-medal mark." CNN Money claimed that he was a "highly marketable" and "relatable" athlete, which directly translated into corporate sponsorships that brought both Phelps and the sport of swimming itself incredible prosperity.
That infamous 'marijuana pipe' photo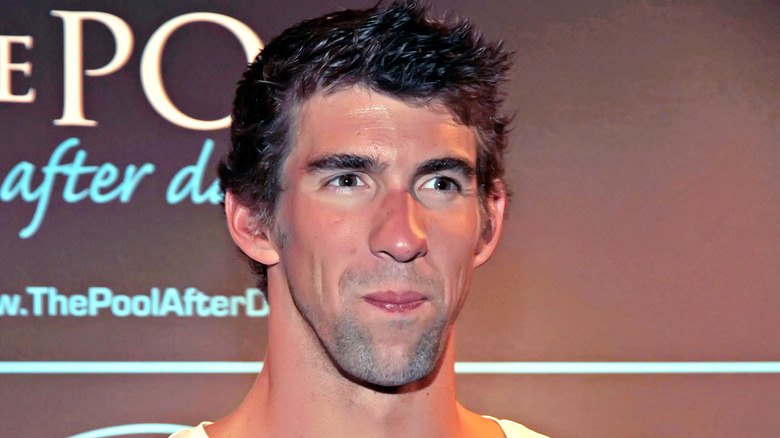 Riding high on his historic success at the Beijing Games in 2008, Michael Phelps made big headlines the following year, when he was photographed smoking what may or may not have been marijuana out of a "device generally used for that purpose," according to The Philadelphia Inquirer. The story goes that the Olympian attended a November football game at the University of South Carolina before showing up to a party at a "one-story ranch home," where he allegedly engaged in activities like "placing a $2,000 bet on a high-stakes beer pong game" — which he apparently lost, per NBC Washington — and smoking out of a bong.
NBC Washington reported that Phelps' personal security detail were at the party and asked attendees to "be courteous" and not take photographs of the swimming star. However, one University of South Carolina student told the press that "sometime around midnight" she saw a fellow partygoer take an iPhone photograph of Phelps smoking. The image later surfaced in the U.K. tabloid, News of the World, and Phelps was left to deal with the fallout.
More public apologies from Michael Phelps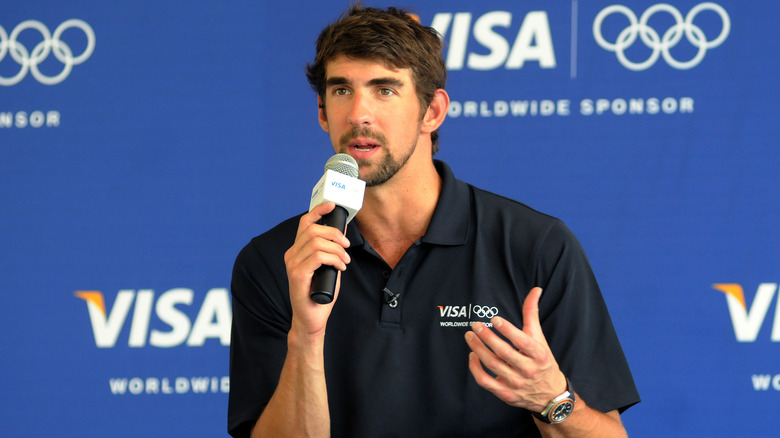 It may be unfathomable for those who have grown up in a world where many states have completely legalized marijuana to understand just how bad it could be for a young star to be caught smoking weed before the first states legalized the substance in 2012 — see the world's reaction to Miley Cyrus' 2010 bong photo for proof that much of the U.S. was still suffering from moral panic over reefer madness when Michael Phelps was photographed mid-inhale (via The Guardian). Once the pic surfaced, the world watched to see how sponsors and governing bodies would respond to the controversy.
The Seattle Times reported that Phelps quickly made a public apology, saying that the image was "something [he is] going to have to live with and something [he'll] have to grow from." He added, "I know with all of the mistakes I made, I learned from them and that is what I expect to do from this. By no means it is fun for me, by no means is it easy."
Luckily, most of Phelps' sponsors — which, per the outlet, included "Visa, apparel company Speedo and luxury Swiss watchmaker Omega" — weren't keen on dropping the swimmer. According to The Seattle Times, Phelps' statement claimed that his sponsors were "really like family" and that they had his back along with his "real friends and family." FINA, the governing body that oversees the sport of swimming, commended Phelps on his apology — and while Phelps received plenty of backlash, including a three-month suspension from USA Swimming, the blunder was by no means the end of his career.
The swimmer nabbed bigger wins but made bigger mistakes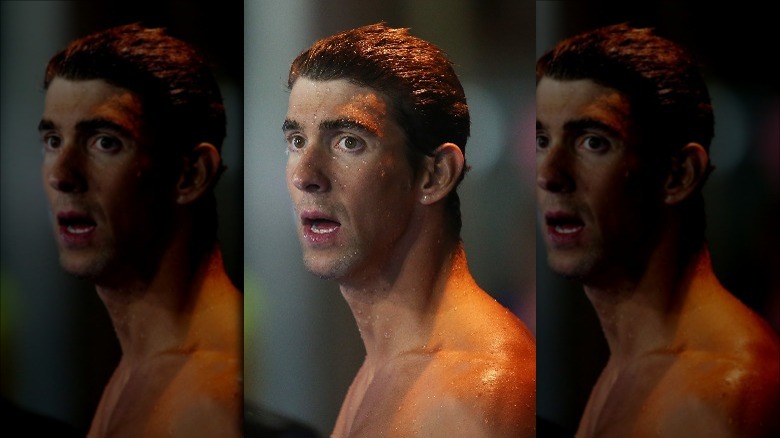 While Michael Phelps — or anyone else, for that matter — would not go on to achieve the same level of success he did in 2008, the swimmer still left his next two Olympics the most decorated athlete at each of the Games. Phelps won four gold medals in London in 2012, and left the Olympic Games as the highest-achieving Olympian in history (via NPR). At the time, the outlet reported that Phelps was officially entering retirement at the age of 27.
But in 2013, Phelps stunned his coach, Bob Bowman, by telling him that he wanted to come out of retirement for the 2016 Olympics. Bowman told The Washington Post that both he and Phelps quickly became "discouraged" because it was "very difficult" for the swimmer to regain his former skill level. Phelps began to miss practices, and Bowman worried that he was "going to go down a bad path." Soon after, Phelps made the biggest mistake of his career.
Michael Phelps' second DUI was a wake-up call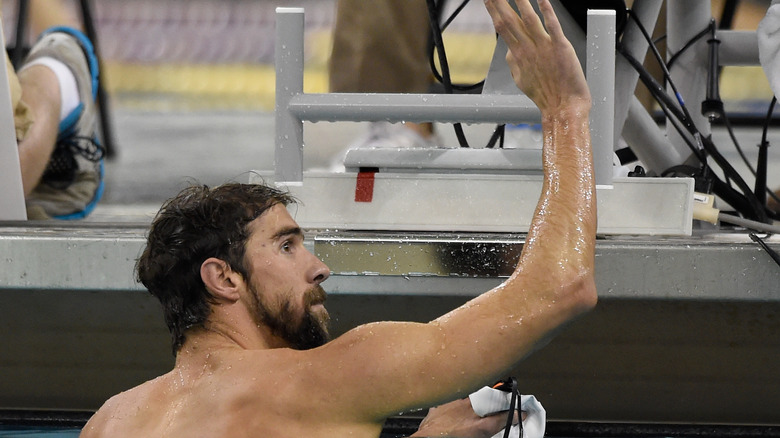 Publicly, Michael Phelps appeared to be on the top of the world in 2012 — so fans were shocked when he was arrested in September 2014 after an officer "clocked Phelps's white 2014 Range Rover at 84 mph in a 45-mph zone, and observed Phelps driving erratically," according to SI. Phelps' blood-alcohol level was measured at .14, and he was charged with another DUI. 
Phelps' family and friends expressed disappointment at the swimmer's arrest; his coach, Bob Bowman, claimed that he had "been living in fear" that "the way he was going, he was going to kill himself" with "something like the DUI." Phelps' support network gathered at his Baltimore townhouse, from which he did not emerge for four days after the arrest, as "news organizations camped nearby" in hopes of photographing the star (via SI).
After his arrest, Phelps made a public apology on Twitter, expressing that he was "deeply sorry to everyone [he has] let down." He later told SI that he "was in a really dark place" around the time of the arrest, adding that he was "not wanting to be alive anymore." Phelps then made the decision to enter a treatment facility at the urging of his friends and family, including Ravens player Ray Lewis, whom Phelps claimed "tore [him] a new one."
If you or someone you know is struggling with mental health, please contact the Crisis Text Line by texting HOME to 741741, call the National Alliance on Mental Illness helpline at 1-800-950-NAMI (6264), or visit the National Institute of Mental Health website.
Rehab gave the Olympian a new lease on life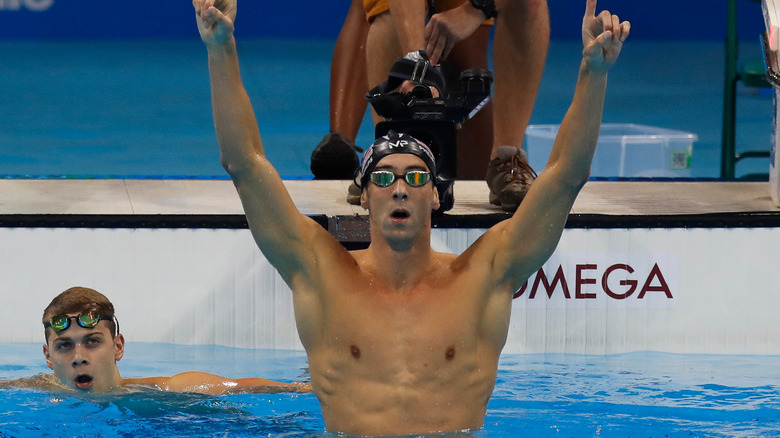 In addition to legal consequences, Michael Phelps was "suspended from competition for six months by USA Swimming" as punishment for his second DUI, reported The New York Times. Phelps knew he had to take this arrest seriously; the next weekend, he flew to Arizona to enter a rehabilitation facility called The Meadows. He later claimed that the day he entered rehab was "probably the most afraid I've ever felt in my life."
Phelps told The Washington Post that although he was "resistant to the process at first," he found himself "walking taller and being happier every day." Those close to him were shocked by his transformation; his agent, Peter Carlisle, recalled that he "had this enthusiasm in his voice," and his coach, Bob Bowman, was "amazed" by what he found when he visited Phelps in rehab. Bowman said that he "could not believe" that Phelps would "embrace the process" like he did, adding, "I thought he would just sit there like a bump on a log till the time was up. … When I saw him … he was dramatically changed." 
Phelps, who attempted to maintain his training schedule at the treatment facility, left rehab ready to train for the 2016 Olympics after completing the 45-day program. As he later told Today in 2016, he'd "binged" on alcohol in the past, rather than struggled with addiction, but noted, "I checked myself in, because I think I was at a point in my life where something needed to change."
He reconnected with his father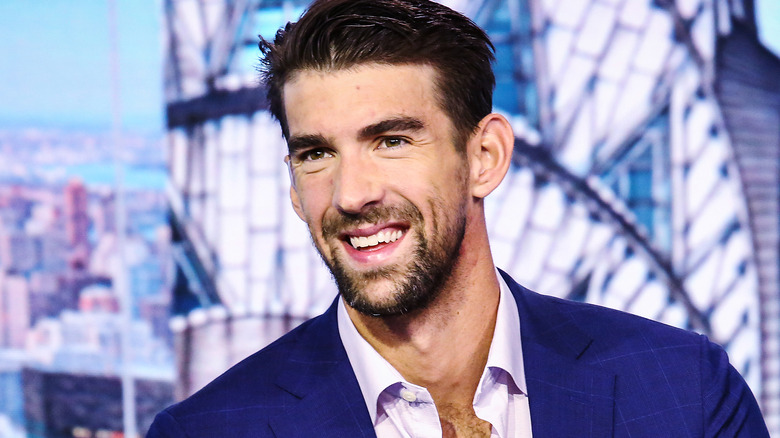 In 2015, Fred Phelps told SI that his relationship with son Michael Phelps "went up and down" throughout the swimmer's childhood and early adult years. After remarrying, Fred brought his second wife to the Sydney Olympics, which reportedly "surprised" and "upset" Michael. Fred then was not able to attend the Beijing Olympics because of his wife's cancer diagnosis. She sadly died 2009; when Fred decided to remarry in 2013, he asked his famous son to be his best man, an offer which Michael rejected. By the time Michael entered rehab five years later, he and Fred "weren't communicating at all" — but the Olympian surprised his father when he sent Fred an invitation to family week at the treatment facility. 
"I invited my father, hoping he would come, but not knowing if he would come," Michael told SI. Fred attended the family week, along with mom Debbie and Michael's now-wife, Nicole Phelps (née Johnson). The athlete expressed that he was ready to reconnect with Fred: "I felt abandoned … I would like to have a father in my life, and I've been carrying that around for 20 years. That's a long time. It does something to you," Michael said, adding that their relationship is "not fixed … but it's better."
At the end of his emotional interview with SI, Fred pleaded with the publication to help him maintain his newfound relationship with Michael: "The one thing I would so deeply ask of you is, please don't write anything that would harm what my son and I have now. Please."
Michael Phelps: to Rio and beyond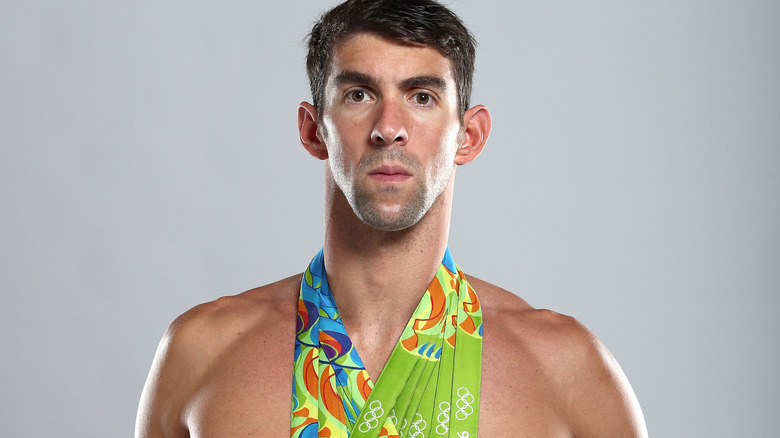 Michael Phelps left rehab with a new outlook on life and a rejuvenated excitement for the 2016 Rio Olympic Games. He left Brazil with five gold medals, one silver, and "an unprecedented fourth straight Olympic title in the 200-meter individual medley," according to Team USA. That meant Phelps ended his Olympics career with a whopping 23 gold medals — NPR even dubbed the swimmer "The Republic of Phelps," after his 23rd medal put him "in a tie with South Africa for 38th place for most gold medals won by a country."
Phelps' personal life was looking up by then, too. Months before the Rio Games, Phelps and his now-wife, Nicole, announced via Instagram the birth of their first son, Boomer Robert Phelps. And although the couple publicly married on New Year's Eve in 2016, People revealed that Michael and Nicole had secretly wed in June before heading off to Rio. The former party boy had seemingly transformed overnight into a doting husband and father — even posting cute selfies with his wife and new son — and appeared to be in a much more stable place.
How the former Olympian continues to cope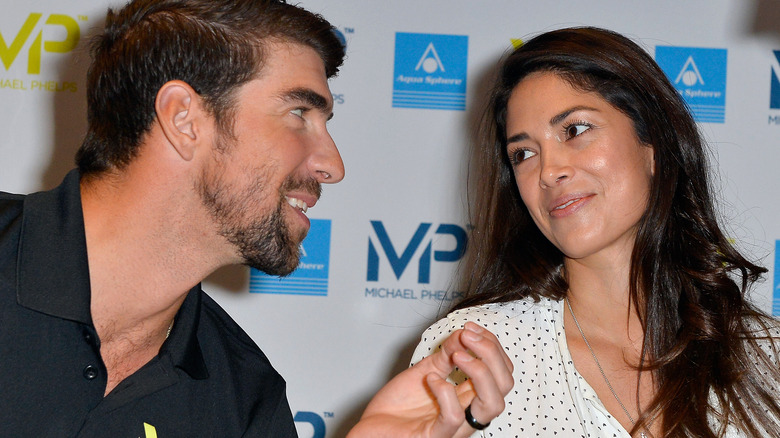 Now years removed from his 2014 arrest and inpatient treatment, Michael Phelps has become an outspoken advocate for mental health. The former Olympian told the AP in 2018 that he suspects depression and anxiety will "always be something that's a part of me," and that he "still [goes] through times that are very challenging" (via Boston.com). However, as the longtime advocate for therapy previously explained to Today, "I finally realized that I can ask for help and it's OK to not be OK and for me, that's what changed my life."
Phelps has also acknowledged that life during the COVID-19 pandemic has taken a toll on his mental state. In a 2021 interview with Insider, he said his "mental health has been scarier than it's ever been throughout all of this," adding that he "can't even imagine what other people are going through." Around this time, Phelps told Today that he understands that his struggles with depression and anxiety can be difficult for his wife and three sons: "Sometimes I just want to curl up into a ball in a corner. I need to be alone or I feel like I should be alone," he said, adding that his wife "loves him" and "wants to help," but is "also struggling herself." 
Phelps' openness about his anxiety and depression illustrate his determination to live a fulfilling life despite his ongoing mental health struggles — as well as his hope for others to do the same.
If you or someone you know is struggling with mental health, please contact the Crisis Text Line by texting HOME to 741741, call the National Alliance on Mental Illness helpline at 1-800-950-NAMI (6264), or visit the National Institute of Mental Health website.
Michael Phelps is advocating for better mental healthcare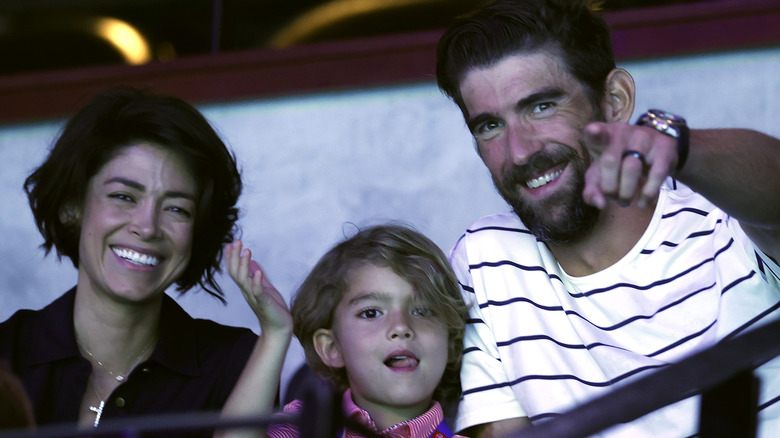 Since officially retiring from swimming in 2016, Michael Phelps has turned his efforts towards advocating for better mental healthcare and open discussions about mental health struggles. He has partnered with the online therapy app, Talkspace, and frequently gives interviews about the importance of opening up about mental health. In particular, Phelps has been an active advocate for open discussions about mental health for kids; in 2021, he and his wife, Nicole, participated in a program presented by The Boys & Girls Clubs of America to help teach children coping mechanisms and healthy eating (via Forbes).
Phelps also takes to his personal social media platforms to speak out. "I struggled with anxiety and depression and questioned whether or not I wanted to be alive anymore," he shared in a candid tweet in 2019. "It was when I hit this low that I decided to reach out and ask for the help of a licensed therapist. This decision ultimately helped save my life." The swimmer ended his tweet with a hopeful message, writing, "You don't have to wait for things."
If you or someone you know is struggling with mental health, please contact the Crisis Text Line by texting HOME to 741741, call the National Alliance on Mental Illness helpline at 1-800-950-NAMI (6264), or visit the National Institute of Mental Health website.
Source: Read Full Article