This season of Bachelor in Paradise was (*Chris Harrison Voice*) THE MOST DRAMATIC EVER, but nothing topped Blake Horstmann releasing his private texts with Caelynn Miller-Keyes after she claimed he silenced and ghosted her post-Stagecoach. This terrible decision was Blake's ill-advised attempt to clear his name, but all he really accomplished was violating Caelynn's privacy, and he's been non-stop dragged ever since.
During an interview with Rachel Lindsay and Ali Fedotowsky on the Bachelor Happy Hour, Blake opened up about releasing the texts, saying he was breathing into a paper bag all night.
"Caelynn, you know, she used the word 'premeditated.' And premeditated is just a fancy way of saying, 'I thought really hard about it' because I did," he said. "It was such a hard decision for me. That night, when I released those text messages, I was breathing into a paper bag. It was incredibly difficult for me."
https://www.instagram.com/p/B2NmhCsAwME/
Um, yeah it must be really difficult to intentionally release someone's private texts about having sex with you. Life is so rough! Though to be fair, Blake does seem to be having a hard time with all the backlash:
"One of the reasons I deleted the text messages was I was having a complete breakdown. I was breathing into a paper bag," he said. "All of a sudden, I took a step back [and] I was like, 'Caelynn's feeling this way probably.' And that killed me. I was like, 'What I'm feeling right now?' I just [hurt] somebody else, and that hurt, and that sucked."
Yep! Sucks when you do the wrong thing!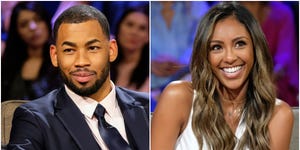 Source: Read Full Article