It takes a lot for Chris Cuomo's face to register emotion on camera, but even the stoic CNN anchor couldn't help but cringe at a young TikTok user's thirst for him!
On Wednesday, TikToker Whitney Cohen shared a post that showed her swooning over the Cuomo Prime Time host's new haircut.
In an effort to join the latest trend of recreating album covers, Whitney reacted to the journalist's short buzz cut by putting on makeup and imitating the pose from Beyoncé's Dangerously In Love album cover with the caption: "me."
Observe (below):
Well, Whitney's TV crush received the message loud and clear thanks to his daughter Bella Cuomo, a prolific TikToker herself.
Hours later, she shared a video of Chris watching the thirsty video and raising his eyebrows, writing in the caption:
"#duet with whitneycohen idk why I didn't this so funny but that's awkward."
Umm… awkward doesn't even begin to cover it!
See for yourself (below):
Whitney responded to Chris' reaction in a follow-up post, showing her covering her mouth in embarrassment. Over and over again. 
Ch-ch-check it out (below):
Way to shoot your shot, gurl!
It's good to see Bella is trying to keep up everyone's spirits at the Cuomo household, as the family is still recovering from COVID-19.
As we reported, Chris revealed on Monday that he is now coronavirus-free just one month after contracting the deadly illness. He said during his prime time show:
"So, I tested negative. I don't have the virus… Good for me. I also tested to show that I have both antibodies."
Meanwhile, his wife Cristina and their 14-year-old son Mario are still suffering from the virus. In an Instagram post on Wednesday, Mrs. Cuomo said of their son's diagnosis:
"After 10 days of ups and downs, feeling good one-day and terrible the next, I am now working hard to get my son, Mario, through the virus. My heart hurts more than my head over his infection. This virus does not discriminate. While kids are more resilient, they can suffer same severity of symptoms. I'm applying a modified version of my remedies for his protocol with a focus on lots of vitamins. Since his sense of smell and taste have disappeared, I am feeding him healthy foods that I normally can't get him to touch. I kept a diary of the past week including my remedies and things that I did to stay sane through it all."
We're wishing the rest of the Cuomo family a speedy recovery.
In the meantime, it's good to know they can always browse thirsty TikToks to lighten the mood.
Related Posts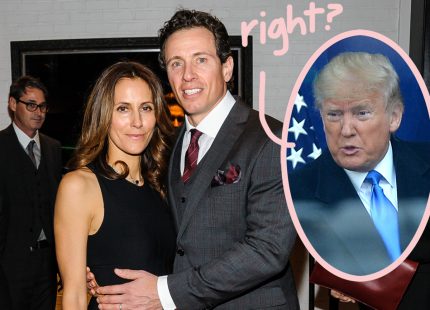 Source: Read Full Article