Upon hearing the news that Queen Elizabeth II was sick, Prince Harry and Meghan Markle made the decision to extended their time in Europe—which was initially for the purpose of attending a series of charity events—so they could be with the rest of the royal family during services honoring the late monarch. However, noticeably absent during the period of mourning are Harry and Meghan's two children, Archie, 3, and Lilibet, 1. The reason? They're simply too young to attend such heavy royal events.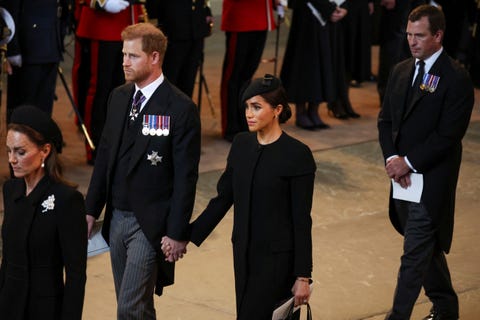 It seems the Prince and Princess of Wales, aka William and Kate, made a similar choice with their youngest child, Prince Louis, who is 4 years old. However, Louis's eldest siblings, Prince George, 9, and Princess Charlotte, 7, *did* end up attending the funeral. (FYI, the move is def not surprising, as Will and Kate made the exact same decision when Prince Philip died last April.)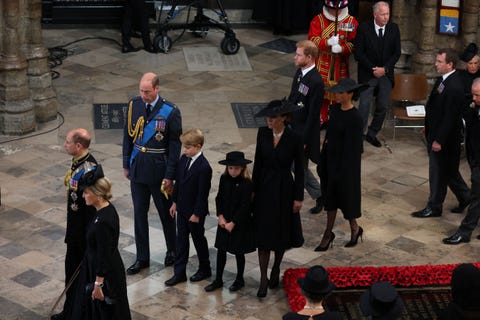 But back to Archie and Lilibet! According to The Sun, the Duke and Duchess of Sussex were actually debating whether or not to have their little ones attend the service, with a source revealing they were, "Trying to decide whether Meghan's mum Doria Ragland should fly out with the kids at some point next week."
"Doria is looking after Archie and Lilibet at their Montecito mansion, it is understood. The family has already spent more than a week apart, and the state funeral isn't for another eight days. Meghan and Harry will then stick around until the end of the royal mourning period, which ends seven days after the service. The pair had only expected to be away from home for seven days for their mini-European tour," the publication added.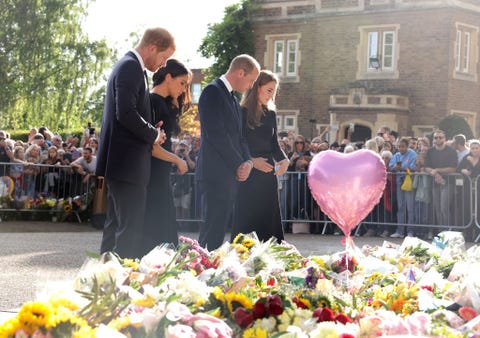 Ultimately, Meghan and Harry stuck it out solo, but they definitely made sure to include their two children in Harry's recent tribute to the Queen. In the message, the Duke of Sussex reflected on how Queen Elizabeth II's reign and service impacted the global community, while also opening up about how much she personally meant to him, Meghan, Archie, and Lilibet, who is actually named after the late monarch.
Released on Archewell's website, the sweet message reads: "Granny, while this final parting brings us great sadness, I am forever grateful for all of our first meetings—from my earliest childhood memories with you, to meeting you for the first time as my Commander-in-Chief, to the first moment you met my darling wife and hugged your beloved great-grandchildren. I cherish these times shared with you, and the many other special moments in between. You are already sorely missed, not just by us, but by the world over."
Source: Read Full Article