Clapping back at the accusations, the 'No Mediocre' rapper insists that she has done what she is supposed to do and 'reached out' to the 'Baby One More Time' hitmaker.
AceShowbiz –Iggy Azalea has been forced to defend herself amid Britney Spears' conservatorship battle. Days after the "Toxic" hitmaker testified at a conservatorship hearing in Los Angeles, the "No Mediocre" rapper found herself being accused of "staying silent", but was quick to set the record straight.
Making use of Twitter on Friday, June 25, the 31-year-old spoke out against the claims that she wasn't supportive of Britney amid her court battle. "I said her team wouldn't let her do promo and that they went through my house etc and y'all said I was a hater," she responded to a tweet that read, "will.i.am, Christina Aguilera, Iggy Azalea, G-Eazy, T.I., Madonna, Rihanna, Nicki Minaj and other creative collaborators all remain silent after Britney speaks up on abuse she's faced by her conservators."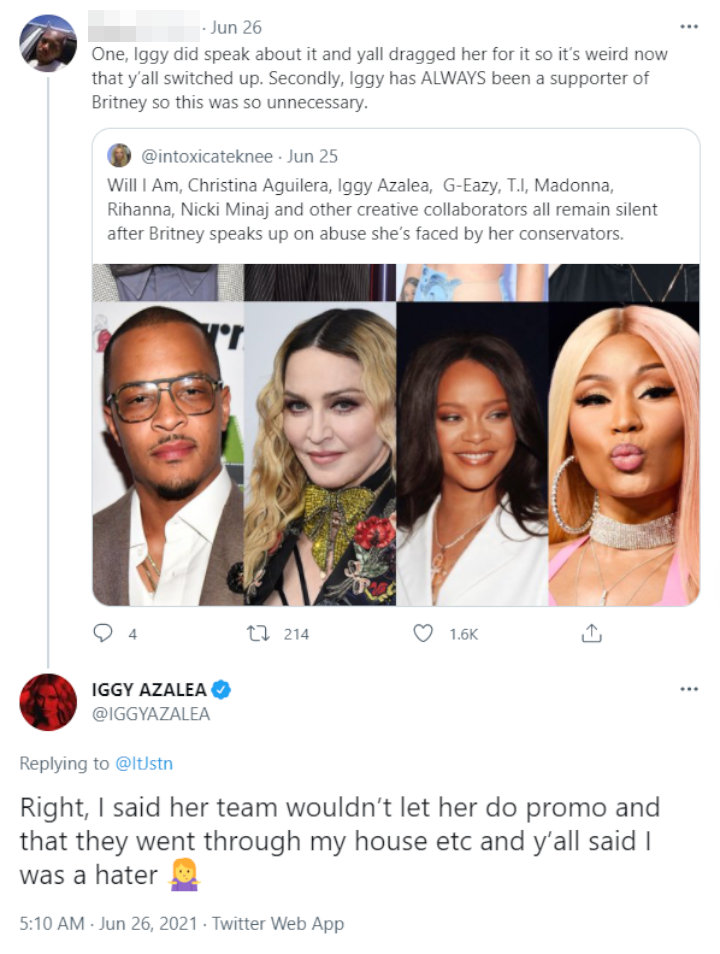 Iggy Azalea clapped back at 'staying silent' accusation.
Before Iggy fired back at the accusation, one fan declared, "One, Iggy did speak about it and yall dragged her for it so it's weird now that y'all switched up." The fan's tweet continued to read, "Secondly, Iggy has ALWAYS been a supporter of Britney so this was so unnecessary."
When another Twitter user asked Iggy to reveal more about her experiences with Britney's team, the "Fancy" rapper dished, "I signed a non-disclosure [agreement] and her father could and probably would sue me." Though so, the Australian native made it clear that she still cares about the "Oops!…I Did It Again" singer in the following tweet.
"I am actually here to support someone in a way that's helpful and also mindful," Iggy explained. "Britney has said in her own words, she's embarrassed to even share this with the world. If she needed me to speak on her behalf, That message has been delivered to her. Other than that – I'm good."
Iggy elaborated further, "I've done what I'm supposed to do, I've reached out." The "Black Widow" rapstress then pointed out, "I'm not supposed to be mindlessly telling you all whatever was happening because half of these people are just here for entertainment not to help. I actually care & she can use me if she needs my voice." She then begged the internet trolls to leave her alone.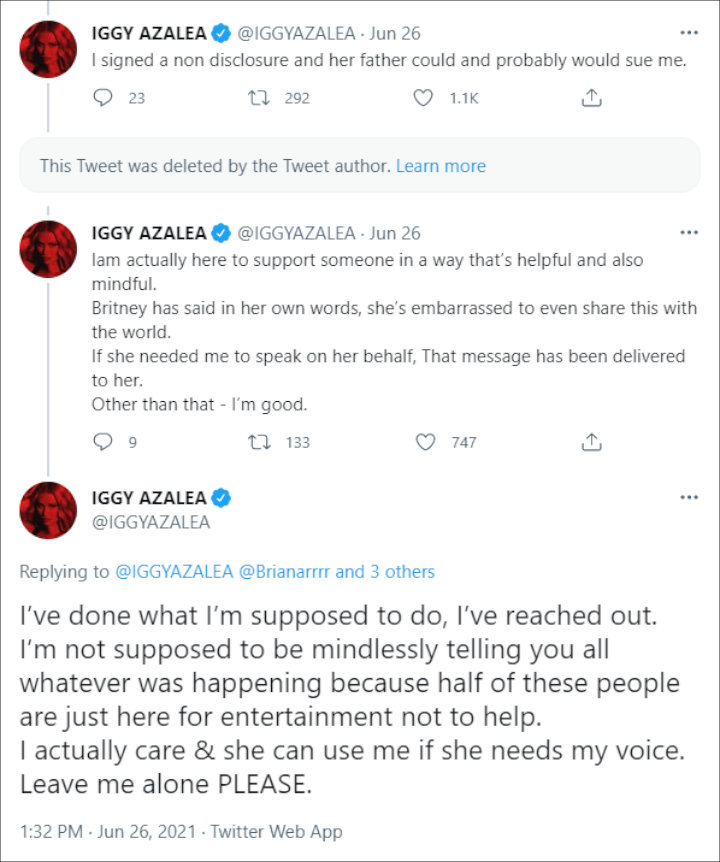 Iggy Azalea continued to defend herself.
Britney gave her testimony at a court conservatorship hearing in Los Angeles Superior Court on Wednesday, June 23. "I've lied and told the whole world 'I'm okay and I'm happy.' It's a lie," she said at the time. "I thought just maybe I said that enough. Because I've been in denial. I've been in shock. I am traumatized. You know, fake it till you make it. But now I'm telling you the truth. OK? I'm not happy. I can't sleep. I'm so angry. It's insane. And I'm depressed. I cry every day."
Source: Read Full Article