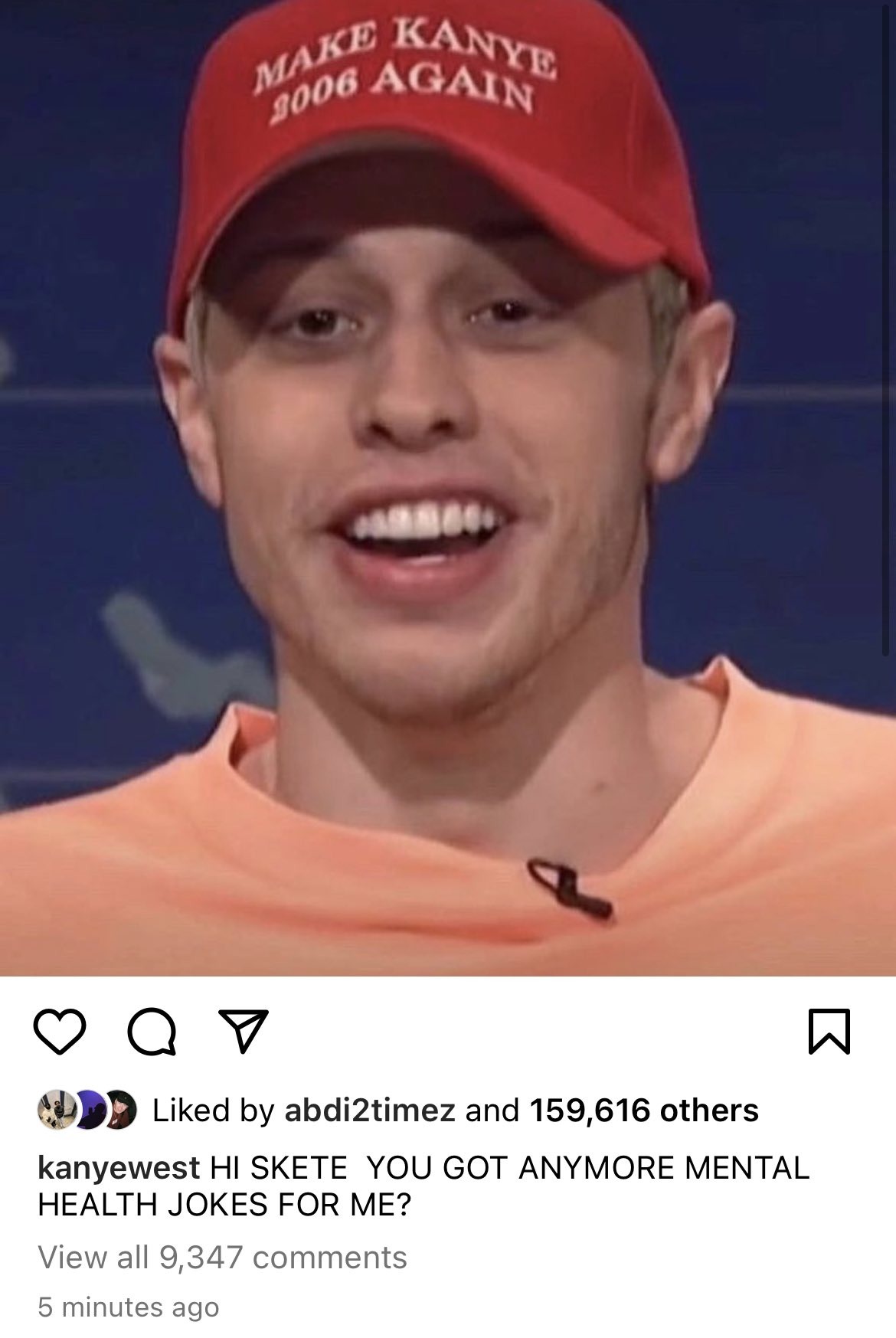 As I've been saying, it's been every weekend in 2022. From Friday until Sunday, Kanye West is a complete mess. He's posting memes, he's harassing Kim Kardashian and Pete Davidson, he's making ridiculous claims about his children, he's starting beefs with Kid Cudi and others, and on and on. It's not just a weekend thing, but the weekends are the worst of it, and every weekend, he's escalating. Some people have said that Kim is likely "grey rocking" him to try to deescalate the situation (and I agree) but it's not really working. So take this as a preview of what will likely be another bonkers weekend in Yeezyville.
On Thursday, Kanye posted the above Instagram, only to delete it some time later. He's been doing the 'gram-and-deletes constantly, and I have no idea why. Does he think that no one is keeping a record of his harassment? The screencap was of Pete Davidson on SNL's Weekend Update, where Pete wore a red "Make Kanye 2006 Again" hat. It was from an October 2018 appearance in which Pete spoke about his own mental illness and how he finds medication very beneficial, and how Kanye should take his meds. The 2018 video has aged very well. You can really see how much compassion Pete has for Kanye, and how Pete has "bought into" the support system he needs for his mental health and wants that for Kanye. After Kanye posted that, Kim Kardashian finally, at long last, unfollowed Ye.
Kim Kardashian has cut the digital cord. The Skims founder unfollowed estranged husband Kanye West on Instagram Thursday amid all of his tirades about her, their family and her current beau, Pete Davidson. We're told that Kardashian unfollowed West shortly after he posted attacks about the "Saturday Night Live" star to his account, writing, "HI SKETE YOU GOT ANYMORE MENTAL HEALTH JOKES FOR ME?"

In a second post, 44-year-old West said he wasn't harassing Davidson, he was just getting "payback."

"This boy thought he could get away with performing this sketch for the team that wrote this for him," West wrote of the 2018 "Weekend Update" segment in which Davidson blasted West's MAGA rant. "This is not harassment This is payback."

Neither Kardashian, 41, who filed for divorce from West one year ago, nor Davidson, 28, have publicly responded to West's posts, but now that the "SNL" comic has his own account, he could engage in the comments. The fact that Davidson joined amid all this drama is a brave choice, considering West's first move was to follow him.
[From Page Six]
I assume Kim unfollowed him because her lawyer has a team monitoring and keeping copies of all of Kanye's social media posts, and Kim no longer wants to subject herself to it. I doubt Pete will engage, but I suspect Kim might try to engage again, perhaps to warn Kanye to f–king back off. What's particularly weird is that the 2018 SNL video is actually very personal from Pete. He's talking about himself as much as he's talking about Kanye. And what Pete's saying completely holds up.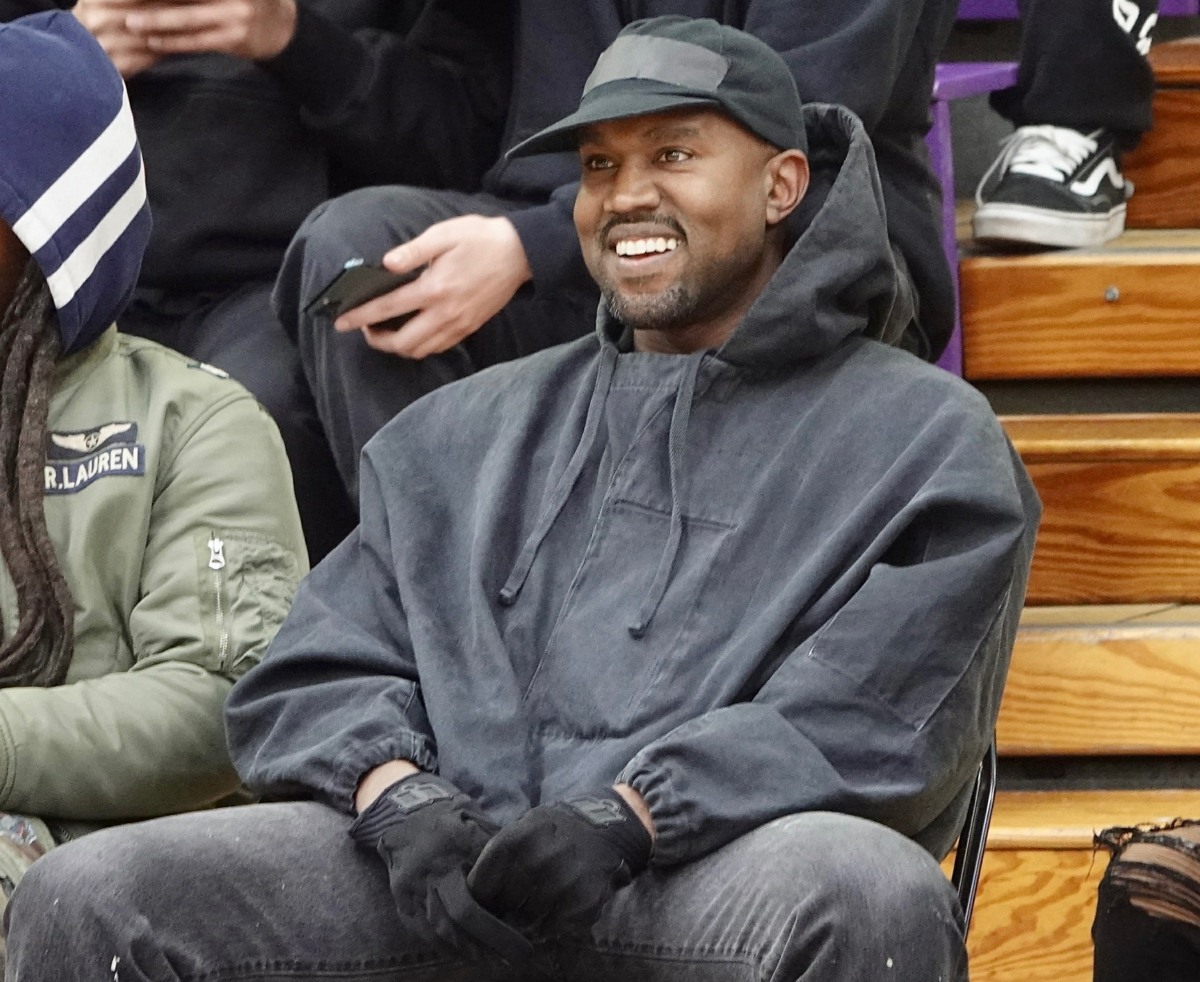 Photos courtesy of Backgrid, NBC, Instagram.
Source: Read Full Article