Our hearts go out to Love & Hip Hop star Rah Ali as its been reported that the expectant mother went into labor at just five months pregnant. Sadly, her newborn baby did not survive.
Per sources at TMZ, Ali's baby died on Sunday, almost immediately after the premature birth. The reality TV starlet reportedly was not due until the middle of October.
According to reports, the 35-year-old was in her house Sunday when her water broke and contractions started. She was rushed to the hospital, but doctors were unable to save her child. The early and fatal delivery came as a complete shock to everyone, as the parents-to-be were told at all of Rah's previous doctors visits there were no signs of trouble with her pregnancy.
The late baby girl would have been Ali and her mystery husband's first child together. The two reportedly got married in the summer of 2017 after being engaged since 2013, and were planning on announcing the pregnancy in June after keeping the news under wraps for five months. Rah reportedly had snapped secret maternity photos for the special announcement, too.
So unbelievably heartbreaking.
The LHHNY star's close friend Nicki Minaj is reportedly doing everything she can to be supportive during this difficult time.
For our Perezcious readers who may have forgotten, these two ladies actually go way back together. Rah is allegedly the one who tried to fight Cardi B on behalf of her bestie during September 2018's infamous shoe-throwing scuffle at the Harper's Bazaar New York Fashion Week party.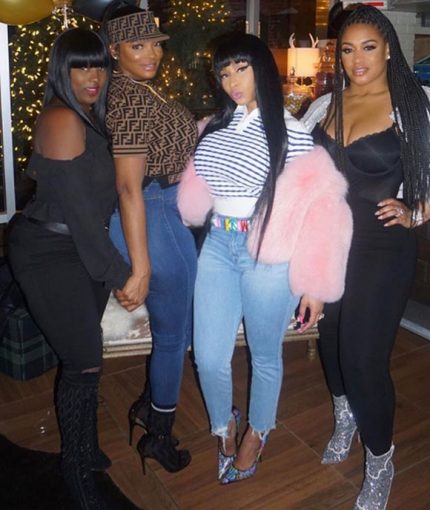 Sources over at TMZ say Nicki has been calling and checking on her friend, and trying to lift her spirits as much as possible considering the devastating situation.
Neither Ali or Minaj have released a statement, or posted about the incident, but we will keep you updated with any additional information.
For now, our thoughts are with Rah and her family during this incredibly sad time.
Source: Read Full Article