Prince Harry and Meghan Markle's trip to England didn't end on the best note for their relationship with Prince William and Kate Middleton—Will and Harry's relationship is said to be "worse than ever" and Kate is still taking Harry and Meghan's exit "badly."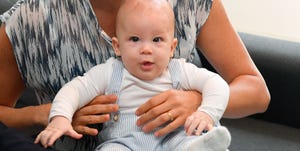 But things went quite differently for the soon-to-be-non-royal couple and the Queen. During their trip to the U.K., Harry reportedly had a four-hour heart-to-heart with his grandmother, which ended with her telling him that "you are much loved and will always be welcomed back." Aww! And it looks like things went so well that Queen Elizabeth even made plans to see Harry and Meghan again in a few months.
According to The Sunday Times, Harry and Meghan "are believed to have accepted the Queen's invitation to visit her this summer at Balmoral, her Scottish retreat, and are planning to take their son with them." Plus, Harry and Meghan are expected to spend some time with Harry's father, Prince Charles, and step-mother, Duchess Camilla, during the trip.
And it sounds like the Queen will really be looking forward to the visit, as she's reportedly been eager to get to know her great-grandson baby Archie. A source previously shared that the Queen "would love to see more of Archie, as would Prince Charles and the rest of the family."
So it looks like Harry and Meg's trip to Scotland will give them all some much-needed family time!


Source: Read Full Article