The late country music superstar left a heartbreaking note that hinted at her broken relationship with her eldest daughter, before taking her own life in April 2022.
AceShowbiz –Naomi Judd's fractured relationship with one of her daughters apparently continued to play out in her life until her tragic passing. Eight months after the singer took her own life, her suicide note has been revealed, hinting at her resentment toward her elder daughter Wynonna Judd.
In a photo of the suicide note, Naomi trashed her 58-year-old daughter, who formed country music duo The Judds with Naomi. "Do not let Wy come to my funeral. She's mentally ill," the heartbreaking note read.
A line was drawn under the word "not." The short message was handwritten on what looks like a piece of Post-It pad.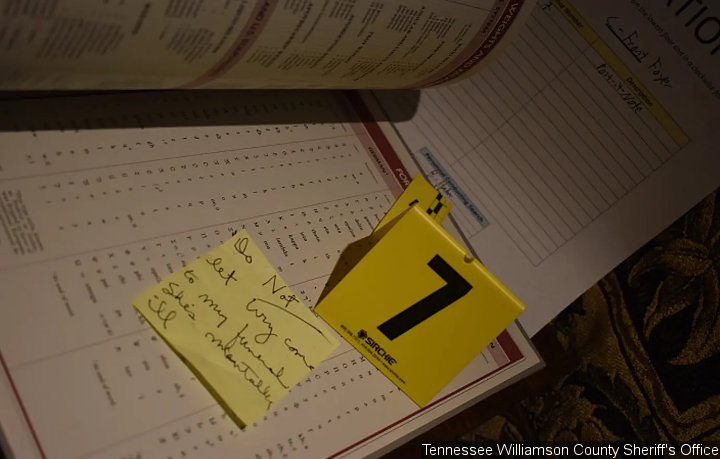 Source: Tennessee's Williamson County Sheriff's Office
Naomi committed suicide by firearm at her home in Leiper's Fork, Tennessee on April 30, 2022, just a day before she and Wynonna were set to be inducted into the Country Music Hall of Fame. The band ceased performing in 1991 after Naomi was diagnosed with hepatitis, while Wynonna continued to perform as a solo artist.
Naomi's suicide note was apparently unveiled as part of a suicide police file that Tennessee's Williamson County Sheriff's Office recently released. Being included in the report are graphic photos of Naomi's blood-spattered bed sheets and a Glock handgun on a nightstand.
According to the documents, it was Naomi's daughter Ashley Judd who discovered her dying mom after she shot herself in the head at her Leiper's Fork home. The actress said she comforted her mother and held her in her arms for a half hour while waiting for an ambulance to arrive.
Ashley told the police that Naomi had a manic mental state before the suicide. The 76-year-old singer allegedly screamed, "Kill me, kill me now. I don't want to live!" Ashley calmly told her distraught mother, "Now, mom, you know I'm not going to do that."
Ashley texted the family's longtime therapist Dr. Ted Klontz, begging him to come as soon as possible. Naomi reportedly calmed down after Dr. Klontz arrived and later went upstairs, while the actress and the physician discussed her condition downstairs.
But when Ashley went up to check on her, she discovered Naomi with a massive bullet wound to the head and began applying pressure to stop the bleeding. Ashley told Dr. Klontz, "She did it. She finally did it."
When police and emergency medical workers arrived, Naomi was still conscious with her eyes open but attempts to revive her proved futile. Law enforcement found a Glock handgun by her bed and prescription bottle nearby.
Her autopsy report mentioned that she had a medical history of struggling with "significant" anxiety, as well as depression, bipolar disorder, chronic idiopathic pneumonitis, hepatitis C, hypertension and hypothyroidism.
You can share this post!
Source: Read Full Article