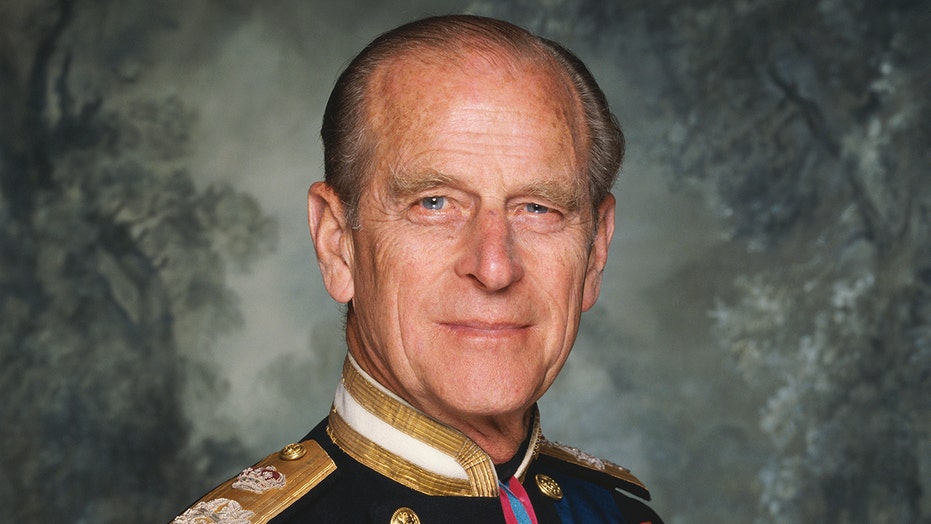 Prince Philip, Duke of Edinburgh and Queen Elizabeth II's husband, dead at 99
London-based senior foreign affairs correspondent Greg Palkot on Prince Phillip's death.
Prince Philip died Friday at 99 years old and his funeral plans will be announced by Buckingham Palace soon, according to the College of Arms.
In a press release issued on Friday, the College of Arms confirmed that the Duke of Edinburgh will not have a State Funeral or will be "Lying-in-State."
"His Royal Highness's body will lie at rest in Windsor Castle ahead of the funeral in St George's Chapel. This is in line with custom and with His Royal Highness's wishes," the statement continued.
"The funeral arrangements have been revised in view of the prevailing circumstances arising from the COVID-19 pandemic and it is regretfully requested that members of the public do not attempt to attend or participate in any of the events that make up the funeral."
PRINCE PHILIP, DUKE OF EDINBURGH AND QUEEN ELIZABETH II'S HUSBAND, DEAD AT 99
Flags, official and the Union Jack, will be flown at half-mast "from now until 08:00 on the day following the funeral."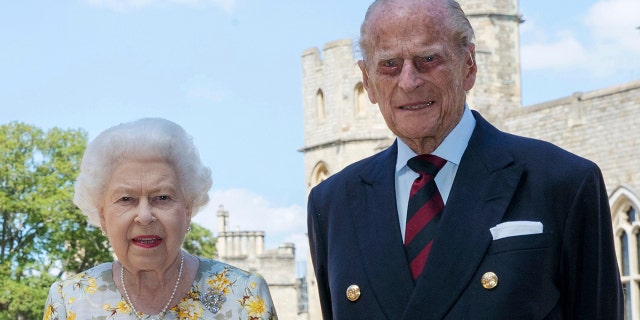 Britain's Queen Elizabeth II and Prince Philip pose for a photo in the quadrangle of Windsor Castle, in Windsor, England, ahead of his 99th birthday on Wednesday, June 10.
(Steve Parsons/Pool via AP))
"Any non-official flags flying or due to be flown should be taken down and replaced with a Union Flag flying at half-mast. Official flags scheduled to be flown should be flown as planned but at half-mast," the statement described.
QUEEN ELIZABETH TO ENTER 8 DAYS OF MOURNING FOLLOWING PRINCE PHILIP'S DEATH
"The Governments of the Commonwealth Realms, British Overseas Territories and Dependencies will be following the same flag protocol as set out above," it added.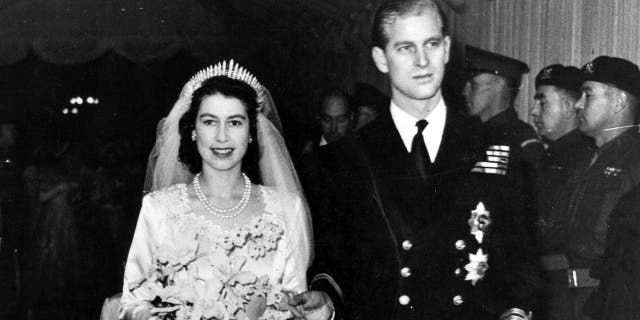 Queen Elizabeth II, as Princess Elizabeth, and her husband the Duke of Edinburgh, styled Prince Philip in 1947, on their wedding day. She became queen on her father King George VI's death in 1952.
(Hulton Archive/Getty Images)
The press released also revealed that Prince Philip's royal titles are "hereditary" and will be passed down to his eldest son, HRH The Prince of Wales aka Prince Charles.
On November 20, 1947, Philip was created Duke of Edinburgh, Earl of Merioneth and Baron Greenwich, of Greenwich in the County of London.
"In the event of the Prince of Wales or any subsequent holder of these titles succeeding to the Crown, these titles and all others held will merge with the Crown," the College of Arms declared.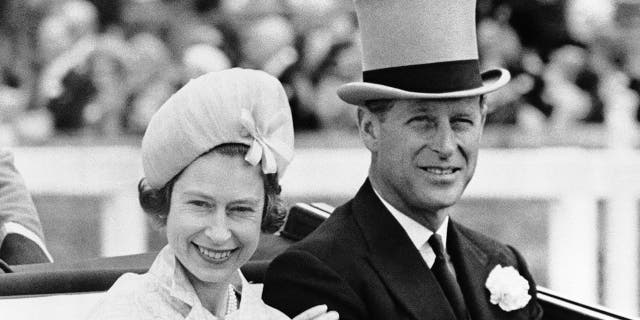 In this June 19, 1962 file photo, Britain's Prince Philip and his wife Queen Elizabeth II arrive at Royal Ascot race meeting, England.
(AP File)
Buckingham Palace confirmed Prince Philip's death on Friday morning.
"It is with deep sorrow that Her Majesty The Queen has announced the death of her beloved husband, His Royal Highness The Prince Philip, Duke of Edinburgh," the palace announced in a statement. "His Royal Highness passed away peacefully this morning at Windsor Castle."
CLICK HERE TO GET THE FOX NEWS APP
The Queen and the Duke of Edinburgh were married for 73 years. He is the longest-serving royal consort in British history.
Source: Read Full Article