Porsha Williams ain't havin' it!
The Real Housewives of Atlanta star took to social media on Wednesday to call out an airport restaurant for its alleged racism.
In a tweet showing a picture of Sammy's Woodfired Pizza & Grill at Los Angeles International Airport, the 37-year-old declared the eatery was "completely racist" because of an encounter she had just had there.
Without going into much detail, Williams claimed the restaurant's manager threatened to call security on her "for no reason." She shared: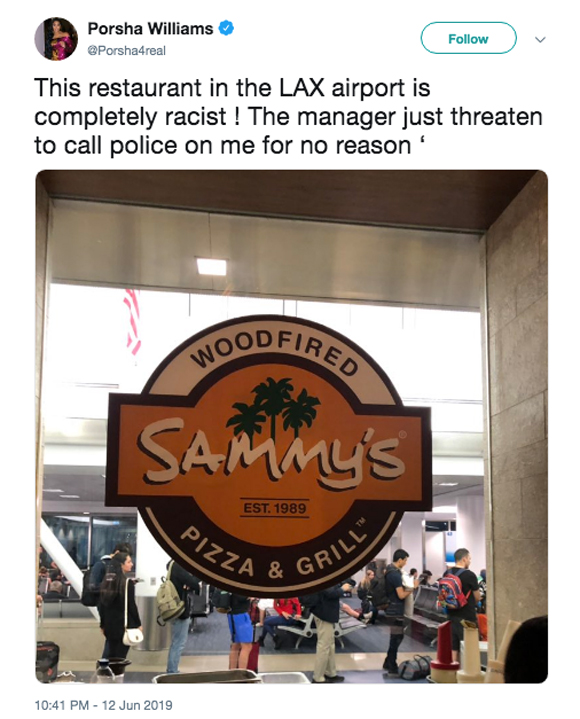 OMG!
So, what happened?
Well, we still don't know…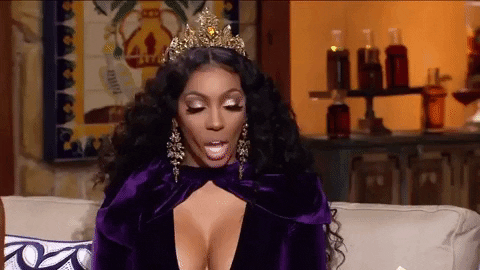 In a follow-up tweet, the Bravolebrity said she was boarding her flight and teased she would spill the "whole story" upon landing. That was more than 15 hours ago. As of this writing, she's still yet to provide further context.
The reality star's endured no shortage of turbulence in her life lately. Aside from the allegedly racist airport fiasco, Porsha's been dealing with rumors that her baby daddy and fiancé, Dennis McKinley, was cheating on her with WAGS Atlanta star, Sincerely Ward.
Photo: Porsha Williams Shares First Pic Of Baby Pilar!
As we reported, vlogger Tasha K unleashed an avalanche of damning accusations against Dennis in a recent YouTube video, claiming the restauranteur had a history of cocaine use, gambling, domestic violence, and watching "animal porn."
The man behind The Original Hot Dog Factory vehemently denied Tasha's allegations and confirmed that he would be taking legal action against her. He said in a statement to E! News:
"These false and slanderous allegations against me are made solely to damage my reputation, jeopardize my ongoing businesses, and negatively impact my family. My attempts to ignore this slander have only empowered Latasha Kebe (aka Tasha K.) to create more false accusations. I am currently taking legal action—and am currently being represented by Michael T. Sterling of Dreyer Sterling, LLC."
Porsha, for her part, temporarily unfollowed Dennis on Instagram after the news broke, but she's since re-followed him.
The star has remained tight lipped about the scandal on her social media profiles — save for a cryptic IG post of text that read in part:
"I am loved, called, and chosen. I am rich in every way and generous on every occasion… No weapon formed against me will prosper and no enemy scheme against me will succeed."
Sources say Dennis' drama will play out the upcoming season of RHOA, which might explain why Porsha's keeping quiet about it.
Maybe she'll save this airport story for the show, too?
Source: Read Full Article