From the very moment Rihanna announced her pregnancy on Instagram, it was clear that she was going to change the way we think about maternity fashion. And, honestly, that's not even a tiny bit surprising because, it's Rihanna we're talking about.
On Friday, Rihanna gave the world another taste of her take on maternity wear at a Fenty Beauty and Fenty Skin event in LA. The outing also marked the first public appearance she and A$AP Rocky have made since announcing that they're expecting, and can we pause for a sec to appreciate how TOTALLY IN LOVE they looked?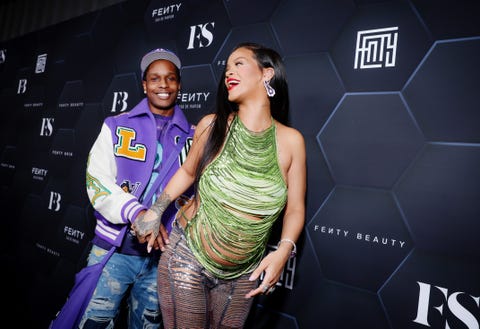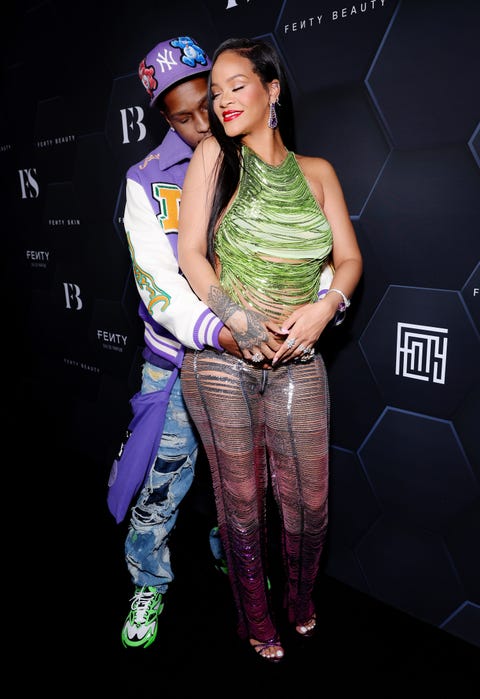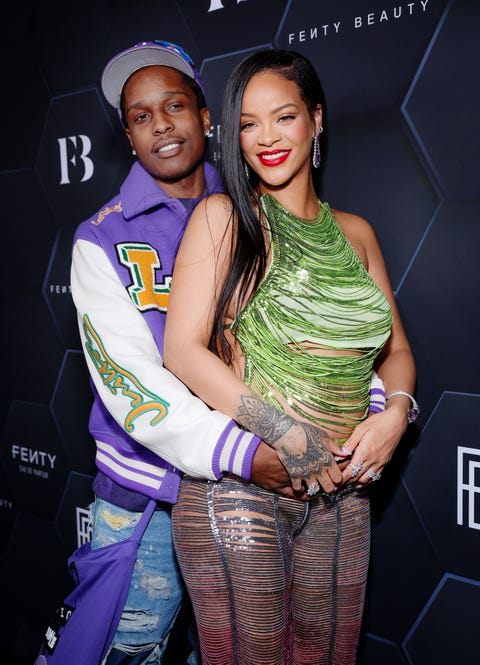 Okay, back to fashion talk. So, for the event, Rihanna wore a green, sequined halter top from the The Attico Spring 2022 RTW collection and matching silver and pink pants (accessorized with jewelry from Chopard and Messika, NBD). The entire look was jaw-dropping in the way only Rihanna looks ever seem capable of being: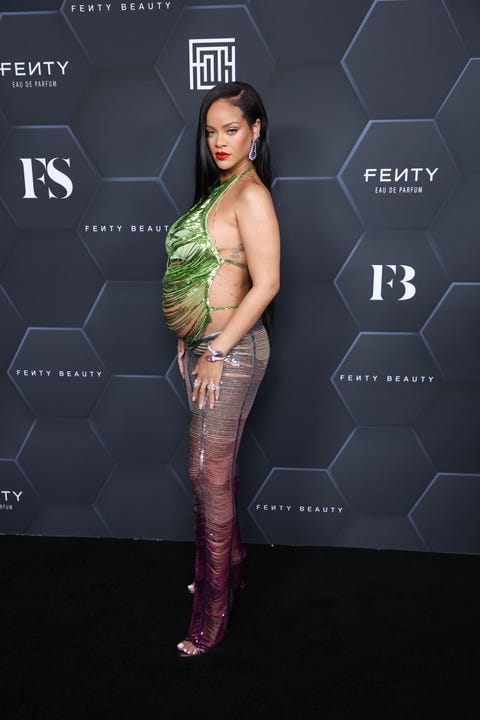 The singer/mom-to-be discussed her maternity fashion philosophy with Entertainment Tonight at the event, saying, "It's a long nine to 10 months. You have to enjoy it."
"I'm trying to enjoy it as much as I could. And fashion is one of my favorite things, so, you know, we're defying what it even means to be pregnant and maternal," she added (with a laugh, according to the ET report). "It can get uncomfortable at times and so you can dress the part and pretend."
Rihanna also talked about pregnancy more generally, describing it as "an exciting journey so far."
"I'm just taking it as it comes every week," she explained. "There's always something new and I'm just taking it and I'm enjoying it."
And, in non-baby-on-the-way news, Rihanna addressed fans' longstanding thirst for new music from her (don't worry: it's good news).
"Yes, you're still going to get music from me," she promised. She didn't give much in the way of clues about when that new music is coming or what it might sound like—except that it def won't be a lullaby. "My fans would kill me if they waited this long for a lullaby."
Never thought we'd be disagreeing with Rihanna, but we think we speak for everyone when we say that we'd 100% love to hear a Rihanna lullaby.
Source: Read Full Article