Scooter Braun is firing back using positive messages from his friends.
The 38-year-old dropped a couple hundred million dollars on the Big Machine Label Group's music catalog — making him the proud owner of Taylor Swift's life's work.
And it has been the most controversial purchase of his life!
The majority of celebs and fans thus far seem to be on Taylor's side.
After a damning Tumblr post written by the Reputation singer, the talent manager is using his Instagram Story to repost messages of support from friends backing his character.
Eesh, not a good sign when you need character witnesses.
One message, from a woman named Alex Smith, read:
"If there's one thing I can't stand, it's a bully. And I can tell you, from my experience, Scooter Braun is definitely NOT a bully. A shrewd businessman and champion of musical talent yes, but definitely not a bully! Having known him since 2004 and worked with him in a musician/manager capacity in the past, I can say he was nothing but empowering and supportive."
Smith's post continued:
"To hear Taylor Swift impugn his character, painting him as a sexist bully is almost laughable. In that industry, as in most industries, there are their fair share of sexists and bullies but Scooter is neither. Scoot doesn't need my defense lol but, as I said, I can't stand a bully."
That's not all! Braun has reposted messages of support from several friends to his Story since things exploded on Sunday: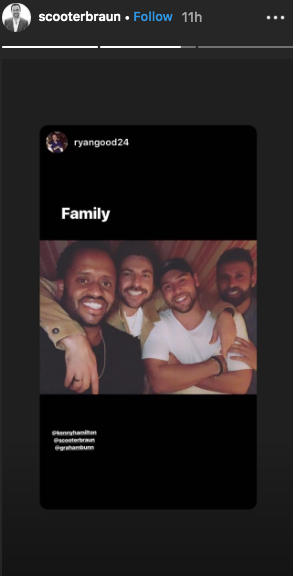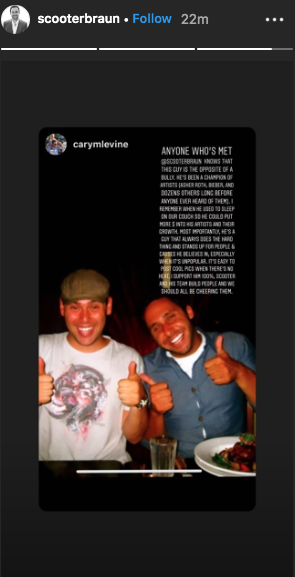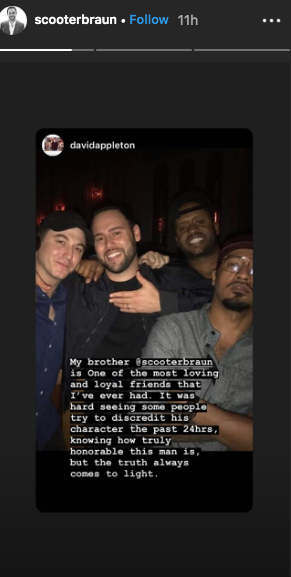 While he may be using these positive messages from supporters to outweigh the negative ones, this is a HUGE change in attitude from how he initially bragged about acquiring the catalog of music, which also includes work from Thomas Rhett, Florida Georgia Line, and more.
Braun crudely celebrated about how he had just "bought" Taylor — but quickly deleted the post. Don't you know nothing on the Internet is ever REALLY deleted, Scooter??
We're only a few days into this drama, and it's clearly not cooling off any time soon!
Other than these IG Story reposts, Scooter seems to be all alone against the #WeStandWithTaylor movement, which has celebs such as Todrick Hall and Halsey firmly backing it up.
However, Tay reportedly ghosted him when he proposed a private meeting, so we can't say she's totally taking the high road either! (But honestly, what was he going to do? Offer to sell her the music rights back?)
Do YOU think Scooter was wrong to buy up Taylor's catalog??
Source: Read Full Article