No Need To Calm Down, Taylor Swift!
As we reported, on Monday, the Shake It Off singer dropped her latest, star-studded music video, featuring cameos from Katy Perry, Ellen DeGeneres, Ryan Reynolds, Bobby Berk, Billy Porter, Ciara, RuPaul, Jesse Tyler Ferguson, Justin Mikita, Adam Lambert, Hayley Kiyoko, Adam Rippon, Chester Lockhart, Dexter Mayfield, Hannah Hart, Antoni Porowski, Jonathan Van Ness, Karamo Brown, Laverne Cox, and Tan France.
The colorful clip was also blessed by appearances from drag queens, including A'keria Davenport, Adore Delano, Delta Work, Jade Jolie, Riley Knoxx, Tatianna, Trinity K Bonet, and Trinity The Tuck.
On Thursday, the pop star released her first behind-the-scenes video from the shoot, where she totally fangirled over the FIERCE performance artists.
WATCH (below):
In the footage, Swift also surprised friend/collaborator Todrick Hall with a co-executive producer credit.
Taylor said to the camera:
"My friend Todrick is one of those people who is very generous with his effort and time, he would never ask for credit when he deserves it… He has put so much into this video, whether it was casting or ideas or fashion, and you know, logistics. He's basically booked half of this video. So I'm going to ask him to be co-executive producer of this video in this card."
While handing him a note, the 29-year-old even got down on her knees, as if she was proposing!
The excited choreographer remarked:
"I feel like I just got asked to prom… I never got to go to prom but if there was anything close to a promposal, it was what I just experienced."
He later added:
"This is the sweetest thing anyone has ever done, you always outdo yourself as a friend. I'm team Taylor for life."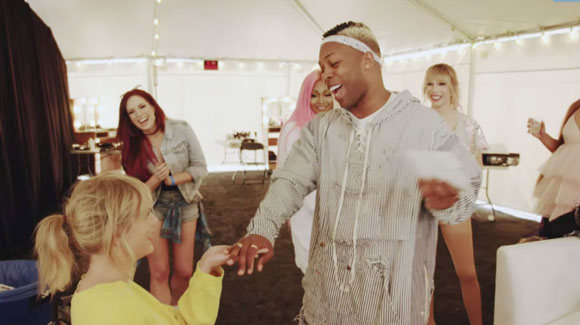 Just like in the music video, at the end of the behind-the-scenes clip, Swift added a message asking fans to sign a petition in support of the Equality Act, which protects the LGBT community from discrimination.
It read:
"Let's show our pride by demanding that, on a national level, our laws truly treat all of our citizens equally. Please sign my petition for Senate support of the Equality Act on Change.org."
Earlier this month, the musician posted a letter to Tennessee Senator, Lamar Alexander, urging him to vote for the bill.
While recognizing that June is "LGBT Pride Month," the artist wrote:
"While we have so much to celebrate, we also have a great distance to go before everyone in this country is truly treated equally. In excellent recent news, the House has passed the Equality Act, which would protect LGBTQ people from discrimination in their places of work, homes, schools, and other public accommodations. The next step is that the bill will go before the Senate. I've decided to kick off Pride Month by writing a letter to one of my senators to explain how strongly I feel that the Equality Act should be passed. I urge you to write to your senators too. I'll be looking for your letters by searching the hashtag #lettertomysenator."
She continued:
"While there's no information yet as to when the Equality Act will go before the Senate for a vote, we do know this: Politicians need votes to stay in office. Votes come from the people. Pressure from massive amounts of people is a major way to push politicians towards positive change. That's why I've created a petition at change.org to urge the Senate to support the Equality Act. Our country's lack of protection for its own citizens ensures that LGBTQ people must live in fear that their lives could be turned upside down by an employer or landlord who is homophobic or transphobic. The fact that, legally, some people are completely at the mercy of the hatred and bigotry of others is disgusting and unacceptable."
Source: Read Full Article