While there's definitely still some drama going on between the Sussexes and the royal family, happy update: turns out Prince Harry and Meghan Markle are getting along super well with Prince William and Kate Middleton. Royal expert Stewart Pearce tells Us Weekly that the couples have been zooming and FaceTiming, and describes them as "very close," which is a definite change from early, slightly more tense vibes.
The author notes that Harry and Meghan are "very different" from William and Kate, and that "Their lens on the world is highly individualized. And what's remarkable is that they all totally respect [each other], but this lens is different."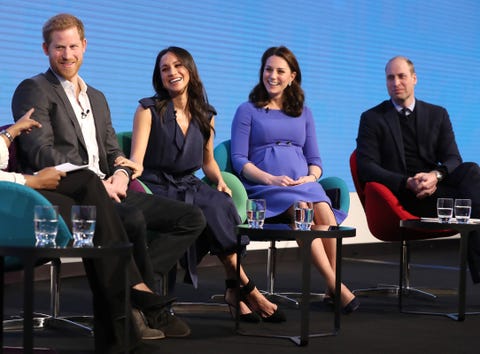 Apparently, the vibe during these Zoom and FaceTime calls is "informal," with "Kate cooking dinner in the kitchen" while William is "making cups of tea" (lol), but the conversations are still pretty light for now. Meaning, they're not chatting about the *breathes exhausted sigh* royal feud.
In other words, Meghan, Kate, William, and Harry want to stay drama-free! Which is in contrast to the higher ups at the Palace, who—a source tells The Sun—are getting lawyered up on behalf of the Queen, not to mention in alleged talks with libel experts about Prince Harry's upcoming memoir. More on that drama below:
Source: Read Full Article