When Joe Biden was the vice president of the Obama administration, his sons Hunter and Beau Biden became almost-instant celebrities. Then, seemingly just as suddenly, Beau died in 2015 from aggressive brain cancer that he had survived once before, CNN reported. Beau was the oldest of Joe Biden's children; after him came Hunter and a daughter, Naomi. The president also shares a daughter, Ashley, with his second wife, Dr. Jill Biden, according to Glamour. But there's plenty you don't know about Hunter Biden. 
For instance, Hunter is a lobbyist and co-founder of the firm Oldaker, Biden and Belair, according to ABC News. And while now-President Biden affirmed that his son did not lobby for him during his run for vice president, Hunter's business dealings were a hot-button issue during debates between Biden and then-President Donald Trump in the 2020 presidential campaign, according to Politico. 
Controversy aside, though, Hunter also survived a car accident when he was just a toddler. Keep reading to learn more.
Hunter Biden lost his mother and sister in a car accident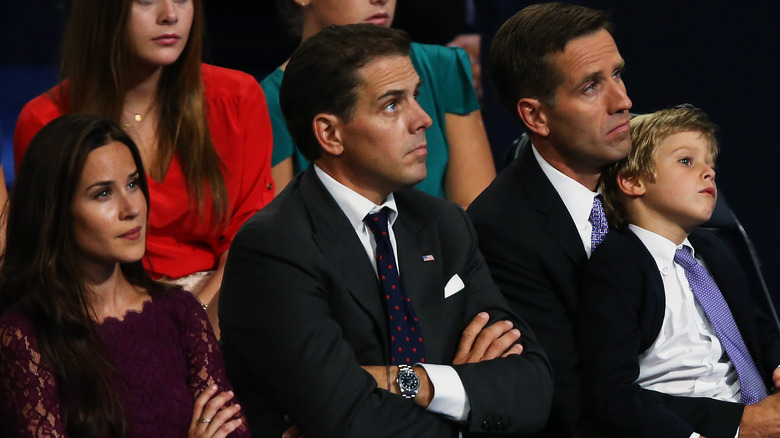 Beau Biden's 2015 death wasn't the first tragedy for his father, President Joe Biden. Before he became a senator, Joe was married to Neillia Hunter, with whom he shared children Beau, Hunter, and Naomi. A car accident in 1972 claimed both Neilia and Naomi's lives, and while Beau and Hunter were recovering in the hospital, Joe became a first-term senator for the state of Delaware while standing by his sons' bedside. Naomi was just one year old at the time of the crash, while Hunter and Beau were toddlers. 
Beau eventually grew up to become the Delaware Attorney General and a veteran, and it was clear from Hunter's eulogy at Beau's funeral that the two brothers were very close. Hunter shared at the funeral that after the car crash, he remembered Beau holding his hand and saying, "I love you, I love you," via CNN.
According to an April 2021 interview Hunter did with CBS Sunday Morning, he turned to substance abuse after his brother's death. Hunter shared with CBS Sunday Morning that after Beau's death, his father came to his apartment — while he was the vice president — to encourage him to seek help.
If you or anyone you know is struggling with addiction issues, help is available. Visit the Substance Abuse and Mental Health Services Administration website or contact SAMHSA's National Helpline at 1-800-662-HELP (4357).
Hunter Biden for office…maybe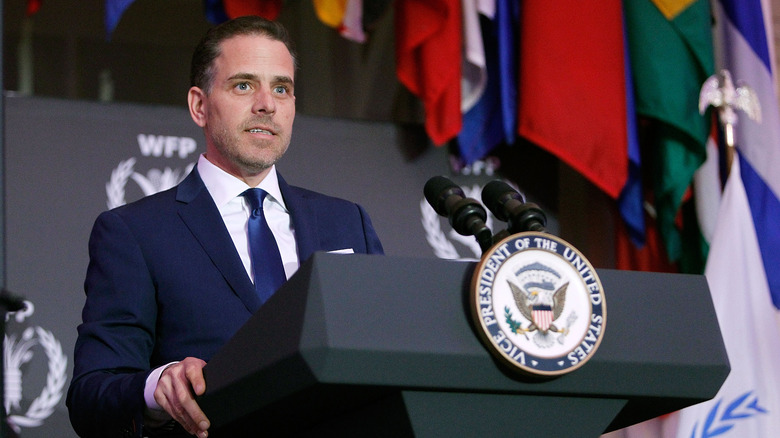 One thing Hunter Biden has in common with his father, President Joe Biden, is that media coverage doesn't seem to affect him personally. In 2019, he revealed to Vanity Fair his feelings about growing up in the public eye, saying, "Even though my life has been played out in the media because I am a Biden, my father never once suggested that the family's public profile should be my priority." Hunter added that one of his father's philosophies was to "Love people and find a way to love yourself. And remember that the two things are very much connected."
In his memoir, "Beautiful Things," Hunter Biden discussed his addictions, his relationship with his sister-in-law Hallie Biden after Beau Biden's death, and the truth about his family's intervention. And according to The Cut, Hunter's memoir could be Hunter Biden's first platform in trying a run for political office in some capacity — not that anything official has come to light.
Thanks to the 1972 car crash, Hunter Biden's life has been marked with tragedy from an early age, but he's always had his father's support. As President Biden said at a December 2020 presidential debate (via the Washington Times), "I'm proud of my son."
Source: Read Full Article