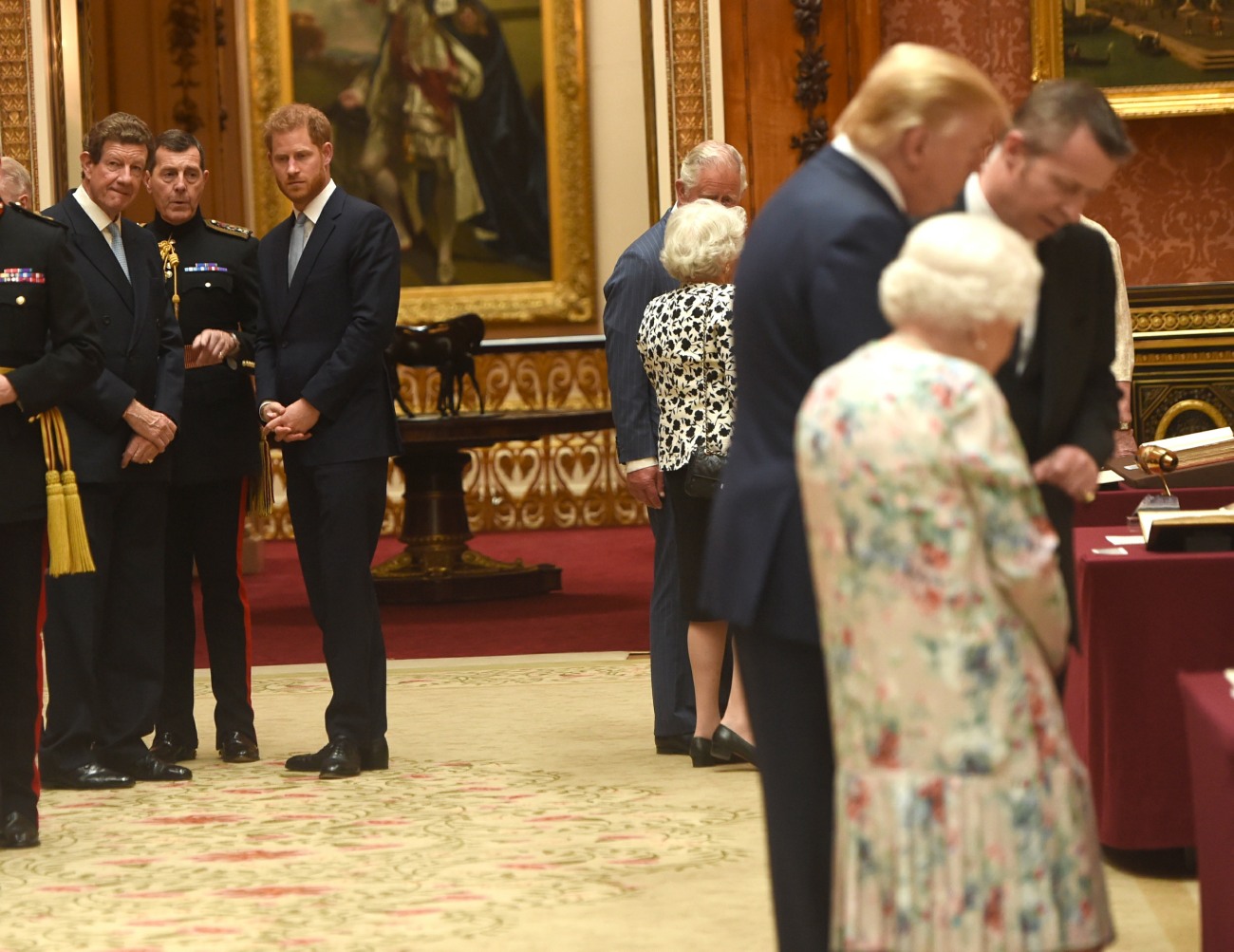 There's just a cognitive dissonance when the British press tries to slam the Duke and Duchess of Sussex by nitpicking every little thing they do or don't do. To hear the Cambridge-defenders, the "Will and Kate will be king & queen" people, Harry and Meghan are now "minor royals" and no one cares enough about them for their actions to even matter. Except that clearly, there's an obsession with detailing every single thing about Harry and Meghan, often with a "damned if they do, damned if they don't" shade. Prince Harry did his duty and showed up for the palace lunch for the Trumps. He also attended the Royal Collection presentation for the Trumps, which he wasn't even scheduled to attend. Then Harry went back to Frogmore Cottage and didn't attend the state dinner. Meghan stayed home with Archie for the day, because she's still on maternity leave (she only gave birth a month ago). We knew that Harry would not go to the state dinner, it was announced weeks ago. But the Daily Mail is still trying to make all of this into some big "Harry snubbed the Trumps because his wife is too political and something something, it's all Meg's fault." I thought they were minor royals and no one cared?
Prince Harry was noticeably absent from the State Banquet staged in honour of Donald Trump, in the wake of alleged comments made about his wife. The Duke of Sussex appeared less than keen to be pictured with the President – who reportedly branded Harry's wife Meghan 'nasty' at the weekend after learning of comments she made about him while she was an actress.

Earlier in the day Harry had chaperoned Mr Trump's daughter, Ivanka, into Buckingham Palace's Picture Gallery for a display of US-themed artefacts. But the Queen's grandson quickly disappeared into the background and did not follow other members of the Royal Family as they walked round the exhibition with the American leader and his party.

Speculation was rife that the prince had been angered by the comments apparently made by the president, after learning of the remarks Meghan made in 2016. Harry, 34, had been a last minute addition to the proceedings after aides initially suggested that neither he nor his wife would take part. This was partly due to the recent birth of their son, Archie, and also the fact that they do not normally get involved in State visits due to their position in the royal pecking order. Harry is now seventh in line to the throne and has only ever attended one State banquet previously.

Meghan is on maternity leave, having given birth to the couple's first son just a month ago. But her omission would no doubt have come as a relief, with her previously describing Mr Trump as a 'misogynist' and 'divisive' in a 2016 interview when working as an actress.

A spokesman declined to comment further but it appeared that pressure had been put to bear on the couple to at least show willing given the significance of the Queen's VIP guest. Royal sources stressed last night that Harry had shaken hands with Ivanka and her husband Jared, as well as with John Bolton, the President's National Security Advisor. They also insisted that there was no 'scripted procession' for members of the royal family to walk round and view the exhibition.

All the guests at the lunch were expected to attend a display of artefacts from the Royal Collection, the treasure trove of art, antiques and artefacts held by the Queen on behalf of the nation, in the Picture Gallery afterwards, which is captured by the media. Harry's appearance was notably fleeting, though. Although he chivalrously walked Ivanka in, the prince ducked out of joining the group as they politely walked around the display. In doing so he left the US President's daughter to be rescued by a female member of staff from the Royal household. She quickly paired her up with the Duke of York, who could later be heard chatting to her about golf as they looked at pictures taken of royals through the ages at St Andrew's. In the end the cameras only caught the briefest glimpse of the prince at the back of the room, with President Trump barely in shot.
[From The Daily Mail]
So, what's the story here? Prince Harry, a "minor royal," was not important enough to be invited to the state banquet, but he still barged into the Royal Collection viewing even though it wasn't on his schedule, and then he purposefully ignored Ivanka and kept his distance from Donald Trump all because… his wife made a completely accurate statement that Trump is a misogynist back in 2016, before she had even met Harry? And on the eve of the trip, Trump called Meghan "nasty" and Harry is somehow to blame for not wanting any f–king thing to do with him?
I mean… Harry was between a rock and a hard place. I think it's notable and interesting that Harry did NOT want to be photographed with the Trumps during this visit, just as I think it's notable that William and Kate weren't around for the day-time photo-ops too. The younger royals do a lot sh-t wrong, but I don't blame them for awkwardly avoiding certain photo-ops and Trump shenanigans.
Also: Ivanka looked like a dumbass in that outfit. Giant shoulder pads, puffy sleeves and a stiff peplum? Girl, tone down your '80s Diana cosplay, that's Kate's thing.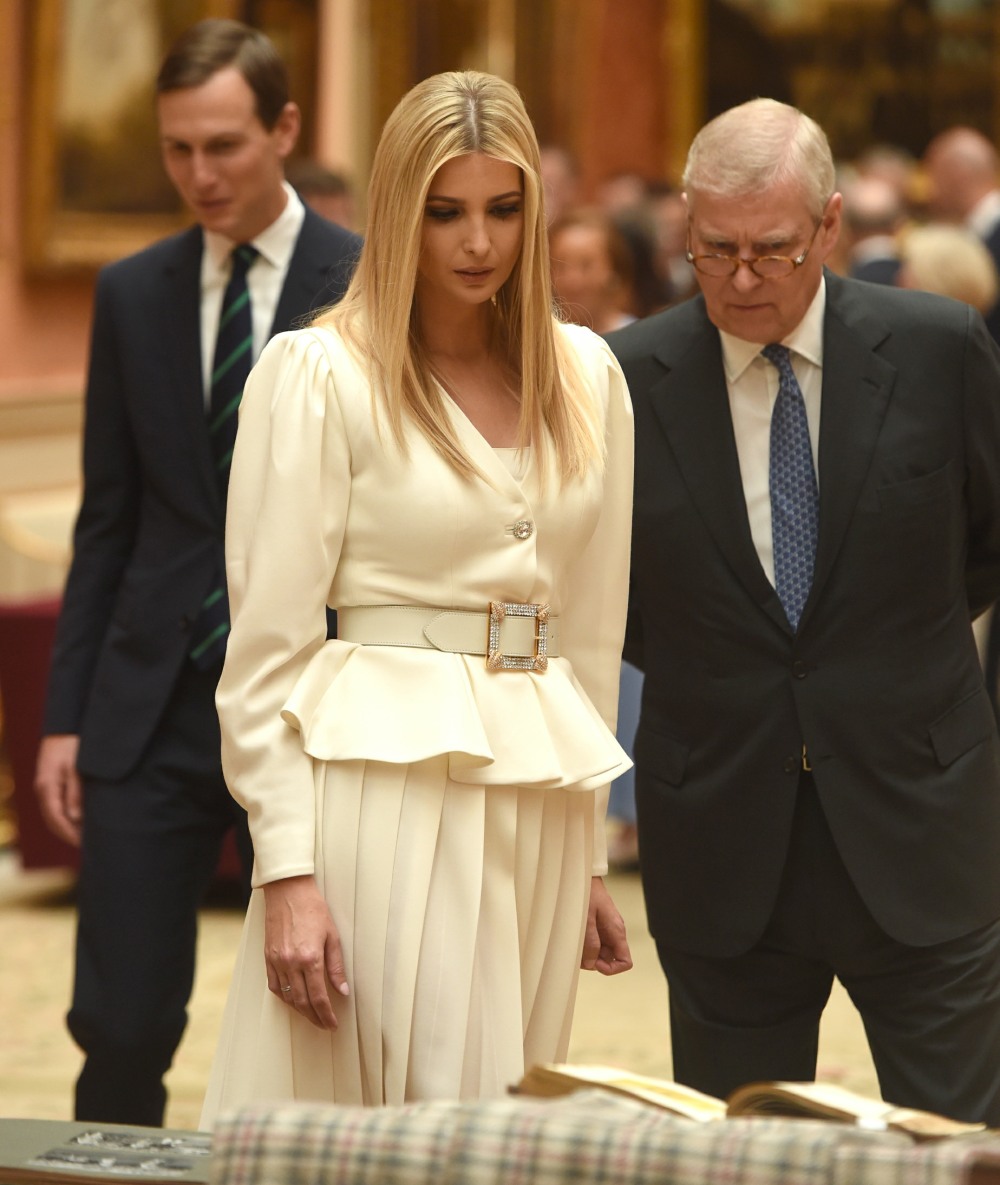 Photos courtesy of Avalon Red.
Source: Read Full Article