After 11 seasons, Shemar Moore left his beloved role of Derek Morgan on the popular "Criminal Minds," never to call anyone "baby girl" ever again, and quickly jumped from a supporting role to the star of a different crime procedural show: "S.W.A.T." Based on the short-lived, barely remembered mid-1970s police drama of the same name, Moore plays former Marine Daniel "Hondo" Harrelson, a character who heads up the Los Angeles Police Department's Special Weapons and Tactical division and helps diffuse some of his city's diciest and most frightening situations, all while trying to keep the peace between law enforcement and the tense citizenry.
Matching the familiar format and premise of "S.W.A.T." is the cast of the show, full of recognizable faces from TV hits of the past two decades. Ever wonder what the people who so thoroughly and believably play these elite crimefighters get up to when they're not acting on a hit, long-running CBS action drama? They're hanging out with their spouses and life partners. Here's a look at the people who live with and love the cast of "S.W.A.T."
Stephanie Sigman's husband is a filmmaker and producer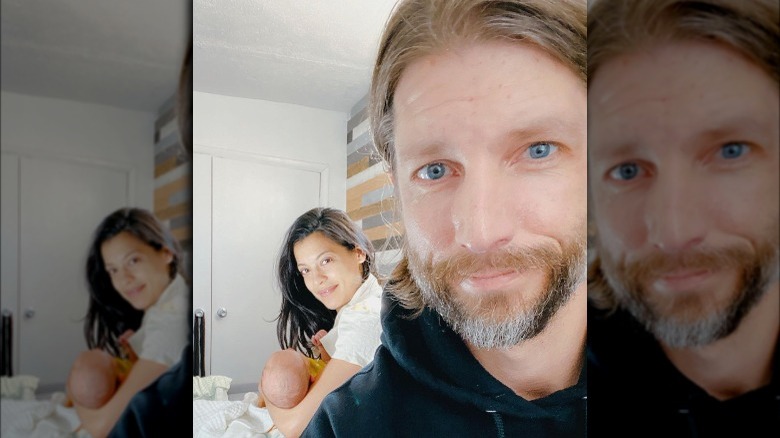 After starring in the well-received 2011 smuggling thriller "Miss Bala," Stephanie Sigman's rise has been swift. She landed a big role in more cartel dramas, "The Bridge" and "Narcos," before moving to the other side of the fictional law, joining the original cast of "S.W.A.T." in 2017 as Jessica Cortez, a Los Angeles Police Department officer and love interest to Hondo Harrelson.
Like her "S.W.A.T." character, Sigman connected with her love interest via her profession. Brian Andrew Mendoza, who also goes by the shorthand nickname BAM, juggles careers as a director, producer, and cinematographer. After working as production manager on "Judge Judy" and "Judge Joe Brown," he formed a production company with Jason Momoa, with whom he frequently collaborates. The "Aquaman" star appeared in "Road to Paloma," "Braven," "Frontier," and "Sweet Girl," all of which Mendoza at least produced.
According to Mendoza's Instagram, he and Sigman married on a Hawaiian beach in October 2018 after being a couple for four years. Slightly more than a year after their wedding, Sigman gave birth to the couple's first child, a son named Noah Hawk. Mendoza is apparently a very hands-on, doting father, so much so that according to Sigman, Noah calls him "Mama."
Shemar Moore was linked to Anabelle Acosta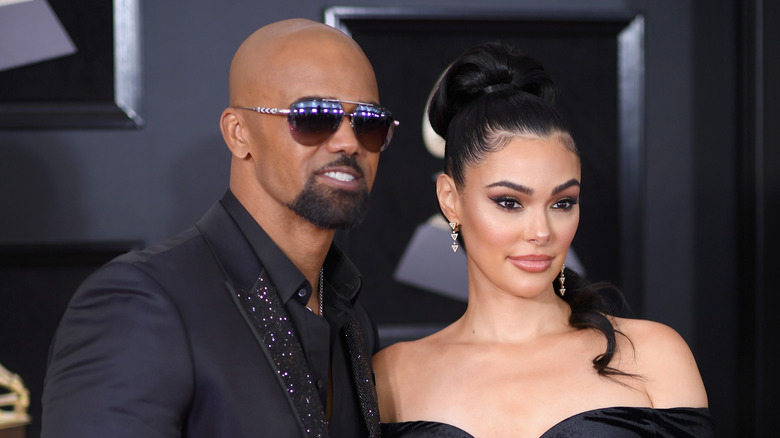 According to an interview with TMZ, "Criminal Minds" breakout star and "S.W.A.T." headliner Shemar Moore frequently had a certain lady on his arm at red carpets and movie premieres: his mother. "You're tired of seeing me and Mama on the carpet," he said, then alluded to how tabloids speculated that he might be gay because he was so rarely accompanied by a woman to whom he wasn't related. Moore dispelled those rumors, he felt, when he appeared on the red carpet of the 2018 Grammy Awards with actor and model Anabelle Acosta.
As he shared on Steve Harvey's talk show "Steve," Moore developed a crush from afar on Acosta. "I looked her up, I did some homework. I watched some interviews of her," he said, then asked the cast and crew of "S.W.A.T." to get him her contact info, promising a trip for two to Las Vegas or Miami on his dime to whoever scored the number. He wrote a "charming" email which led to their first date: the Grammys.
Acosta is probably best known for her recurring roles as Natalie Vasquez on "Quantico" and Annabella on "Ballers." In 2019, the actor explained on Instagram why she hadn't been in many TV shows or movies for a while: "Two years ago a near fatal car accident almost took my life," she wrote. "It's a miracle I'm alive." According to The Blast, Moore and Acosta split that same year.
Alex Russell's partner starred on Goliath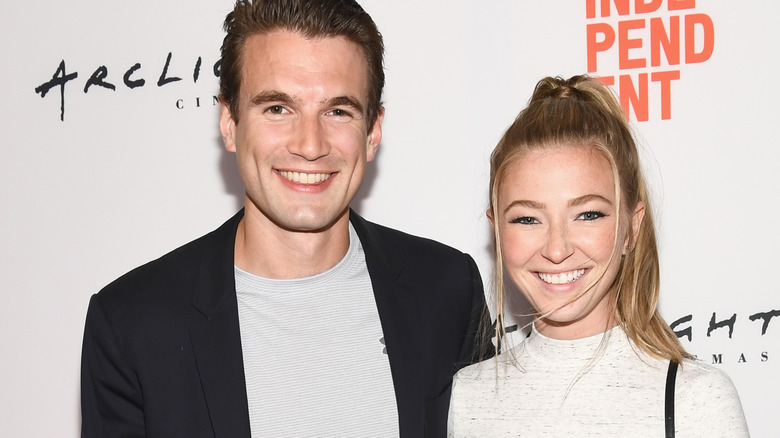 Big audiences likely first noticed Alex Russell, who portrays Officer III Jim Street, a transfer to the Los Angeles S.W.A.T. crew from the Long Beach Police Department on "S.W.A.T.," in the 2012 superhero found footage-style movie "Chronicle," or the World War II drama "Unbroken." Part of the reason why he took the role on "S.W.A.T." was that it could help his relationship with actor Diana Hopper. "Television is always a risk for anyone, let alone someone who has such a passion for cinema," he told Foxtel. "It almost never happens, to find something I'm excited about creatively but also gives me the chance to stay in L.A. with my girlfriend."
Russell's partner: actor Diana Hopper. After paying her dues with roles in short films and single episodes of TV series, Hopper landed her big break on the Amazon-produced legal drama "Goliath." Billy Bob Thornton plays washed-up lawyer Billy McBride, who takes on evil corporations; Hopper played his daughter, Denise, in the first three seasons of the show, which has been renewed for a fourth.
Kenny Johnson married another former cast member of The Shield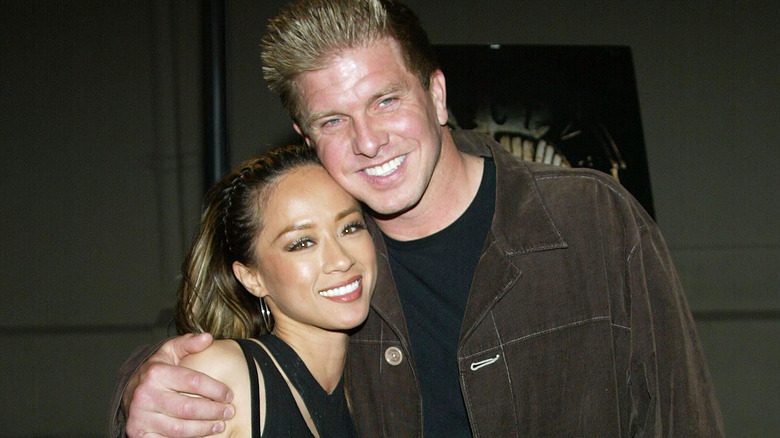 A decade before he began his run on "S.W.A.T." as third-generation S.W.A.T. team member Dominic Luca, actor Kenny Johnson had a prominent supporting role on another tough and gritty show about the complexities of law enforcement in Los Angeles: the acclaimed FX drama "The Shield." For four years, he played the ultimately doomed LAPD detective Curtis "Lem" Lemansky. Johnson may have exited the series early because of his character's fate, but "The Shield" also ranks among the handful of acting credits of his wife, Canadian performer Cathleen Oveson. After Johnson had left "The Shield" in 2006, Oveson played Gina in a single, 2007 episode of the series, in between roles in the film "Going Back" and on the detective series "Saving Grace."
According to People, Johnson and Overson got married in 2005, and in 2008, announced that they were expecting a baby, a daughter named Angelica who arrived in 2009. In 2018, Johnson got to share the screen with his kid on an episode of "S.W.A.T.," an experience he told ET "felt magical."
Jay Harrington's wife is a green entrepreneur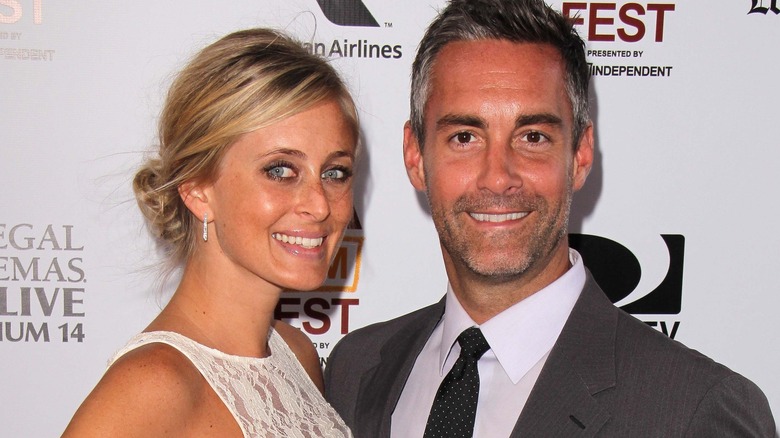 Sergeant David "Deacon" Kay, family man and second-in-command on the LAPD's S.W.A.T. team probably looks familiar to "S.W.A.T." viewers. That's because he's played by Jay Harrington, recognizable from his extensive TV resume that includes arcs on "Desperate Housewives," "Private Practice," and "Hot in Cleveland," and a starring role on the cult classic sitcom "Better Off Ted." 
While he often takes on the role of potential love interest on TV shows, Harrington is off the market in real life. According to Twitter, he got married on Cape Cod in the summer of 2016 to model, environmental activist, and entrepreneur Monica Richards. Represented by Role Models, an ethical talent and modeling agency, Richards calls herself "Eco Babe," and in 2017 launched a venture under the similar name of ecobabe. Her business is a sustainable living consulting firm. "I green up homes and offices — the most efficient way for busy homeowners and those in the workforce to detox their space," Richards told VoyageLA. Under the ecobabe umbrella, Richards also created The Collective, a members-only group "for committed ecobabes" to effect change in the field of green and sustainable lifestyles.
David Lim married model Marketa Kazdova
Since "S.W.A.T." launched in 2017, former "Quantico" star David Lim has portrayed Officer III Victor Tan, an ex-Vice Squad agent for the Los Angeles Police Department turned S.W.A.T. operative. Shortly after marking their four-year anniversary as a couple on Instagram, Lim proposed to his long-time partner, model Marketa Kazdova. Represented by L.A. Model Management, Kazdova has starred in campaigns for Fidelity Denim and some of its offshoot brands (such as Sola Leopard) as well as jeans company Level 99.
As Lim told Us Weekly, he popped the question at Sunset Cliffs in San Diego, a spot they "both love" in the summer of 2018. "I found a secluded spot, and asked her to face the Pacific as the sun was going down so I could take a photo of her," he shared with the magazine. "When she turned back around, I was on one knee with the ring. I told her how much I loved her, and asked her to marry me."
In 2019, the couple set off on a multi-national destination wedding and honeymoon extravaganza. According to CBS Watch, they married in a ceremony in a vineyard overlooking Prague, in Kazdova's home nation of the Czech Republic. After that came a short jaunt to Croatia with friends, then a series of vacations to Sardinia, Rome, and Maui.
Peter Onorati's wife is a TV writer and producer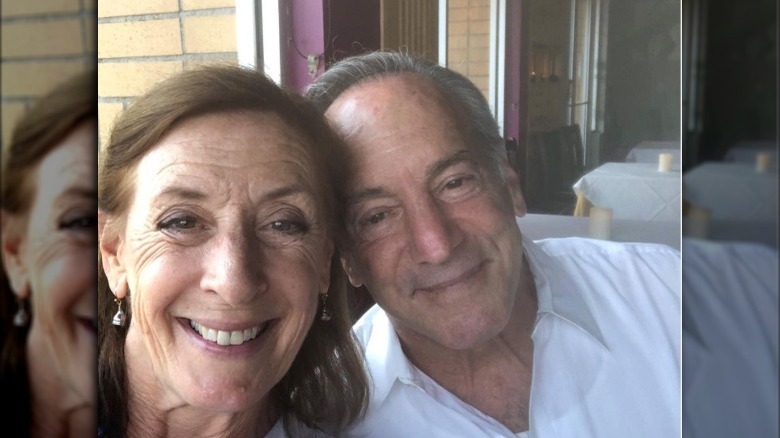 Prior to his two-year gig as Sgt. II Jack Mumford on "S.W.A.T.", Peter Onorati has appeared in more than 100 projects, best known for his tenure in the late '80s and early '90s as a romantic interest, police officer, and lawyer on "Kate and Allie," "Cop Rock," and "Civil Wars," respectively. Before his career took off, he met aspiring screenwriter Jeanette Collins. As she recalled to Feminine Collective, they both spent a day in the mid-1980s partying on a yacht owned by a mutual friend who lived on St. Croix. They would go on to marry and have three sons together.  
Collins has been a behind-the-scenes figure on a lot of television over the past 30 years. Her career began with a writing stint on "In Living Color," and included stops at "A Different World," "Will and Grace," "Drop Dead Diva," and the American remake of the British hospital comedy "Getting On." She additionally served as a producer on "Suddenly Susan" and the Disney Channel series "I Didn't Do It" while moonlighting at the American remake of the dark British hospital comedy "Getting On." "It's creative whiplash," Collins told Feminine Collective. 
Debbie Allen has been married to ex-NBA player Norman Nixon for decades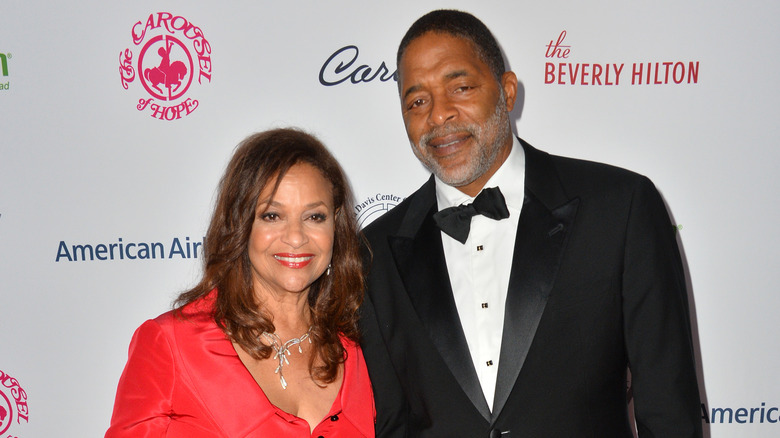 Debbie Allen has crafted one of the most illustrious and varied careers in Hollywood history. As an actor, she earned four Emmy nominations for the performing arts high school drama "Fame" where she played dance teacher Lydia Grant, playing off her years as one of the most in-demand dancers and choreographers in show business. When "Fame" ended she moved on to "A Different World" to be a showrunner and primary director. In 2018, she joined the cast of "S.W.A.T." in the recurring role of Hondo Harrelson's mother, Charice Harrelson.
As Essence recalled in a loving anniversary tribute, Allen married her husband way back in 1984. Norm Nixon, a.k.a. "Stormin' Norman," played in the NBA from the late 1970s until the late 1980s, some for the Los Angeles Clippers but mostly for the Los Angeles Lakers, a period in which the latter dominated the league with its "Showtime" lineup. Alongside Magic Johnson and Kareem Abdul-Jabbar, Nixon was part of two Lakers squads that won championships, in 1980 and 1982. He was also a member of the NBA's all-star team. After playing for an Italian professional team, Nixon returned to the U.S. and became a sports and talent agent. He's represented the likes of NBA star Jalen Rose and musicians such as TLC and LL Cool J, per The New York Times. With his wife, he helped found and serves as the executive director of the Debbie Allen Dance Academy.
Source: Read Full Article