The following article contains references to sexual harassment allegations.
If there's one thing worth mentioning about the transformation of David Boreanaz, it's that he's not a man known for radical change. In fact, he's quite the opposite. Having maintained a steady career on the small screen for more than two decades and having spent the majority of that time starring as the same two characters, Boreanaz has developed a well-earned reputation for being what GQ once lovingly referred to as "the most steadily employed man on television." 
His comforting ability to maintain such a consistent career — including the characters he chooses to depict, who very often fall into very similar types — has become such a casual, cultural mainstay that Boreanaz even became part of several running jokes in the Hollywood-based animated comedy, "Bojack Horseman" (via NukeTheFridge.com). As such, Boreanaz's career, personal life, and sense of style have evolved in slow, steady ways over the years — so much so, that you may not have even noticed he'd changed until you look at his story in full. 
You don't need to be a forensic anthropologist to figure out the slight nuances of this actor's changing style or why certain moments required certain looks — but it probably helps. Throw on your fave black trench coat and come skulk around the style and career graveyard of TV's seemingly most immortal star, as we look at the transformation of David Boreanaz from 22 to 52 years old.
David Boreanaz was once down and out in Los Angeles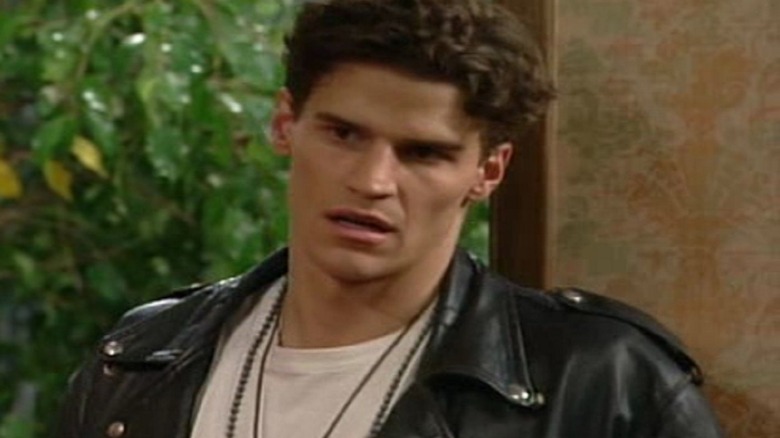 Having majored in cinema and photography at New York State's Ithaca College (via Fuse), a 22-year-old David Boreanaz headed to Los Angeles with dreams of working on the small or big screen in some capacity. As he told Parade, the start of his Hollywood career was as rocky as any other rookie star's, and he took up occupancy on his sister's couch and kept busy handing his résumé out. As the outlet put it, Boreanaz would even "[sneak] onto movie lots" by donning a sharp suit and "pretending he was a studio" bigwig during this time.
Sadly for him, Tinseltown wasn't quite registering him as one just yet — and in between the odd commercial or theatre gig, Boreanaz spent a few years bouncing between blue-collar jobs like parking cars and cleaning toilets (via the New York Post). In the middle of it all, however, he did score a huge win: Playing a beautiful-but-dim biker boyfriend of Christina Applegate's Kelly Bundy in a 1993 episode of "Married… with Children." The episode ends with his character, Frank, getting beat up in a cinema by grumpy family patriarch Al, which was the sitcom equivalent of winning the lottery in the '90s. 
Unfortunately, it would be a while until Boreanaz scored another a big role. But weirdly, it prompted the start of one the actor's core looks: The bad boy leather jacket paired with a wholesome crisp t-shirt — a look he'd come to repeat throughout his career. 
His vampiric transformation into a TV heartthrob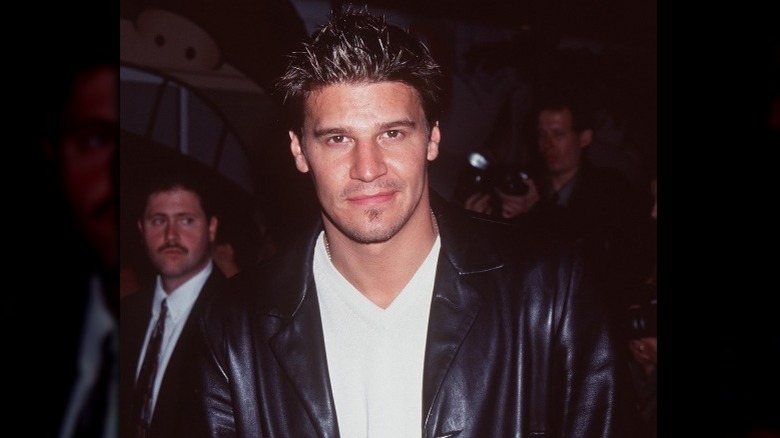 After "struggling for years" following his "Married… With Children" breakout role, David Boreanaz revealed to Entertainment Weekly that he found himself in "the right spot at the right time" when he was cast in the role of tortured good-guy monster, Angel, in "Buffy the Vampire Slayer" in 1997. Like a vampire with a soul bumping uglies with the Chosen One, the role transformed him overnight. But while Angel's transformation would lead to evil and back again, Boreanaz saw the actor becoming a beloved heartthrob.
Though he'd confessed to loving designers like Versace (for his "extreme side") and Helmut Lang (for his "simple side"), Boreanaz told the New York Post that his style mostly focused on wearing things he feels comfortable in. That might go some way to explaining why he spent much of his "Buffy" rise to fame pairing a structured leather jacket with a simple t-shirt. But it's interesting to note that the look also reflects that of his character, who would similarly lurk around Sunnydale in a leather blazer combined with a t-shirt or button down. 
The look was brimming with symbolism: Tough on the outside, but striving for something honest and uncomplicated within, just like Angel. Boreanaz appeared happy to hide behind his TV character even on the red carpet, but was his personal life any indication as to why? We can't say for certain, but while Boreanaz married his long-term girlfriend in 1997 — screenwriter Ingrid Quinn — they were sadly divorced within two years (via New York Post).
David Boreanaz held his own with the Angel spin-off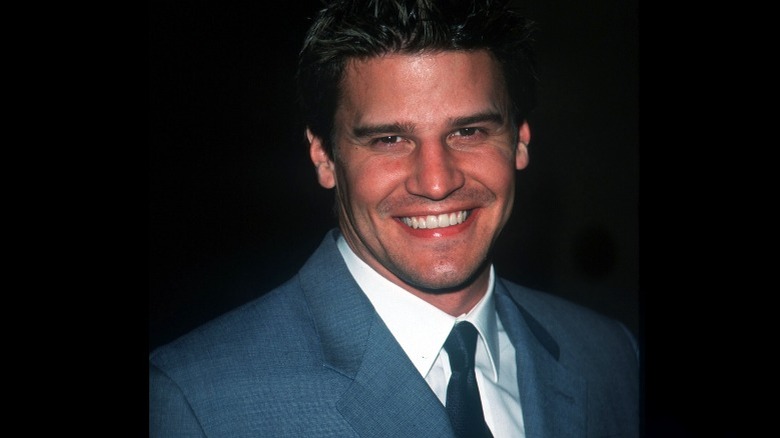 By 1999, "Buffy the Vampire Slayer" was a massive hit, but Sunnydale just wasn't big enough for a vampire slayer and her on-off undead dreamboat boyfriend to co-exist (not without accidentally hitting another post-coital trigger of murders, anyway). As a result, David Boreanaz scored his own spin-off show, "Angel," in which the deadpan vamp opened a detective agency in Los Angeles. Not only did the series give him the chance to direct his first TV episodes (via Entertainment Weekly), it also gave him the space to better develop Angel as one of the "angry, bitter characters" he told The Movies Online he loves to play best.
"Angel" showrunner David Greenwalt described the show as being "a noir … about addiction and redemption," with Angel symbolizing a man very literally trying to fight his demons, per Entertainment Weekly. And though the more adult-oriented role demanded his character be much "darker," Boreanaz thrived in his ability to underline the character's tragedy with moments of comedy — showcasing a deft duality of character that he'd come to repeat in other roles across his career. 
As his character grew, so too did Boreanaz. Sartorially, while Angel swapped out his leather for a private eye trench coat, Boreanaz's style likewise evolved to incorporate a more slick, professional look. The leather was out, and tailored suits were in.
A Valentine's massacre of a look and a movie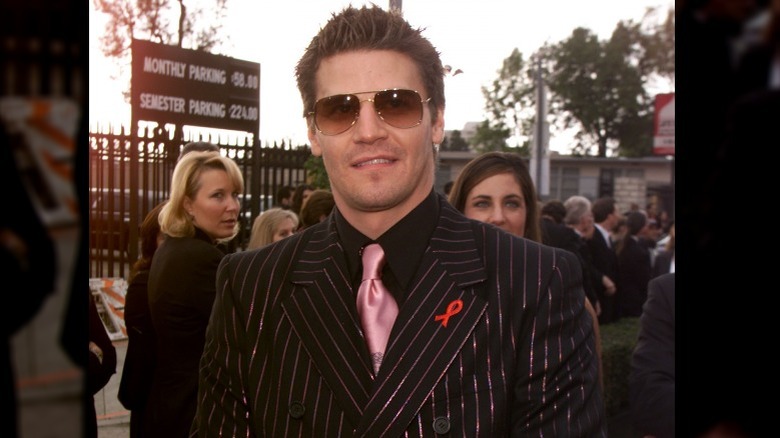 In 2001, David Boreanaz tried his hand at big screen success and did so within the comfortable confines of the horror genre with a role in the schlocky slasher flick, "Valentine." Though the actor continued to swagger along red carpets in a series of suits, he was suddenly leaning into more showbiz territory with daring cuts, colors, and fabrics that admittedly sometimes tested the limits of taste. Perhaps the transformation stemmed from a desire for movie stardom — or an attempt to manifest it via ensembles that Tim Gunn would likely make a woeful face of concern at.
"I'll take a project if I can enjoy it and learn from it," Boreanaz told The Movies Online. "And if I'm afraid of something, if I feel it's a stretch, then I know it's right." But sadly, "Valentine" would not serve those big-screen dreams to him. Not only was Boreanaz depicting a character who felt like a less metaphorical imagining of Angel — a seemingly good guy harboring a crushingly dark issue with alcohol consumption — but the horror film was also poorly received by critics and audiences alike.
The New York Times, for instance, opined that — fictional body-count aside — Boreanaz was "the biggest victim" of the film, which the outlet mused had very low stakes (vampire pun not intended). It's clear a horror film has failed, The Times suggested, "When it's hard to hear the dialogue because the audience is laughing." Undeterred, Boreanaz would forge forward and try again.
David Boreanaz failed to score a big screen hit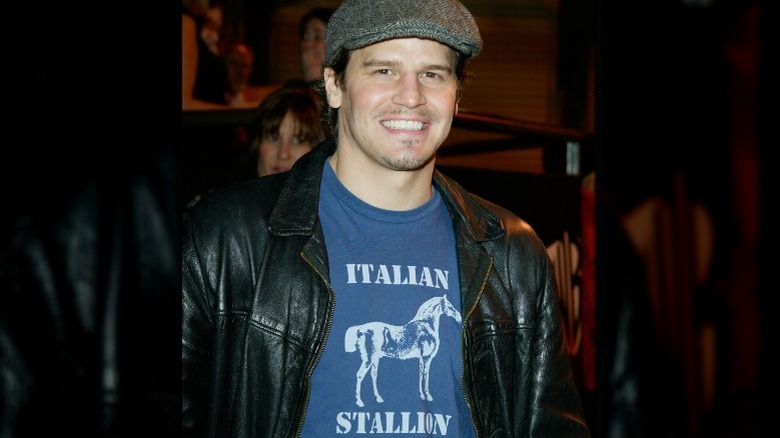 Sadly, David Boreanaz's big screen career would continue to stall, but through no fault of his own. The films he was being cast in, after all, weren't exactly making a huge dent on Hollywood. Plus, the characters he was given seemed entirely dependent on the actor leaning heavily on one half of his established dual appeal: He was either the dreamy heartthrob who would go on to lead forgettable romantic comedies like "These Girls" and "Mr. Fix It," or he was the brooding bad boy chewing scenery in genre fare like the critically-panned sequel, "The Crow: Wicked Prayer." Either way, the movies usually found a way to get him topless and flexing his abs (which audiences were all for). 
As Boreanaz admitted to Behind the Lens, he struggled with being able "to step outside" his small screen responsibilities and into these "small little films" beyond it. Describing "Angel" as a "very physically hard show to do" due to the 14-hour workdays, Boreanaz nonetheless appreciated having the opportunity to try on new characters and to work with legends like actor Dennis Hopper on the latter flick. "I enjoyed all these little roles," the actor said. 
Perhaps unsurprisingly, then, Boreanaz's style seemingly shifted back to his comfort zone. Gone were the razzle dazzle suits and in their place were his favored cozy combo of the leather jacket and t-shirt. He was a man who seemed to perfectly understand his place in the industry, and by all accounts looked content there. Still, changes were afoot. 
The star bounced back with Bones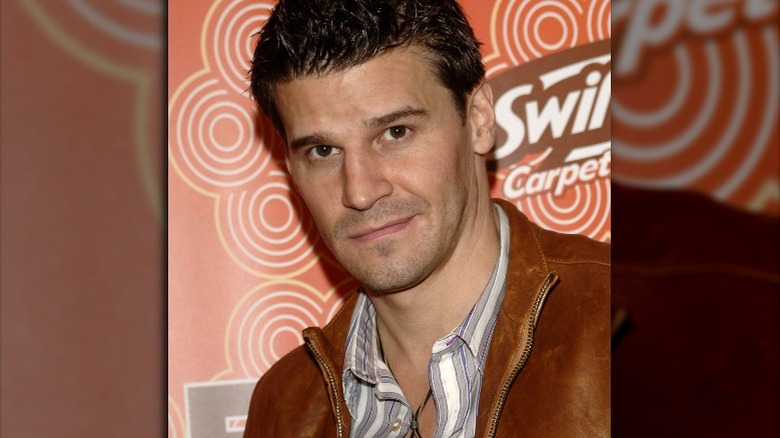 In 2004, during the midst of these big screen struggles, "Angel" was cancelled. As David Boreanaz's "Angel" co-star, James Marsters, told The AV Club, the decision took the whole team by surprise, as the show's audience had apparently "almost doubled" during the final season. However, Boreanaz was ready for the potential of having to leave "Angel" behind. "If it has to be, then it has to be," he contemplated to Entertainment Weekly in 2003. "I have no regrets."
The cancellation proved to be fortuitously timed, as it gave Boreanaz a new opportunity: To star in "Bones," a new TV show that he once described to Parade as being like, "'I Love Lucy' skits in the forensic anthropology world." The comedy crime series, in which he starred alongside Emily Deschanel, suited his general vibe. Though it had an undeniably dark, grisly undercurrent, it was also light and fun and allowed Boreanaz to play an "everyday guy" with a dark past that the show "didn't really tap into," as he told Entertainment Weekly. The character of Seeley Booth, Boreanaz said, "was a loose cannon under control," who evolved over time to find stability for himself within an ever erratic environment.  
Boreanaz had likewise found stability within the similar environment of Hollywood, and was dressing as though he'd slipped into the easy chair of his career — and it looked good on him. Though by this point, the actor had surely amassed the largest collection of leather jackets in Hollywood.
David Boreanaz became a family man — on and off screen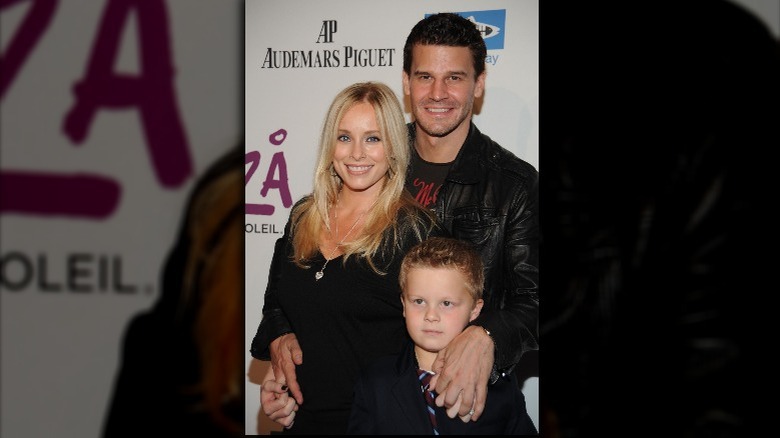 While he was continuing to evolve on screen, on a personal level, the transformation of David Boreanaz saw the actor building a family. The "Bones" star married former Playboy Playmate (turned actor) Jaime Bergman in 2001 (via Entertainment Weekly), and the two welcomed their first child, Jaden Rayne, in 2002. Seven years later, the couple added a second child to their brood — Bardot Vita, per People, whose name was curiously changed to Bella Vita, according to Name Candy, not long after.
It proved to be a transitional period for Boreanaz, and though he was already a father, he was seen on red carpets proudly posing with his family a little more often. Speaking to People, he compared his own transition to being a father for a second time to "the interesting road" that his "Bones" character was similarly working through, while "looking at love, finding it and trying to apply it to somebody who really is special."
Of course, transitional periods can be rocky. In the coming years, Boreanaz would face struggles and controversy that impacted heavily upon his family life. 
Scandals, controversy, and a marriage in turmoil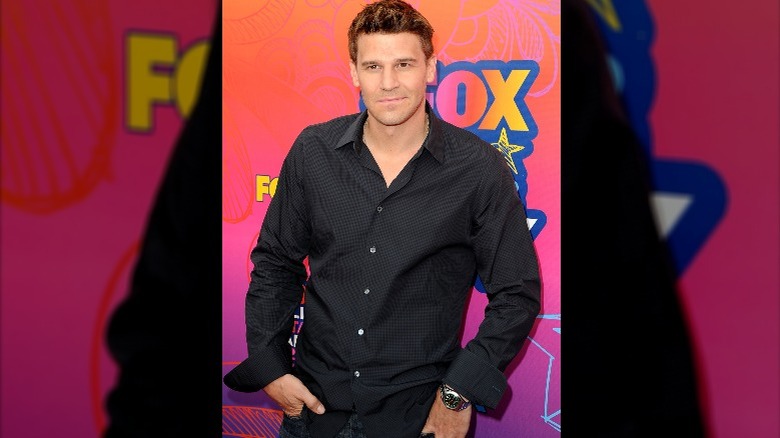 In "Buffy the Vampire Slayer," one big tell that Angelus was causing bother was when he'd opt for his trusty button-down shirt — usually worn barely buttoned up. David Boreanaz seemed to have been taking tips from his character when he made a return to wearing such shirts on the red carpet during a time of deep turmoil. In 2010, the actor came clean to having had an extramarital affair whilst his wife was pregnant with their second child (via HuffPost).
Admitting that he'd been "irresponsible" and "tainted" his marriage with his "infidelities," Boreanaz confessed to People that his mistress had threatened to tell media outlets about the affair. "She asked for money," he said. "I felt as though I was being blackmailed." The damage was done, but the drama wasn't. That same year, Kristina Hagan, an acting extra who worked on "Bones," sued Boreanaz over claims that he'd sexually harassed her while she worked on the hit show in 2009.
According to the Daily Mail, the lawsuit alleged various incidents of sexual misconduct, including Boreanaz — an executive producer of the show — allegedly suggesting he would be able to "make things happen" for the woman's career. Hagan also accused Boreanaz of telling her they'd need to "cool" their antics after his cheating scandal broke. In a statement, Boreanaz's publicist denied the allegations, calling them "fabricated and absurd" and claiming that "there is no validity to this lawsuit." 
If you or anyone you know has been a victim of sexual assault, help is available. Visit the Rape, Abuse & Incest National Network website or contact RAINN's National Helpline at 1-800-656-HOPE (4673).
How David Boreanaz and Jaime Bergman resurrected their marriage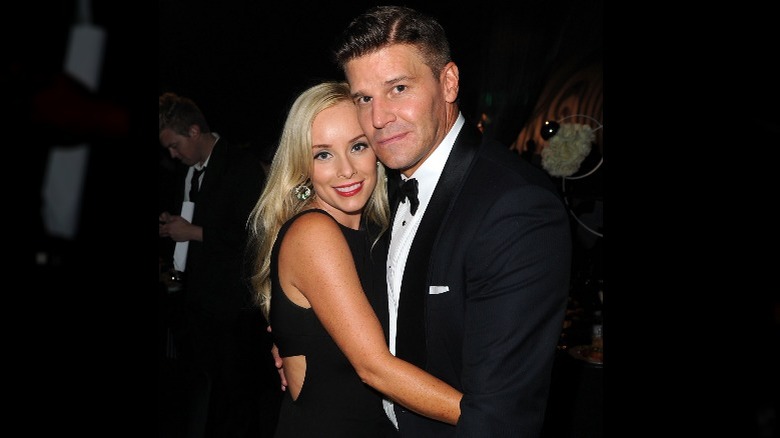 As David Boreanaz entered the redemption arc of his personal life, he continued with his button-down shirt looks — only now he was wearing them a little more buttoned up. As he strived to save his marriage and his reputation, Boreanaz regularly looked the smartest he ever had and scrubbed up well. By all accounts, he appeared as though he was slowly finding his way back. 
In 2011, Kristina Hagan had her attorney file a dismissal of her sexual harassment lawsuit against Boreanaz, and mysteriously stated in an email that the case had been "resolved" without any other details shared, according to CBS News. Meanwhile, Boreanaz and Jaime Bergman started the long road to repairing their relationship. Admitting that their marriage had the same tricky balance of "fantastic" and "rocky" moments as any other, Boreanaz told TV Week (via E!) that he and Bergman had turned his affair into "a bonding experience."
Boreanaz admitted to People that he'd "damaged" the "unbelievable foundation" that he and his wife shared when they got married. But the two were working on an attempt to heal from this damage, with Bergman sharing that they were "taking their time" to work through their issues in therapy so they could start moving on from the scandal. But it wasn't going to be easy. "I'm not saying everything [is] okay," Bergman told the outlet. "I'm still angry. I'm still mad. I am still hurt."
David Boreanaz: Purveyor of nail polish?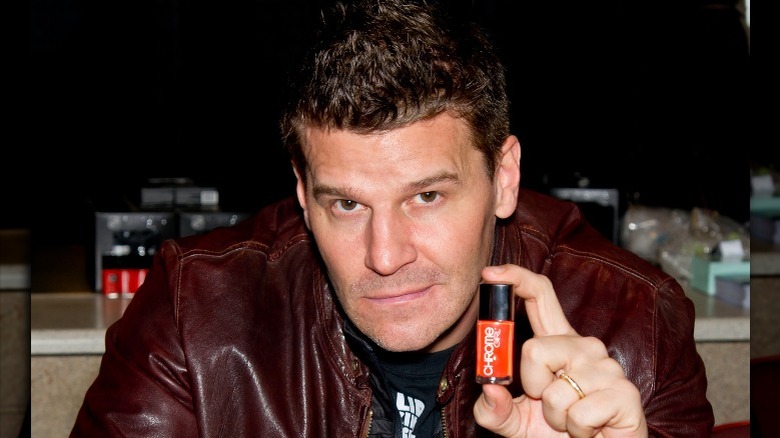 Jaime Bergman started an 18-shade nail varnish range by the name of Chrome Girl in 2013 with friends Aaron and Melissa Ravo. David Boreanaz — he of the infinite leather jackets and macho-man furrowed brow — was also a creator of the line, who admitted to Cosmopolitan that he was happy to try out whatever shades his wife wanted him to (his preference? "Sweet Spot," a coral-orange).
As the magazine stated, it was impressive to see the actor be in touch with his feminine side, and even more so to hear that Boreanaz was apparently also "interested in doing a shoe line" for women. Though, as of this writing, such a miraculous endeavor has yet to bless this particular universe. While the star was enjoying some changes in his personal life, his "Bones" character was undergoing a huge change, too — and it wasn't quite to everyone's tastes. 
In 2011, divisive plot decision to change the dynamic between Boreanaz and Emily Deschanel's characters, Seeley Booth and Dr. Temperance Brennan, from co-workers brimming with sexual tension to parents raising a child together would ultimately also alter the show (via The Philadelphia Inquirer). By 2013, a frustrating time skip meant fans were led straight into Brennan and Booth's serious relationship, without showing the romance to get there. Regardless, as Den of Geek once posited, the baby at least "added some really fertile narrative ground" to the show, and new seasons continued to come as a result. 
When David Boreanaz said farewell to Bones, he gave a salute to SEAL Team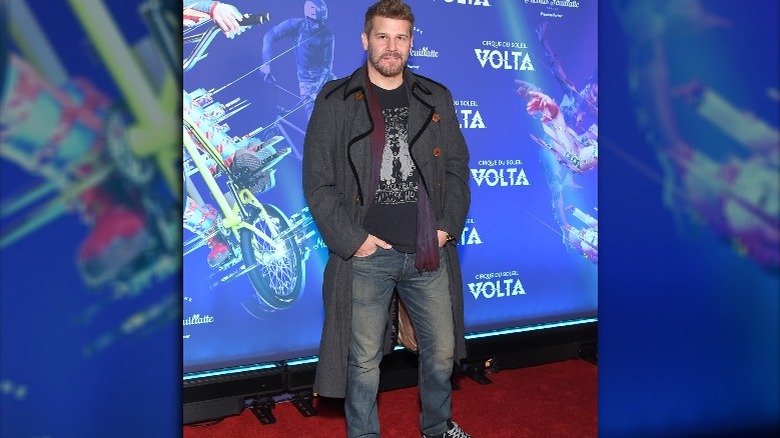 In 2017, David Boreanaz wished a fond farewell to "Bones," as the show tidily wrapped itself up after 12 beloved seasons. And just like comedian Billy Eichner, who screamed about the show's demise through the streets of New York, America was obviously bereft. Just what would TV's most reliable star do next?! The answer, obviously, was another great show. "SEAL Team" marked a departure from the comedic comforts of "Bones," and saw Boreanaz taking on the most physically and emotionally demanding role of his career.
On top of doing "90 percent of his own stunts," as Parade put it in 2019, Boreanaz said that it was important to him that the depiction of his character — who's inspired by real-life Navy SEALs — be as accurate and respectful to all veterans as possible. That meant the actor going as far as to even wear the armor of the former SEAL who went to CBS with the series' premise. "I wear his helmet," Boreanaz said. "I could wear a lighter [prop] helmet, but I decided to wear his actual helmet to honor him and I will do that throughout the whole series."
Now in his '50s, Boreanaz had started to lean into a more rugged masculine look that expertly seemed to express where he appeared to be in life: Confident, content, and perhaps the most comfortable he'd ever looked in his career, having fought against the fallout of personal and professional challenges. May the man never leave our TV screens. 
Source: Read Full Article