The following article includes mentions of a suicide attempt.
Rita Moreno's extraordinary career has lasted over 70 years and led her to numerous awards and a net worth of $25 million. But it all started in Puerto Rico, where the veteran actor was born and raised until she was 5. As Moreno told USA Today in 2020, life then took her to mainland America. Leaving behind her father and younger brother, Francisco, she settled alongside her recently-divorced mother in New York City.
"We moved to New York because in my mother's view, America was the land of opportunity," the future "West Side Story" star reflected. "It's easy to be derisive now and say, 'Oh, yeah, yeah.' But in fact, that's what it certainly represented then, especially." However, Moreno's reality was slightly different: She was now living in the Bronx, dealing with East Coast winter weather for the first time, and her classroom was full of kids who didn't speak Spanish. "It was horribly scary," she admitted. 
Luckily, dance classes were her salvation — and her key to a life in show business. Here's what else you don't know about Rita Moreno.
Rita Moreno got her start at age 13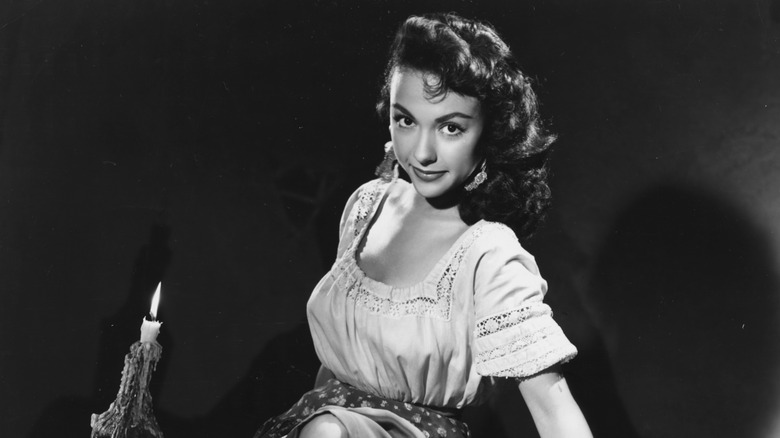 Rita Moreno quickly got her start in the Old Hollywood studio system by impressing the head of MGM himself, Louis B. Mayer.
As she told Elle, the young actor was still known as Rosita Moreno when she launched her career. As well as dubbing lines in Spanish for English-speaking child stars in the U.S., per Britannica, she started dancing professionally on Broadway at 13. A talent scout eventually spotted her in a dance recital and passed along his phone number. Although they struggled to connect at first because the Moreno family "couldn't afford" a telephone at the time, the actor explained to Elle that the scout got in touch months later. "He said, 'Louis B. Mayer is coming into town .. And I would like Rosita to come meet him,'" she recalled. 
The mother-daughter duo soon found themselves in the penthouse of the Waldorf Astoria Hotel, meeting one of the film industry's most important men. "He was like the wizard in the 'Wizard of Oz,'" Moreno remembered. "And he takes my hand, he talks to me for a few minutes, and then he says, 'My god, she looks like a Spanish Elizabeth Taylor!' Ta-dum! Six months later I was in Hollywood."
She originally turned down the chance to play Maria on Broadway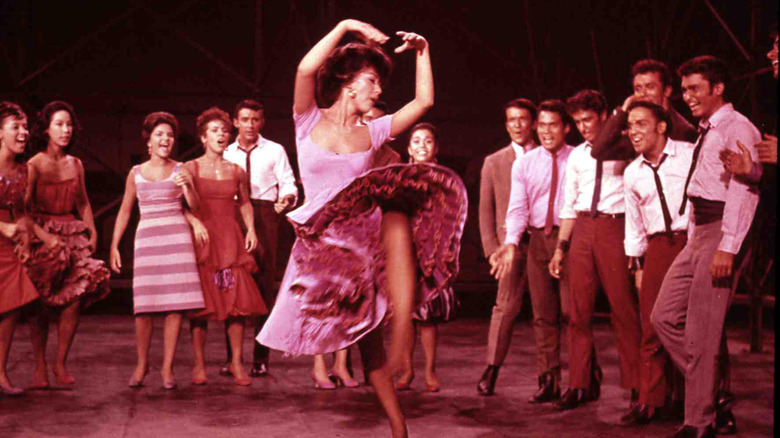 "West Side Story" was the musical that made Rita Moreno a star, but it almost came into her life much earlier. When the TCM Classic Film Festival reunited the cast of "West Side Story" for the film's 60th anniversary, the star revealed that she had previously been offered the chance to play Maria on Broadway. As Entertainment Weekly reported, director and choreographer Jerome Robbins had been impressed by the young star's portrayal of Tuptim in the 1956 film version of "The King and I." So when he started preparing to launch a new musical based on "Romeo and Juliet," Robbins thought of Moreno.
"He'd offered me an audition in the Broadway play for Maria, to go and audition in New York, and I got cold feet," she admitted, telling her co-stars, "To work for someone as severe and demanding and difficult as Jerome Robbins in a Broadway situation scared the living daylights out of me." However, when it was time to adapt "West Side Story" into a movie musical, her name came up again — but for a different role. 
Moreno noted, per USA Today, "I had developed into Anita," adding that she didn't look like the young ingenue Maria to Robbins anymore. "And I really didn't. That would have been so wrong."
Inside Rita Moreno's tumultuous affair with Marlon Brando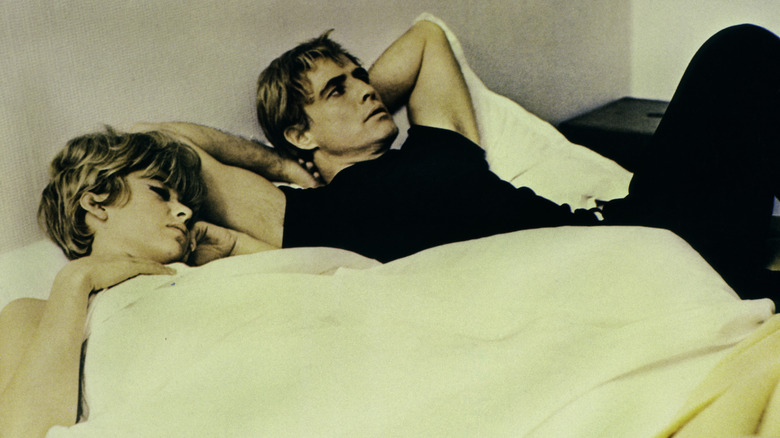 Rita Moreno's hidden relationship with Marlon Brando was one of the most tumultuous affairs in Hollywood history. In 2013's "Rita Moreno: A Memoir," she described the intensity of their eight on-again-off-again years together, declaring, "Even though we never said the words, 'I love you,' as much as much as Marlon could love any woman, I know that he loved me." Moreno also explained how she was attracted to him from their very first on-set meet-cute while working on "Désirée," per Vanity Fair: the then-22-year-old actor felt "as though I had been dropped into a very hot bath, and I went into a full-body blush."
She was in awe of Brando, but he insisted on keeping their relationship a secret. "He broke my heart and came close to crushing my very spirit with his physical infidelities and, worse, with his emotional betrayals," Moreno recalled. The relationship reportedly splintered apart after the star found out she was pregnant. As she claimed in her memoir, Moreno had subconsciously hoped that Brando would offer to marry her — but to her "shock and horror," he instead "arranged" an illegal abortion that nearly killed her. After she was rushed off to hospital, Brando allegedly responded by angrily demanding "his money back" (via the New York Post). 
Brando's alleged adultery also led Moreno to attempt suicide in 1961. "I couldn't take being humiliated anymore," the actor told NPR, noting hat her survival led to the realization that she had to leave the relationship. Luckily, she and Brando were able to remain friendly until his death in 2004.
If you or anyone you know is having suicidal thoughts, please call the National Suicide Prevention Lifeline​ at​ 1-800-273-TALK (8255)​.
Rita Moreno used Elvis to make Brando jealous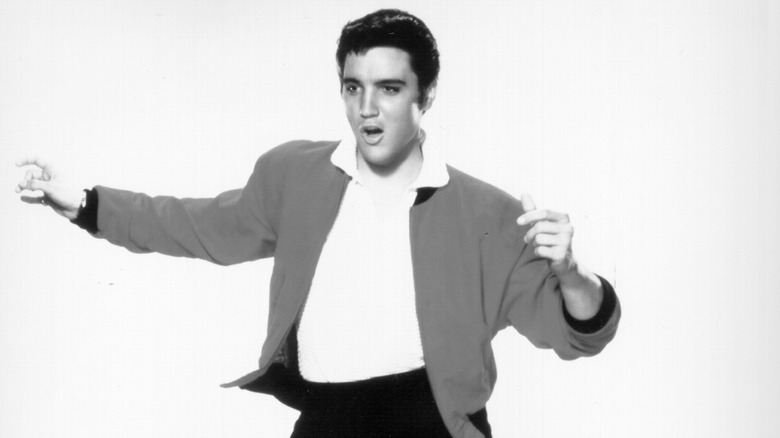 At one point during her stormy affair with Marlon Brando, Rita Moreno decided to make him jealous by dating one of the few men more famous than him: Elvis Presley. She was tired of the endless infidelities and, after allegedly discovering women's underwear that wasn't hers at Brando's home, decided to go out with Presley. "I wanted to get even, so I went from one kind of king to another," Moreno explained in an interview with SFGate. "I dated Elvis, who was absolutely gorgeous and had a perfect kind of face, but was not interesting. It lasted for three days."
In her book, "Rita Moreno: A Memoir," the actor described the King as just "a shy, bumbling kid from Tupelo" despite all the celebrity and acclaim. Moreno was four years older than him, and she compared their short-lived, sexually-frustrated relationship to spending time with a "baby brother." Eventually, she called it off after seeing him "wolf down a bacon, mashed banana, and peanut butter sandwich," realizing that "he probably desired that sandwich more than he desired me."
"My delight in dating Elvis hinged entirely on one fact. I knew that no one could possibly make Marlon Brando more jealous!" Moreno wrote (via InStyle). And it worked: Brando apparently came back to her "in a fury of passion and jealousy" after hearing about her tryst with Presley.
Why she almost quit West Side Story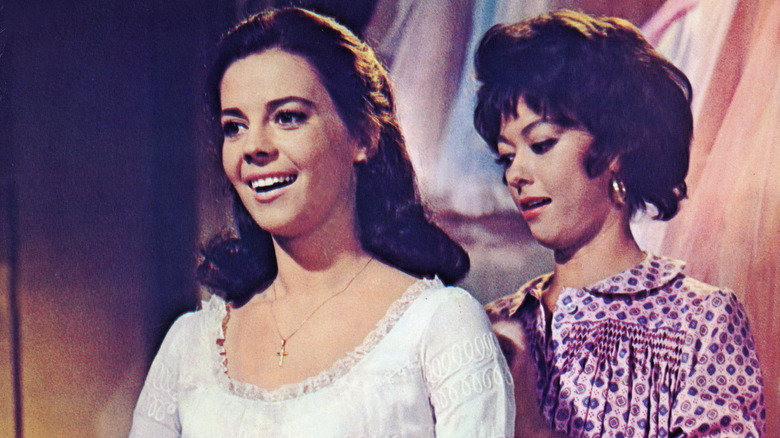 Rita Moreno has often spoken about the impact that "West Side Story" had on her life, telling NPR in 2021 that her character, Anita, was "the only part I ever remember where I represented Hispanics in a dignified and positive way."
But Moreno still objected to some aspects of the fan-favorite movie musical, revealing that she was "this close" to quitting over her original line in "America," which was reportedly, "Puerto Rico, you ugly island, island of tropic diseases." Despite genuinely wanting the role, she recalled thinking to NPR, "Oh my God, I can't sing that! … I can't do this to my people." Luckily, lyricist Stephen Sondheim altered the line for her to, "Puerto Rico, my heart's devotion, let it sink back in the ocean."
Another issue Moreno had with the movie? The "extremely dark makeup" that all the Puerto Rican Sharks had to use, as she informed The Hollywood Reporter. "One day, I remember saying to the makeup man, 'I hate this makeup. It's so d**n dark.' And he actually said to me, 'What are you, a racist?'" Moreno recalled. The actor wasn't going to be silenced by him, however. "I had to remind him. Puerto Rico was colonized by the French, the Dutch, and the Spanish," she explained. "That's why there are Puerto Ricans who are white as milk and the color of charcoal." She argued, "We are everybody," adding that "the makeup man didn't know quite what to say to me."
Rita Moreno was the first Hispanic woman to win an Oscar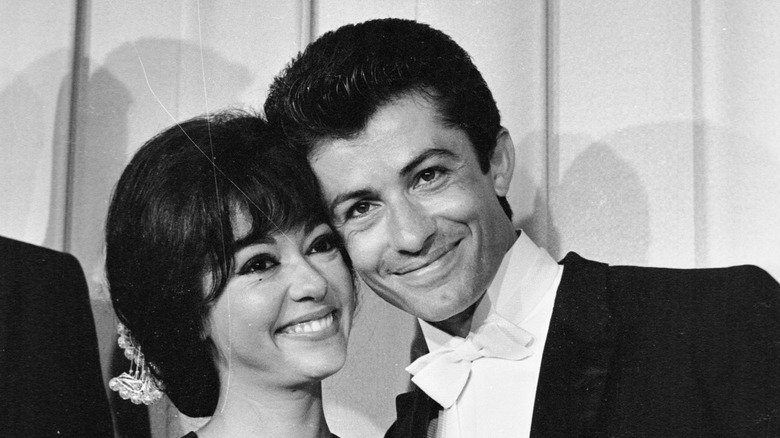 When Rita Moreno was nominated at the 1962 Oscars for her performance in "West Side Story," she chose to attend alongside her fellow Shark, nominee, and co-star, George Chakiris. Neither actor thought they stood a chance, as they explained to Entertainment Weekly six decades later. 
Judy Garland was also nominated in the best supporting actress category for her role in "Judgment at Nuremburg," and Moreno was "so sure" that the older Hollywood icon would win. When their hired car brought Chakiris around to her home, Moreno told him that she had been "practicing her loser's speech" in preparation. But Moreno had taken a plane from the Philippines for the occasion, so she sat with Chakiris, and the pair giggled together "like brother and sister" during the ceremony. "I thought if there's any chance that my name will be called, I sure as heck want to be there," Moreno quipped. 
When Rock Hudson actually did announce that she had won, Moreno's overwhelmed acceptance speech was one of the shortest in Oscars history. "I can't believe it. Good Lord! I leave you with that," the clearly thrilled performer gushed, before leaving the stage. "I couldn't think of anything to say," Moreno later admitted to Entertainment Weekly. It wasn't just a significant moment for Moreno personally: as History observed, she was the first Hispanic woman to ever win an Academy Award. In 2018, per People, Moreno wore the same dress from that historic night, 56 years prior, in order to present at the Oscars.
But then she didn't make another movie for seven years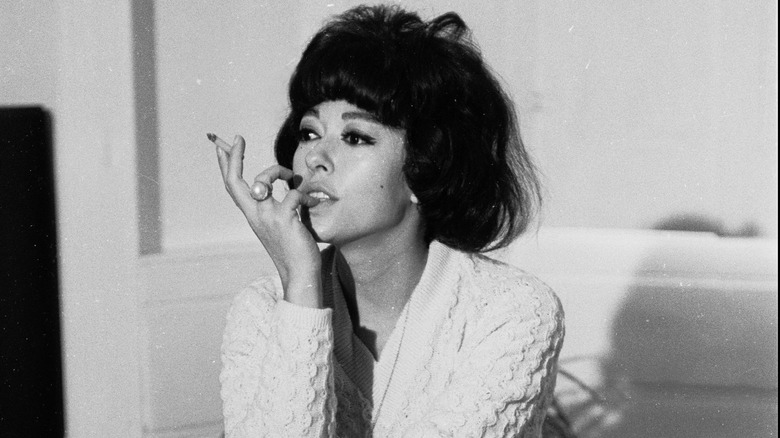 Despite her success in "West Side Story," Rita Moreno still couldn't find meaningful roles after her historic Oscars win, thanks to Hollywood's stereotypical pigeonholing. The actor turned down every offer she received for years. "I was still only offered those dusky maiden roles," Moreno told AARP in 2018. "I decided that I would never do one of those roles again: 'Ha ha, I'll show them!' But they showed me — I didn't do a film for seven years after 'West Side Story.' It broke my heart." Her next significant film was "The Night of the Following Day," which Moreno shot alongside former lover Marlon Brando (and, as she later told Vulture, it wasn't the easiest shoot: one intense scene led to a real physical fight captured onscreen).
Even as an established actor decades later, Moreno sometimes felt "humiliat[ed]" by the types of parts she was offered. As she revealed to Entertainment Weekly, she went through one of the most embarrassing experiences of her career in her 60s. After being sent a "wonderful" role for a well-known director, she worked "like a beast" on the audition scene. When she expressed her excitement about the part, however, there was an "awkward silence." It turned out that they had actually asked Moreno to try out for "a three-line part in Spanish, of a Mexican whorehouse Madame." She told them, "I'm sorry, but I don't do Mexican whorehouse Madames," and left.
"When I got to my car, I just got hysterical crying," Moreno added. "It was horribly painful."
Rita Moreno became an icon of children's TV because of her daughter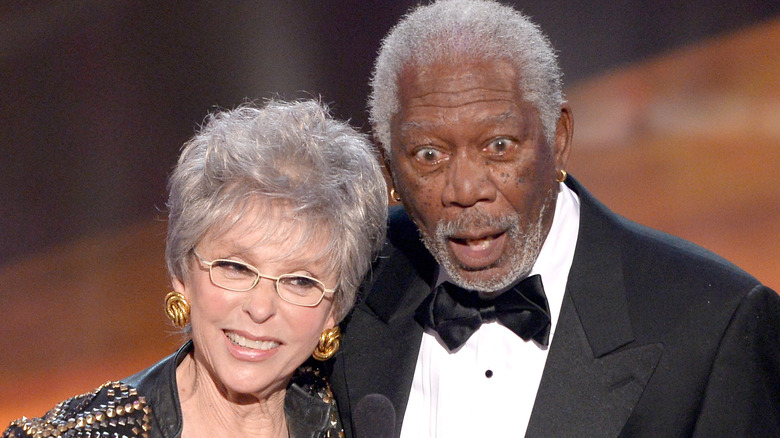 After being disillusioned by Hollywood, Rita Moreno took an unconventional next step. As the actor told Entertainment Weekly in 2018, she was strongly advised against acting on children's TV, since it was seen as an inescapable departure from movies. But she joined Morgan Freeman on the PBS educational series "The Electric Company" in the '70s anyway, creating the iconic catchphrase "Hey, you guys!" as her character, Millie. And she sweetly decided to do it because of her daughter, Fernanda.
"Well, I used to watch 'Sesame Street' with Fernanda, and Fernanda was one of those reluctant readers — she just wasn't interested," Moreno explained to Elle. "But she loved 'Sesame Street,' so we watched that together every single day." So, Moreno was willing to risk her career if "The Electric Company" was able to get kids like her daughter interested in reading, too. She remembered in an interview with TV Guide, "At the time, my colleagues warned me not to do it. They said, 'God, if you do that you will never work as an adult again.' But I thought it was really important to teach children." Adding that Freeman was equally devoted to education, she said, "I thought, 'To hell with it. If I don't work in film, I'll do theater.'"
In the end, children's TV didn't end Rita Moreno's career — instead, it helped her toward the most highly-coveted achievement in showbusiness.
She was the third person to ever achieve an EGOT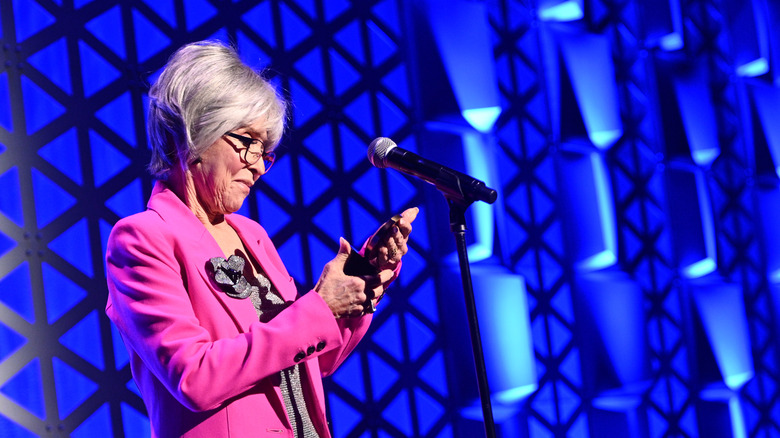 "The Electric Company" led to Rita Moreno's next major award a decade after her Oscars win, since she received a Grammy in 1972 for best recording for children. Her love of working in children's TV also allowed the actor to take home an Emmy, as she told The Miami Herald in 2008.
The actor was such a fan of the Muppets that when she first met Jim Henson, she literally went down on two knees and kissed the puppeteer's hand. "I thought he would die of embarrassment," she admitted. "And I said, 'Anything you want me to do on your show, I will do it. I can do all these little girl voices.' And he stopped blushing. He said, 'Really, do you mean it?'" Moreno's guest appearance on "The Muppet Show," where she memorably performed "Fever" alongside Animal, earned her an Emmy Award in 1977. 
Since Moreno had already received a Tony for her featured performance in the 1975 musical, "The Ritz," that made her the third person to ever become an EGOT winner, per Billboard. The prestigious group, which includes icons like Audrey Hepburn and Richard Rodgers, consists of people who have been awarded an Emmy, a Grammy, an Oscar, and a Tony — and it's still a rare accomplishment.
In 2018, Moreno also added a Peabody Career Achievement Award to her collection — the first Latina actor to ever receive that honor.
This Hollywood icon took part in the March on Washington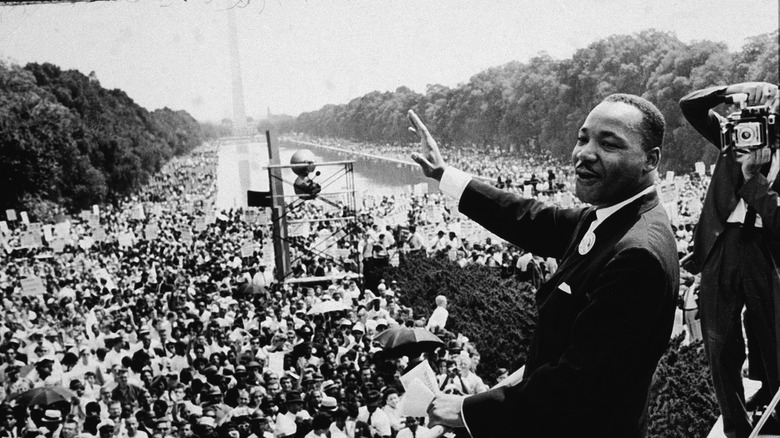 Rita Moreno hasn't been afraid to expose the prejudice she's faced throughout her life, telling The Washington Post in 2021 that she was relentlessly bullied in school for being Puerto Rican. And once she got to Hollywood, Moreno went through the "heartbreaking" experience of being rejected just because of her Hispanic name.
Her personal exposure to bigotry inspired the actor to get involved in the Civil Rights movement, attending the 1963 March on Washington alongside Dr. Martin Luther King Jr. As Moreno shared with ET, she was sitting "no more than 15 feet away" when he "put away" his planned speech and started speaking about his dream. Moreno also revealed that she couldn't speak about the day without getting "goosebumps," even now. "I remember thinking, 'I think this is going to be a very memorable experience, so Rita, don't forget one detail of this,'" the star recalled, adding that she was sat between Sammy Davis Jr. and Harry Belafonte, the latter of whom "put together a Hollywood contingent because he wanted Dr. King to know that there were people in our profession who were very serious and sincere about this whole business."
"I thought, with this many people, I'm not alone," Moreno added. "I'm not alone in my hurt and I'm not alone in my fear and I'm not alone in the belief that this has to change and that I can be one little bitty cog in that machine."
Rita Moreno wanted to leave her husband for years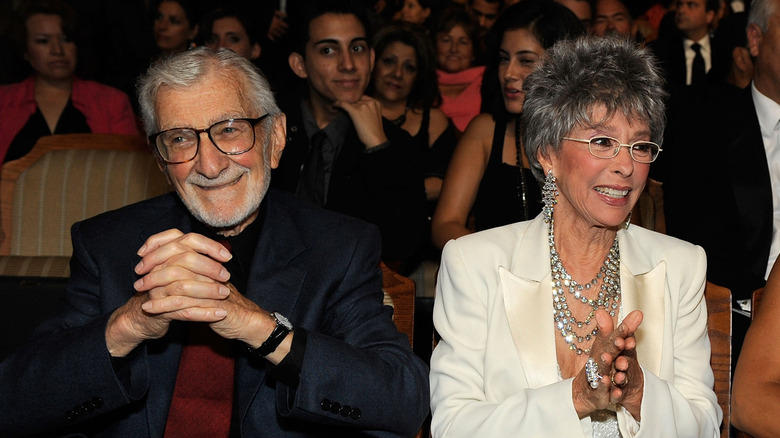 Despite having a daughter together and staying married for 45 years until his 2010 death, Rita Moreno's marriage to Leonard Gordon wasn't perfect. As she told NPR, she once came close to separating from Gordon for good. "I really did love him," Moreno insisted, but described how she felt obliged to be "a wonderful little girl" for him. "And the day that I decided I wanted to start growing up is when the marriage got into trouble," the star recalled, adding that they considered divorce seven years in. "And of course, we didn't, and I didn't and that was that. But I was unhappy for a very, very, very long time."
Moreno then admitted that she "absolutely blossomed" after he died. "I love being raucous, which is one of the things that really annoyed my husband," she shared, commenting that she could be her "show business self" without him and do whatever she wanted. As USA Today reported, Moreno also spoke about Gordon's death in her documentary, "Rita Moreno: Just A Girl Who Decided To Go For It," revealing her initial reaction: "It's over. I don't have to answer to anybody anymore," the actor thought at the time. 
Reflecting that she "didn't realize how desperately I needed to be on my own," Moreno asserted in the doc, "He was a wonderful person, it was just that our marriage didn't work out."
She had just one request for the One Day at a Time writers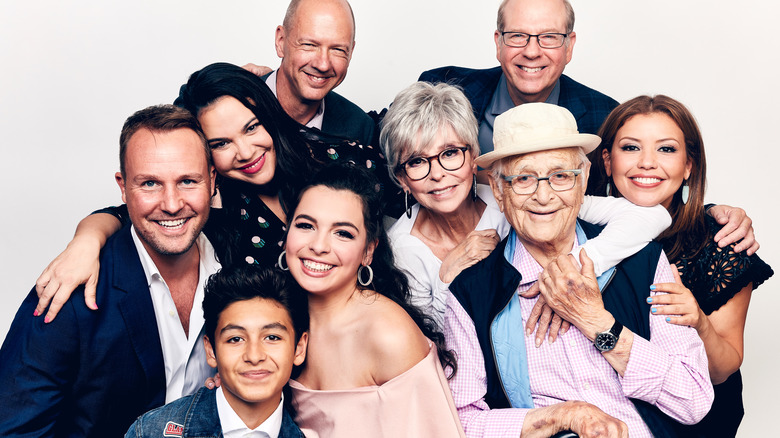 Rita Moreno returned to the small screen in 2017, when she started working with Norman Lear on the Netflix sitcom, "One Day at a Time." But as she told Vulture, the veteran actor had one important condition before she agreed to play the grandmother, Lydia. "I said I'd like her to be sexual," Moreno recalled, explaining that older women on TV aren't often seen in that light. "Once people turn a certain age, that gets completely ignored by writers, and it's a shame," she added. "I've always been a very sexual person." The star also described how much she loved her character, who was able to "represent sexuality on the show."
"Apparently, when Norman got the idea of doing the show, the first thing he said was 'the first person I want is Rita Moreno,'" Moreno went on to reveal, describing how the legendary showrunner pitched her the idea at a political fundraiser. "You know those are the two magic words: Norman Lear, he's going to do television again. You bet your a** I'm going to be interested."
Although the show was canceled in 2020, per Deadline, Moreno still clearly feels attached to her character. "I will never open the curtains the same way again!" she tweeted after the news broke, alongside a picture of Lydia. "To my beloved, funny, heart breaking cast…. well, they couldn't have done it without us! Warmly, with respect, your devoted admirer, Rita."
Rita Moreno will be leading the cast of the West Side Story remake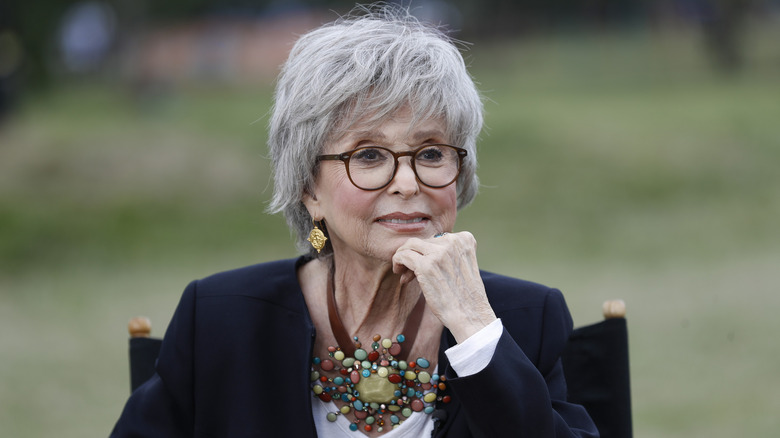 Even though Rita Moreno won't be returning to her beloved sitcom role, the movie that made her an icon has been rebooted by Steven Spielberg and Tony Kushner. In the 2021 "West Side Story" film adaptation, Moreno will be portraying a new original character, Valentina, as well as playing a major role behind the scenes.
"From our earliest discussions, we wanted to include Rita Moreno in our production," Spielberg told Deadline, calling her Anita "one of the greatest musical performances ever filmed," as well as a "personal favorite" of his. "We created an original role for her, and we feel beyond fortunate that Rita will bring her extraordinary gifts as an actress, as well as her deep understanding of 'West Side Story' to this production as an executive producer," he continued.
Moreno's involvement as an executive producer is just one of the ways Spielberg and Kushner have tried to update their new version of the classic musical. As she explained to Vanity Fair, the 1961 film "had a lot of things that were wrong with it, aside from the fact that it had a lot of things that were very right," and the remake has worked to include far more Puerto Rican actors and dancers than the original. "That's what they were trying to fix and ameliorate, and I think they have done an incredible job," Moreno shared, describing how she acted as a mentor to the Sharks on set.
Source: Read Full Article