The following article includes mentions of drug and alcohol addiction.
Danny Trejo is a familiar face to moviegoers — which shouldn't be surprising, given that IMDb lists a vast roster of over 400 screen credits. Trejo has typically been cast as a criminal or tough guy, including memorable roles as a knife-hurling henchman in "Desperado," vampire bartender Razor Charlie in "From Dusk Till Dawn," and the titular character in "Machete." 
However, Trejo's journey to stardom was far from typical. His acting career, in fact, was a fluke that led an unexpected career to unfold in front of him, changing the course of his life in ways his younger self could never even have dreamed. "I remember the first time anyone interviewed me," Trejo told Grantland back in 2013, recalling when he was asked how he felt about being stereotyped as "the mean Chicano dude with tattoos." In response, the screen star lifted up his shirt to show off his assorted body ink and replied, "What are you talking about? I am the mean Chicano dude with tattoos."
Despite the vast number of films and TV series he's appeared in, fans who only know him from his onscreen work may have only an inkling of his extraordinary story. Keep scrolling to find out what you need to know about Danny Trejo.
Danny Trejo struggled with addiction by his early teens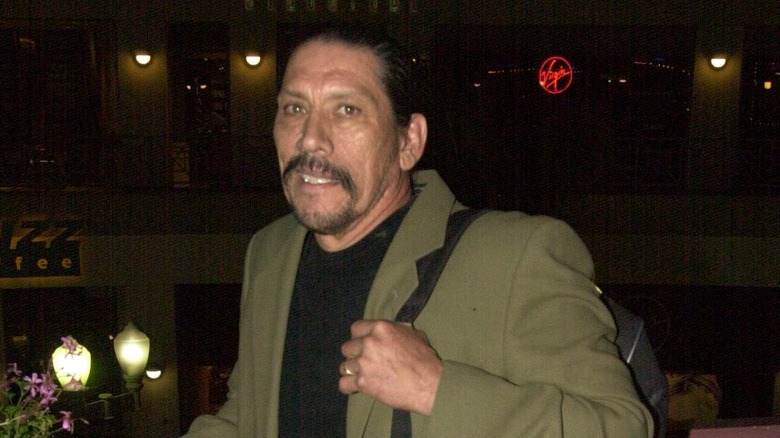 By all accounts, Danny Trejo's childhood was far from charmed. According to a profile in Variety, the future actor was born in Los Angeles, the offspring of immigrants from Mexico. He smoked his first joint at age eight, courtesy of an uncle, and was a heavy drinker by 12. Two years later, a 14-year-old Trejo began shooting heroin, eventually dealing the drug in order to feed his addiction. 
He spent his late teens and early 20s in and out of incarceration, and recalled attending his first 12-step meeting at age 15. "They tell you if you leave [Alcoholics Anonymous or Narcotics Anonymous], you will die, go insane or go to jail," Trejo told the outlet. "And I proved that right. Every time I left, I went to jail."
It was during one of those stints behind bars — in Soledad State Prison, Trejo told ABC 7 Action News — that he had an epiphany. "I kicked my last habit and said, 'There's gotta be a better way.' And I remember saying, 'Lord if you're there, it'll be OK. If you're not, I'm screwed. And if you just help me, I will say your name and I will do whatever I can for my fellow man.'"
If you or anyone you know is struggling with addiction issues, help is available. Visit the Substance Abuse and Mental Health Services Administration website or contact SAMHSA's National Helpline at 1-800-662-HELP (4357).
He did time in San Quentin and narrowly escaped the death penalty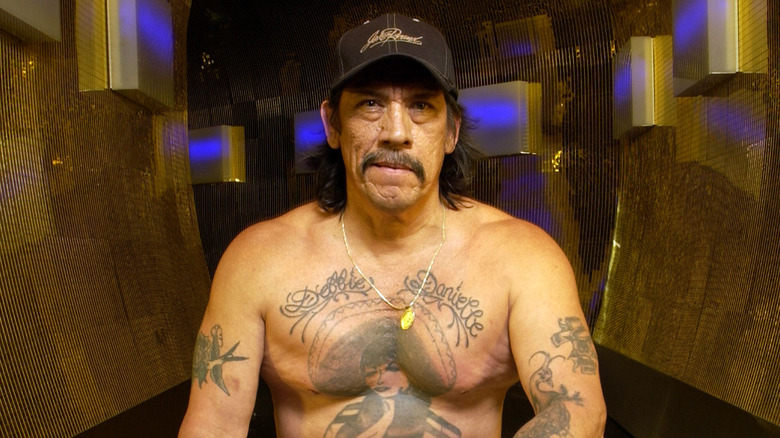 As Danny Trejo detailed in a 2012 interview with The Guardian, his final stint in prison nearly turned fatal. Involved in the infamous Cinco de Mayo riots at San Quentin State Prison, Trejo was accused of throwing a rock and hitting a prison guard in the head. "I went to the hole looking at three gas-chamber offences," he recalled. Miraculously, the charges were later dropped on a technicality. "You can become a bit of a sociopath [in prison], and I think I just stopped caring," Trejo later told Texas Monthly of the incident.
While promoting his participation in the 2018 Netflix documentary, "Survivors Guide to Prison," Trejo offered some sobering statistics in an interview with CBS News. According to Trejo, "You're more likely to go to prison in the United States than any other country in the world. We have 5,000 prisons. That's more than we have universities." According to a 2015 piece by The Washington Post, Trejo is spot-on with that shocking fact. He continued, "That should tell you that prisons are there to make money. They're not there to rehabilitate anybody. They're all to make money. And they have to stay full, so, watch your step."
Danny Trejo became a championship boxer while behind bars
Not only did Danny Trejo kick his drug habit while behind bars, but he also developed an interest in boxing. As Sports Illustrated pointed out, the Hollywood star had been taught to box by his uncle as a means of self-defense. In prison, however, he honed his boxing skills and quickly developed a reputation. 
"I was lightweight and welterweight champion of every penitentiary I was in, and I was in all of them," Trejo declared in a 2016 interview with TMZ. As the actor continued, he quipped his belief that mixed-martial arts (MMA) may have evolved from prison boxing matches, which were significantly less regulated than the professional variety. "Elbows were OK, and if the referee didn't see you knee him, it was alright," Trejo told TMZ with a cackle. 
"I love boxing. I think boxing is an art," Trejo further explained to Sports Illustrated. "The perfect example is Floyd Mayweather. A lot of people don't like him, man. I don't care, I've never broken bread with him, met him a couple of times, but a far as boxing is concerned, I've never seen a better boxer. Just all out boxer."
He's an addiction counselor who's been sober for decades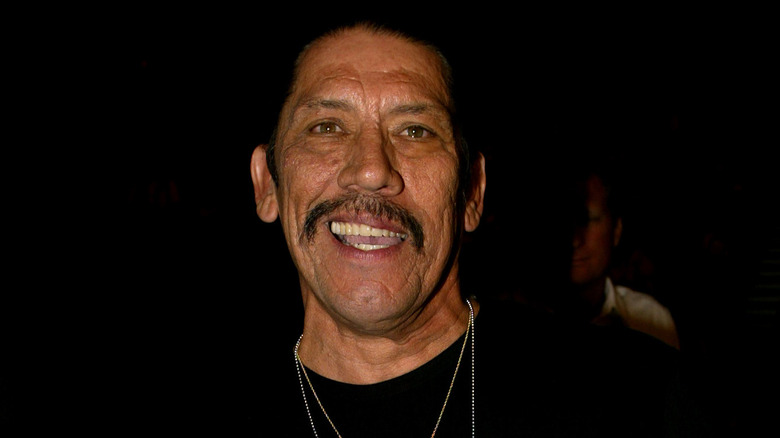 In a 2019 interview with Variety, Danny Trejo recalled serving time in San Quentin when a former inmate, a recovered addict, paid a visit to the prison to spread the word about what being in a 12-step program had done for him. "That guy saved my life," Trejo admitted. "He said, 'Why don't you join us? Before you do anything, just join us. Give it a try. What do you have to lose?' It was kind of like an awakening. So when I got out of the joint, I went back to meetings."
Now over 50 years sober at the time of this writing, Trejo ultimately realized that the best way to get his life back on track was to help others do the same. As a profile on Trejo in LA Weekly noted, after his parole in 1969, he went to work as a drug counselor at Western Pacific Rehab. For Trejo, his celebrity status has since provided him with a powerful platform to help others with their own addiction battles. "It's almost like God made a deal with me: 'I'm gonna get you in these movies, but you got to go talk at schools and juvenile halls.' One of my purposes in life is to help other people," he said.
If you or anyone you know is struggling with addiction issues, help is available. Visit the Substance Abuse and Mental Health Services Administration website or contact SAMHSA's National Helpline at 1-800-662-HELP (4357).
Danny Trejo's entry into the movies was far from ordinary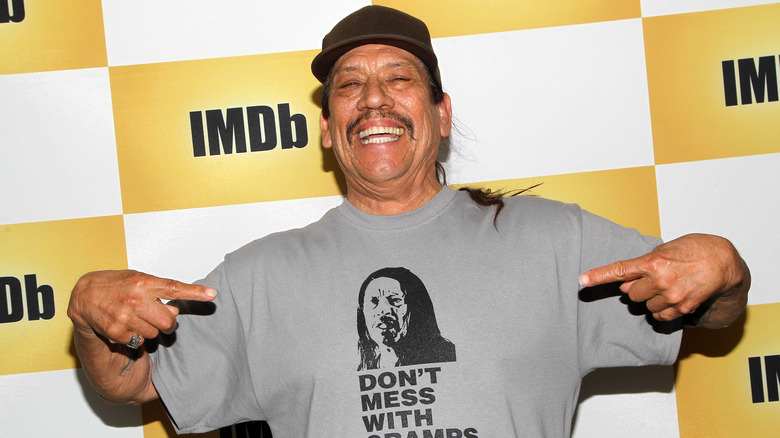 While working as a drug counselor, recalled Variety, Danny Trejo was hired as an extra by a production assistant on the 1985 film, "Runaway Train," with the future actor enlisted to help prevent the PA from indulging in the rampant drug use on the set. As it happened, one of the movie's screenwriters was Eddie Bunker, an ex-con who had served time with Trejo in San Quentin. Recognizing Trejo and remembering his boxing prowess, Bunker offered him a job teaching star Eric Roberts how to box for a pivotal scene.
The movie's director, Andrei Konchalovsky, saw Trejo sparring with Roberts and decided he had the perfect look to play the actor's boxing opponent in a pivotal scene and offered him the part. "All of a sudden everybody started calling me 'Mr. Trejo,'" Trejo mused of his sudden foray into acting. "I got my hair done; I got to wear makeup."
As Trejo later told The Guardian, he also learned an important lesson from his first film. "I know how to get my ego out of the way," he said. "I learned how not to behave on a movie set from Eric Roberts. He was very demanding."
He's had a rock song written about him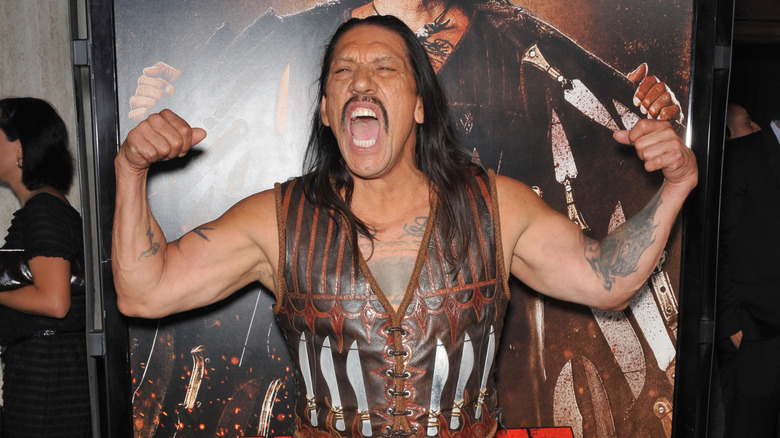 The journey of Danny Trejo's life has taken him from the depths of solitary confinement in San Quentin to the heights of Hollywood red carpets. So compelling is his life story that it actually formed the basis for the 2020 documentary, "Inmate #1: The Rise of Danny Trejo."
But that's not the only way in which Trejo has been celebrated. The star's onscreen persona was honored in the 2008 song, "Danny Trejo," by Plastilina Mosh, described in the group's AllMusic profile as a "Mexican alt-rock duo whose hip-hop and experimental flourishes have earned comparisons to the Beastie Boys." Boasting lyrics in both Spanish and English, the track regales listeners with such lines as, "Es un cabrón duro" (which translates to "He is a tough bastard"). Another lyric, in English, describes Trejo as "a manly dandy motherf**ker with a heart of gold," and points out that "Under his wing we could swim, we will never ever fall."
Danny Trejo didn't initially know he was related to director Robert Rodriguez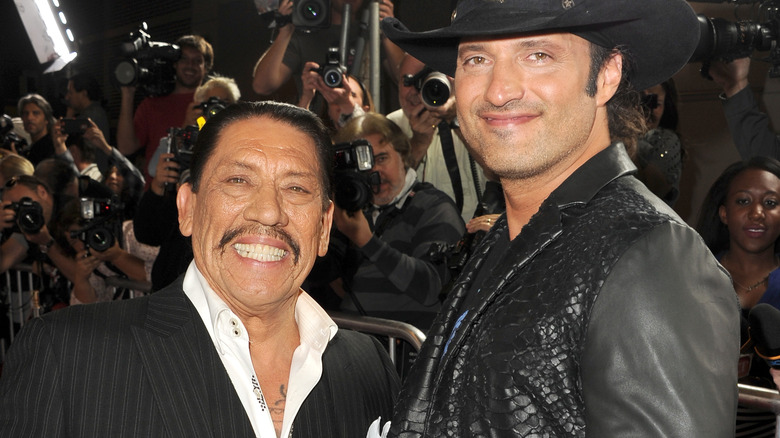 Danny Trejo has a long history with director Robert Rodriguez, having worked together in the "Machete" films along with "From Dusk Till Dawn," "Spy Kids," and others. It was during their first movie together, 1995's "Desperado," however, that they discovered they were related. 
During a 2013 interview with Power 106 Los Angeles, Rodriguez and Trejo confirmed that they were actually second cousins. "When his family came to visit him on 'Desperado,' and my family came to visit me, and it was the same family, then we knew, OK," Rodriguez quipped with a laugh, pointing out that hiring Trejo wasn't "nepotiism" because he had no clue they were related when he cast the actor. 
Meanwhile, it was while filming "Desperado" that Rodriguez gained an appreciation for Trejo's innate star power. "We were in Mexico and I had no shirt on so the locals just gravitated towards me," Trejo recalled in an interview with the New Zealand Herald. "I remember Robert saying, 'They think you are the star of the movie,' and I told them, 'I am!'"
He was a singing raccoon on a bonkers reality show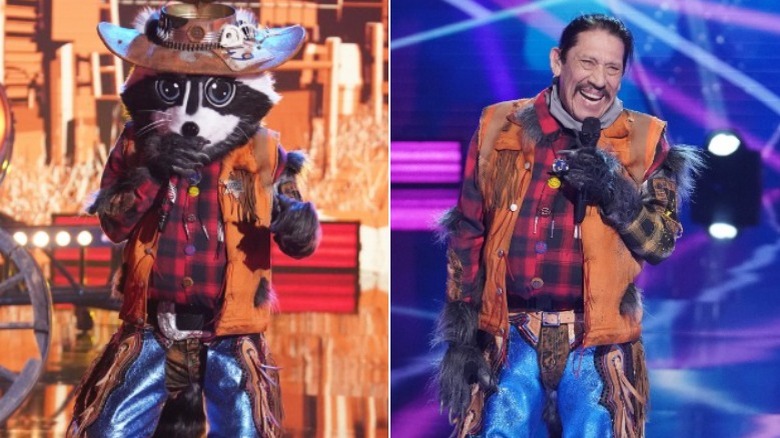 Danny Trejo has played some pretty out-there chracters over the years, ranging from Mr. World (a.k.a. the deified personification of globalization) in Starz series "American Gods" to El Diablo in the feature film, "SpongeBob SquarePants: Sponge on the Run." However, it's arguable that Trejo's weirdest role ever came when he performed as a singing raccoon on Fox's "The Masked Singer," in which celebrities with varying degrees of fame perform musical numbers while masked, as a panel of "detectives" try to guess their true identities. 
Trejo is the first to admit he has no business on a TV singing competition. "I'm definitely not a singer. I can't carry a tune in a bucket," he told Entertainment Weekly in 2021. However, the actor had a visceral reaction to his raccoon costume, which he thought bore a striking resemblance to his "little Schnauzer dog named John Wesley Hardin." He explained, "Everybody thought I was being a raccoon, but really I was being John Wesley Hardin, my Schnauzer."
In any case, Trejo had a blast on the reality show. "I think that's one of the most fun times I've ever had in my career," he told EW. "It was just great."
Danny Trejo is a restaurant kingpin with a philanthropic bent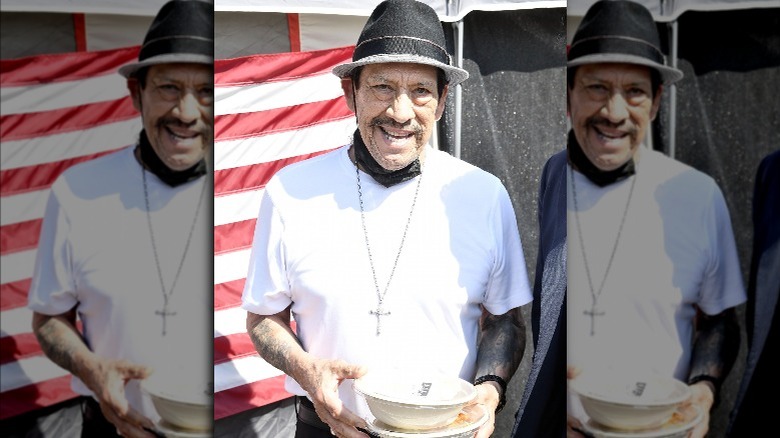 In addition to being a sought-after actor, Danny Trejo is also a restaurateur as proprietor of Trejo's Tacos, with several restaurants in his native Los Angeles, as well as locations in Chicago and Miami. The success of Trejo's taco eateries led him to expand to food trucks, dubbed Trejo's Truck. Then, as Fox News reported in 2017, he moved on to conquer breakfast with the launch of Trejo's Coffee and Donuts. 
As Trejo told the outlet, it's his fame that initially attracts customers, but it's the quality of the food that keeps them coming back. "I've known celebrities who've started restaurants, but then they fold because people think they can just live on the celebrity name, and you can't," he explained. "It's got to be good food."
Beyond serving meals, there's another covert mission hidden within the Trejo's Tacos business plan. As he told NBC News, he offers employment to "second chancers" as they try to pull their lives together. "I give people who think they can't do anything, hope. They got into trouble or didn't go to school and they can't see a way out," Trejo said.
He saved the life of a child after a car accident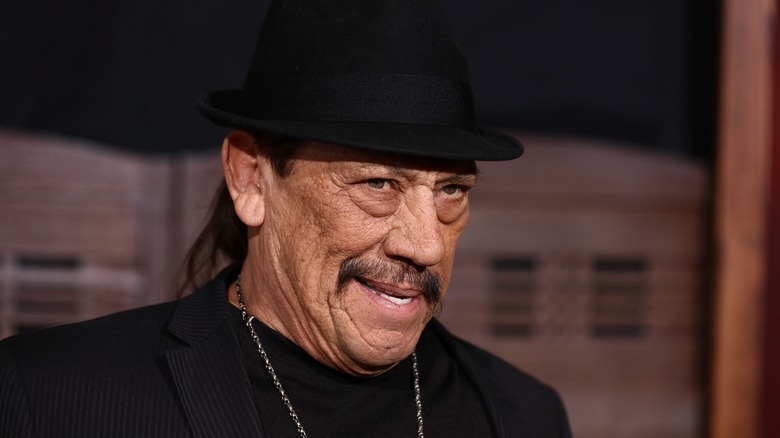 Danny Trejo may have played dozens — if not hundreds — of bad guys throughout the course of his acting career, but in real life, he's proven himself to be a bona fide hero. That was apparent when his fast thinking and fearlessness led him to help rescue a young child who'd been trapped inside a vehicle after a Los Angeles car crash in 2019.
As NBC Los Angeles reported, Trejo said he witnessed the crash when "a vehicle running a red light" caused another car to flip over "with a woman and baby trapped inside the overturned vehicle." The actor tried to retrieve the baby by reaching through the window, but was stymied by the seatbelt. Luckily, another bystander named Monica Johnson was able to crawl through the window and undo the seatbelt, allowing Trejo to remove the child from the vehicle.
"The only thing that saved that little kid was that car seat — honest to God," Trejo said. In another report from ABC7, the movie star was quoted by reporter Veronica Miracle as saying he was surprised to see numerous vehicles swerve around the wreckage without stopping to help. Per the news report, Trejo added that "it never crossed his mind not to help someone in need."
The actor has been paid next to nothing for a number of movies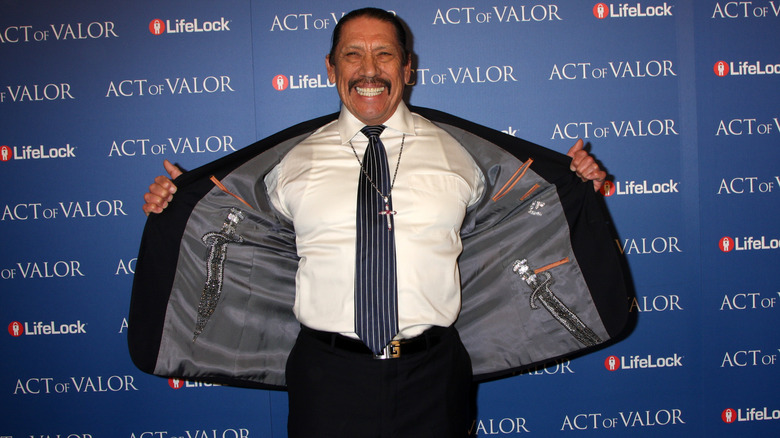 As Danny Trejo's list of screen credits on IMDb demonstrates, he's had a lot of roles over the past few decades. Not all of them, however, have served up big paydays. 
In a 2012 interview with The Guardian, Trejo admitted he'd rather be working than be idle — and as a result, he has no issue with signing on for a project that doesn't pay much, if he can fit it into his schedule. In fact, at that time, he was "working on an ultra-low budget movie" called "The Darkness Descending," noting that his role as a cult leader offered him "more lines … than [he's] ever had before." Trejo added, "I've done a lot of projects that are student films or from first-time producers or directors."
Admitting his agent "gets so mad with [him]" when Trejo insists on taking low-paying roles in budget-conscious projects, the actor shared his view that "it's an honor to be an important part of someone's career when they're starting out." He continued, "I'm like: 'Just pay for my gas, give me $100, buy me lunch, whatever.' I bring my A-game whether I'm doing this or a Michael Mann movie." 
The surprising reason Danny Trejo doesn't do his own stunts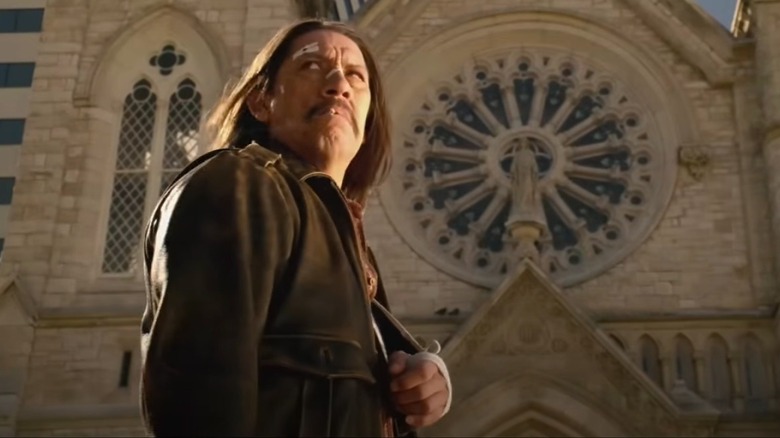 While there are certain actors, including the likes of Tom Cruise and Keanu Reeves, who are famed for doing their own stunts in movies, Danny Trejo is not among them. 
"First of all, making movies is a business," Trejo explained to Fox News. "Now all you actors that want to disagree [with] me, I dare you. The reality is insurance companies won't let us do our own stunts. We have professionals, just like I'm a professional artist. What I do is, 'To be or not to be in the barrio,' that's what I do. A stunt guy pads up and goes through a wall. That's his profession."
Trejo doubled down in an interview with Yahoo! Movies. "I know that all the big stars hate me to say this, but I don't want to risk 80 peoples' jobs just to say I got big huevos on 'The Tonight Show,'" he quipped. "We have stunt people who do that stuff. And if they get hurt, I'm sorry to say but they just need to put a mustache on another Mexican and we can keep going. But if I get hurt, everybody's out of a job."
This Hollywood star is a devoted family man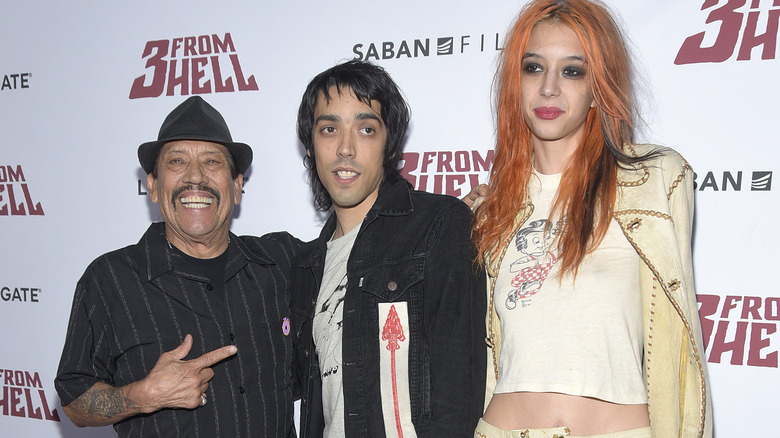 Danny Trejo is often seen as a menacing figure onscreen — off-camera, however, he's a father of five who's devoted to his family. As he admitted in an interview with Men's Health, he credits his recovery from alcohol and drug addiction with becoming a family man in the first place. "I don't think I would have been a father without recovery. Anyone can become a father, but being a dad…" he said. "My kids love me. One of my kids will call me every day. If it wasn't for recovery, they'd be writing me in prison. I'd be sending them nice Christmas cards and s**t."
In fact, Trejo said he'd learned some important lessons from 12-step programs that have helped him as a parent. "What the program taught me was tolerance — hey, I made mistakes, too — to love my kids no matter what, and don't snivel," the actor added. This became even more practical when two of his children — son Gilbert and daughter Danielle — faced their own struggles with substance use. As Trejo explained, "You can work the 12 steps on your kids." As of May 2021, he declared, Danielle was seven years sober, and Gilbert six.
If you or anyone you know is struggling with addiction issues, help is available. Visit the Substance Abuse and Mental Health Services Administration website or contact SAMHSA's National Helpline at 1-800-662-HELP (4357).
Danny Trejo's net worth is modest by Hollywood standards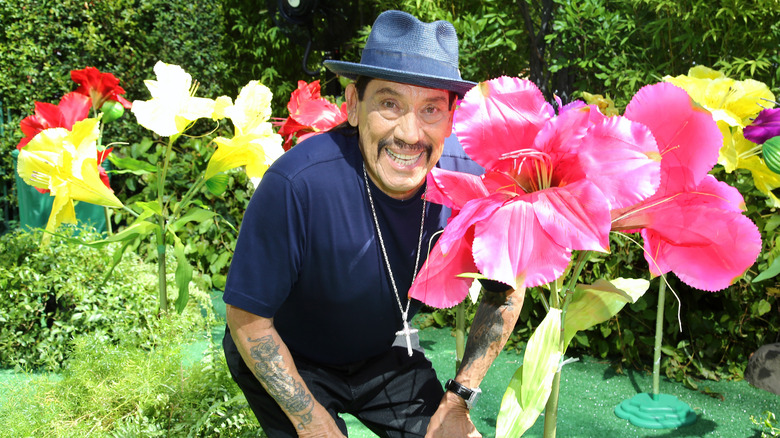 Danny Trejo boasts what is arguably one of the most recognizable faces in Hollywood, yet he's not as wealthy as one might expect. According to Celebrity Net Worth, the actor has amassed a fortune estimated at $8 million — certainly enough to live very comfortably, but hardly the kind of wealth typically associated with a movie star. 
Then again, acting has never been about the money for him. Speaking with The Guardian back in 2012, Trejo recalled his first acting role in "Runaway Train," for which he was paid "$320 a day." After that, he continued to work as an actor, but wasn't pulling in big bucks. "I went from movie to movie but for five years I didn't have a name," he joked of the characters he's played. "I was either 'Bad Guy' or 'Inmate No 1.' I was happy."
While both his paychecks and his roles have grown considerably since then, the philosophy that's helped him navigate show business remains unchanged. "The whole world can think you're a movie star, but you can't," Trejo told CNBC in 2016. "It's as simple as that, because the minute you think you're [a] movie star, people start not liking you. Because movie stars suck!"
Source: Read Full Article