With the release of their new super spicy Habanero chips, Tostitos apparently decided that they needed to promote the exciting flavor with a commercial that really grabbed the attention of consumers. The snack brand first announced their "For The Love of Chips and Dip" campaign back in March as a way to promote the fun moments that bring friends together, like, ya know, when sharing chips and dip. Anya Schmidt, senior director of marketing for Frito-Lay, told ABC News, "Tostitos' ambition is to fuel togetherness and help bring people closer to those they love by telling the stories of connections friends share and things they love to do together."
The "One Upper" commercial highlights two friends who try to describe to each other just how spicy the new Tostitos Habanero chips are through whatever means possible, as they hang out backstage at what appears to be a Hollywood set. The ad focuses on the joy of one-upping your friends in particular, with the two stars attempting to do just that throughout the one-plus minute ad. Of course, witty banter and hilarious physical comedy ensue, which is why the commercial appears to be a fan favorite.
And it also probably helps that the ad stars two well-known actors as the two friends sharing the Tostitos and discussing its spicy flavor. If the stars of the commercial look familiar, it may be because you have seen them before!
Both are award-winning comedy actors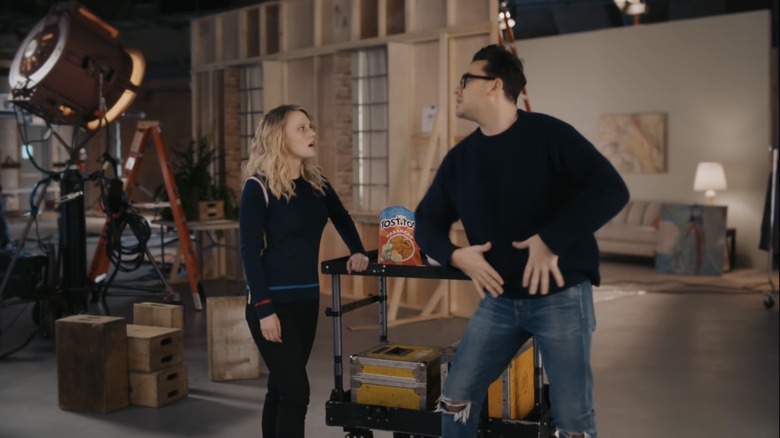 Actors Kate McKinnon and Dan Levy are cracking up fans once again, but this time, with their roles in the Tostitos "One Upper" commercial, where the two attempt to one-up each other while describing just how spicy the new habanero flavor is. If McKinnon looks familiar, it's because she's an Emmy-nominated actor who has appeared on "Saturday Night Live" since 2012. The comedian was such a hit on the sketch show that she's landed starring roles in the movies "Ghostbusters," "The Spy Who Dumped Me," and "Rough Night."
As for Levy, fans probably recognize him best from his Golden Globe-winning performance as David Rose in the comedy "Schitt's Creek," which he also co-created. He starred in the show alongside his famous father, "Best in Show" actor Eugene Levy until its end in 2020. He also appeared in the teen drama "Degrassi: The Next Generation" and in the Hulu holiday movie "Happiest Season" in 2020.
And if you're wondering how Levy ended up in a Tostitos commercial, he told Forbes, "There are sometimes where opportunities arise where you just can't say no and I think this was one of those situations." When asked about McKinnon, Levy gushed, "To get to spend an afternoon eating them with her was great and also, you know, the spot is so … I feel like our personalities were able to shine through which I think is rare in the ad space." Both actors shined indeed, all while promoting spicy chips!
Source: Read Full Article