Some fans of the rock band apparently don't think they need to apologize as Sophia Urista's 'spontaneous and outrageous' stunt is 'the true spirit of rock n' roll.'
AceShowbiz –Brass Against has issued an apology after its lead singer peed on a fan's face during a recent gig. The bizarre thing took place when the band, which is known for brass versions of rock songs, performed at festival in Daytona Beach last week.
During a set at Welcome to Rockville on Thursday night, November 11, singer Sophia Urista did an unexpected action mid-performance. She suddenly pulled down her pants on stage and peed on a fan, who seeemed to be enjoying it.
She allegedly grabbed a bottle of water, noting that she would conclude the show by relieving herself on someone in the audience once she drank it all. "Get my man with the can on his head ready, 'cause we're going to bring him onstage and I'ma piss in this motherf**er's mouth," she said.
The said man surprisingly complied, climbing onto the stage with an apparently empty can attached to his forehead. He later laid down flat on his back on stage before Urista straddled his head and slided her pants down. She then tried to pee into the can.
As if that was not enough, the man scooped some of the liquid on stage into his hands and threw it out over the audience. After she was done and pulled her pants back up, Urista called for security to get the man off the stage. "Security, get him the f**k out of here!" she said. "Get the f**k out of here, you're done!"
Later on Friday, the official Twitter account shared a statement addressing the bizarre stunt the night before. "We had a great time last night at Welcome to Rockville. Sophia got carried away," it explained. "That's not something the rest of us expected, and it's not something you'll see again at our shows. Thanks for bringing it last night, Daytona."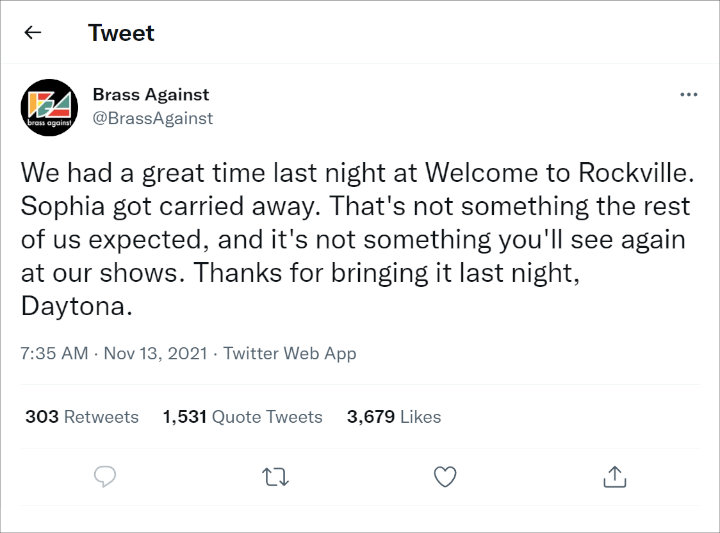 Brass Against apologized over Sophia Urista's stunt.
Some fans apparently didn't think they needed to apologize. "Don't need to apologize. It was a great performance. Everyone had fun and fan enjoyed it. It's Florida, we are used to the craziness," one person said. Another fan added, "Spontaneous and outrageous. The true spirit of rock n' roll."
Source: Read Full Article