For all those who have always believed that Beyoncé is royalty, turns out you're more accurate than you know. Of course, she and her husband, Jay-Z, are music royalty but Bey is actually related to one of the most famous royals in the world. Yep, it's true that Queen B has some of the same bloodlines as Queen Elizabeth II.
Read on to find out exactly how Beyoncé is related to Her Majesty, as well as a few other things that you may not have known about the music queen.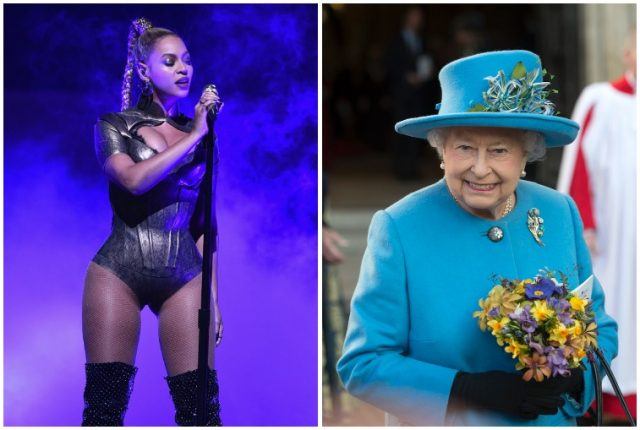 How the queens are related
The Beyhive will be happy to know that Beyoncé really does have royal blood running through her veins.
CBS confirmed that Queen Bey and Queen Elizabeth are related via their shared ancestor, Henry II, making the women 25th cousins, once removed.
More musicians related to the royals
The Lemonade artist isn't the only singer or queen for that matter related to a member of the royal family.
The Queen of Pop is also related to a royal. Madonna shares an ancestor with Prince Charles' wife, Camilla Parker Bowles. The New England Historic Genealogical Society discovered that Madge and the Duchess of Cornwall are ninth cousins as they are both descendants from prominent French-Canadians Madeleine Ernard and her carpenter husband Zacharie Cloutier.
Vocal powerhouse Celine Dion is related to Bowles as well. This is according to French-Canadian historical records, which show that like the Material Girl, Dion is a descendant of the Cloutiers making all three of these ladies distant relatives with one another.
But the most royal of them all is singer and actress Hilary Duff as the Younger star has the closest relation to the British monarch. A genealogy study revealed that Duff is the most closely-related American celebrity to Queen Elizabeth. The two women have a common ancestor in Edward III and the link makes them 18th cousins.
Duff is also a descendant of Catherine Car, who many historians believe is the illegitimate daughter of Henry VIII.
Other things you didn't know about Queen Bey
But back to the other queen, there are a few things (besides just how royal she is) that fans may not know about Bey.
For instance, Beyoncé loves the number 4. Her mother, Tina Knowles was born on Jan. 4, Bey was born on Sept. 4, and Jay on Dec. 4. In addition, she and the rapper got married on April 4, and even included the numeral for the number in their oldest daughter, Blue Ivy's name. Furthermore, Bey has an album titled 4, and her husband has one titled 4:44.
Bey and Jay even have matching ink of the Roman numeral for four on their fingers. The pair got the tattoo after they tied the knot in 2008.
Something else you may not know about the music power couple is that they like to crash karaoke parties together.
It's true! Jay-Z and Beyoncé have been known to crash a few karaoke parties from time to time and sometimes they bring along their famous friends. Like when they hit up the Sing Sing Karaoke bar in Miami's South Beach with Kelly Rowland, Michelle Williams, and Timbaland. The artists belted out quite a few tunes including "Blurred Lines" by Robin Thicke and "Wonderwall" by Oasis.
Read more: Rumors About Jay-Z and Beyoncé You Should Stop Believing
Source: Read Full Article