Lea Michele hasn't exactly made her desire to star in "Funny Girl" a secret. The former "Glee" actor has long shared her love for the musical, with the 1986 movie famously starring Barbra Streisand as Fanny Brice and Omar Sharif as Nicky Arnstein.
While starring in "Glee," Michele sung multiple songs from the production in character as Rachel Berry, including "Don't Rain on My Parade" and "My Man." Berry then went on to star in the Broadway musical version, and the Season 5 episode, titled "Opening Night," detailed, you guessed it, her opening night (per Entertainment Weekly). 
Michele has also been very vocal about her desire to star as Brice herself, sharing her hopes in multiple interviews. "I hope so, I really hope so," she responded after a viewer asked if she'd appear in a stage version of the movie during an appearance on "Watch What Happens Live with Andy Cohen" back in 2017. The caller noted that "Glee" creator Ryan Murphy had bought the rights to the production, and Michele admitted that there was initially talk "of doing it right after" the show ended. However, she explained she "did a lot of the songs from 'Funny Girl' on 'Glee,' so it felt like a little soon," but noted she was "really ready to do it now." 
Things then went pretty quiet for four years, until it was confirmed "Funny Girl" will be hitting Broadway — just not with Michele as Fanny Brice…
Lea Michele commented on Beanie Feldstein's Funny Girl Instagram announcement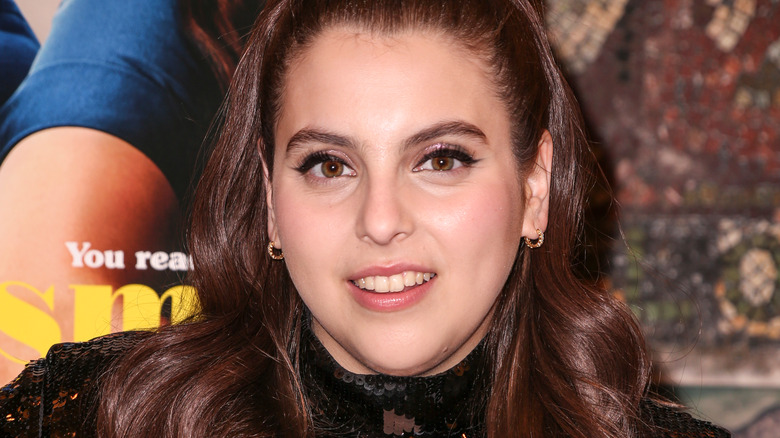 Beanie Feldstein confirmed that she'd been cast in the Broadway version of "Funny Girl" on Instagram on August 12, telling fans in the caption, "I went to my third birthday party dressed as fanny brice so sometimes dreams actually come true." The casting news sent ripples across social media, with several jokey tweets about Lea Michele's assumed reaction going viral on Twitter.
But it sounds like there's no bad blood here, as Michele was one of the many people who commented on the post. She borrowed the name of one of the songs from the soundtrack, telling Feldstein, "Yes! YOU are the greatest star! This is going to be epic!!"
It doesn't sound like Michele was offered the role, at least according to an insider who spoke to People. A source claimed the Broadway production will be overseen by producer Michael Mayer, not Ryan Murphy, and suggested he "wanted to take the character in a different direction." They also backed up Michele's public support for Feldstein, claiming she's "always supported his creative thoughts and thinks [Feldstein] is the perfect person for the production."
Prior to the casting news, Michele's name hit the headlines for all the wrong reasons. Michele faced serious backlash in May 2020 when her former "Glee" co-star, Samantha Ware, accused her of bullying on the set. She apologized on Instagram, writing in part, "I apologize for my behavior and for any pain which I have caused."
Source: Read Full Article