If there's one thing to know about Madonna, it's that she knows how to cause a stir at the MTV Video Music Awards. The reigning Queen of Pop, who also happens to be one of the only few artists to rack up the most Moon Person trophies (she currently has 20, per MTV), surprised everyone when she appeared on stage to open the show.
"And they said we wouldn't last," she said to the crowd. "But we are still here, m***********s!" Madonna's appearance was quite timely. MTV is celebrating its 40th anniversary, and what better way to kick off this year's awards ceremony than having the very artist who helped propel it to popularity welcome everyone to the show?
"I told the taxi driver to take me to the center of it all. I came to New York City with nothing but 35 dollars and a pair of dance shoes. I was 19 and terrified," Madonna said, alluding to the time she kickstarted her career four decades ago. "Forty years ago, another underdog arrived in New York City hoping to create something revolutionary. An all-music channel premiered in the middle of the night and called itself MTV," Madonna said (via Billboard). "We found each other and formed a bond that changed my life, changed music, and created a whole new art form. That's why there's only one place to be tonight."
Madonna continues to be cheeky at the VMAs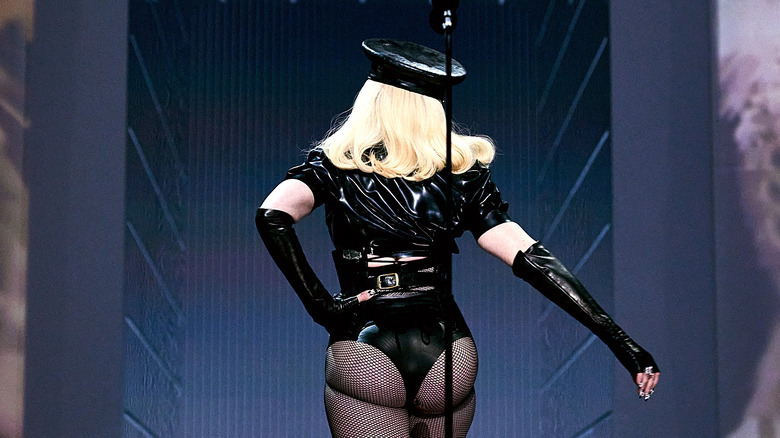 Madonna has a long history of making iconic moments at the VMAs. No one could ever forget her "Like A Virgin" performance where she rolled on the ground or her Broadway-inspired "Vogue" rendition. And that one time she shared a kiss with Britney Spears and Christina Aguilera? A classic. But what shocked fans this year was Madonna's rather cheeky appearance — literally. On stage, the singer was clad in an all-leather, dominatrix-esque ensemble, donning an Atsuko Kudo jacket, a leather apron from Moschino, a matching latex bra and corset, and Christina Louboutin pumps, per Variety.
When she walked off stage, the camera made sure to capture her strut, including her toned behind. The Twitterverse was quite shocked, as they couldn't believe how the 63-year-old icon can look this good, even decades into her career. "The show just started and Madonna already wylin #VMA," one fan tweeted. "Madonna just gave the haters more a** to kiss!" exclaimed another.
This isn't the first time everyone went crazy over Madonna's booty. In 2019, many speculated that she got butt implants after she appeared on stage with a rather plump behind. But the singer was quick to set the record straight, telling Twitter that she's "Desperately Seeking No Ones Approval" and that she is "Entitled to Free Agency Over My Body Like Everyone Else!!" Butt implants or not, Madonna is and will always be a legend.
Source: Read Full Article