In celebration of her featured tracks on the new Happiest Season soundtrack, Shea Diamond walked E! News through the songs and albums that have shaped her.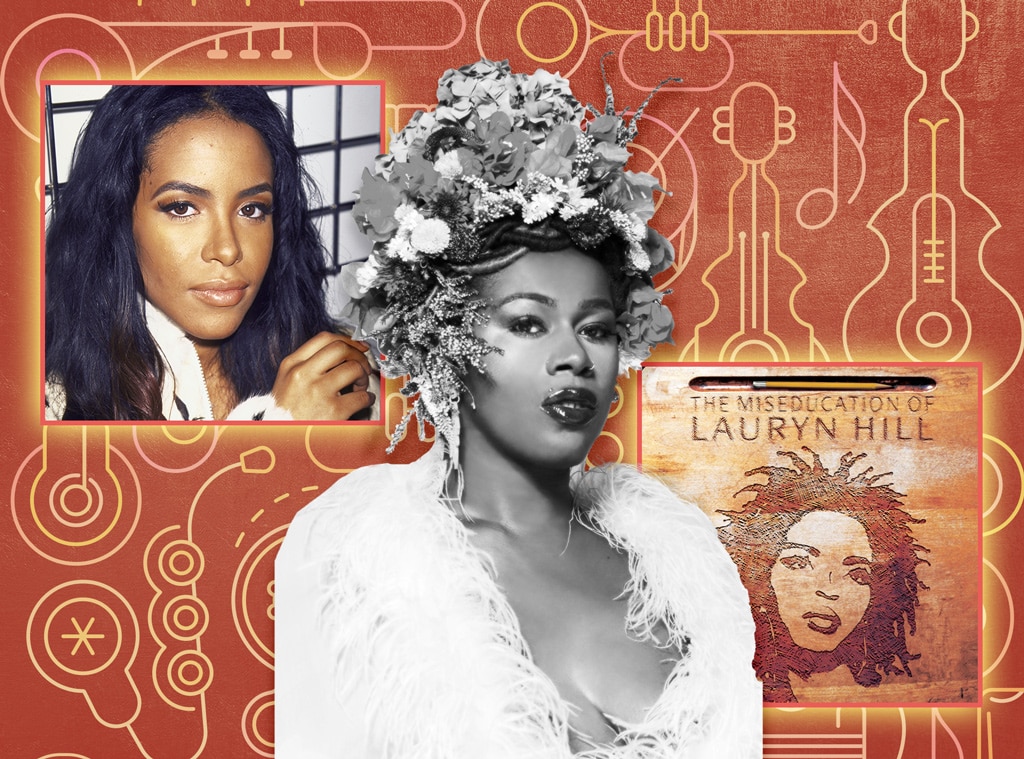 Shea Diamond is ready to put a little holiday cheer in your lives.
After a 2020 that's seen the trans soul singer and activist team up with powerhouse pop songwriter Justin Tranter to deliver two massive anthems—"I Am America," the theme song to HBO's We're Here, and "So Lucky," which served as the theme for HBO Max's Equal—the frequent collaborators have joined forces one more. 
As Tranter began work as executive producer on the soundtrack for Hulu's Happiest Season, the streaming service's holiday film with a queer storyline directed by Veep star Clea Duvall, he made sure the music was as much a celebration of the LGBTQ community as it was of the holidays. 
"For all types of families, music matters more during the holidays than any other time of year," Tranter said of the album—out Friday, Nov. 6—in a statement. "To be given the honor to help create a holiday soundtrack that everyone can enjoy but celebrates LGBTQ talent is an actual dream come true for me! There are LGBTQ artists and/or songwriters on every original song. The soundtrack's focus is on LBTQ women to pay tribute to the brilliant queer woman who co-wrote and directed the movie, I hope we did you proud Clea!"
To that end, he tapped Diamond for not one, but two appearances on the tracklist. She joins Bebe Rexha on the retro-sounding "Blame It on Christmas," and absolutely sings her face off on the sultry "Mrs. Claus."
In celebration of her contribution to the soundtrack, E! News asked Diamond to pull back the curtain on the albums and artists that have influenced her throughout her life and career. From the song fans might be surprised to learn she loves to the one she hopes she never hears again, this is the soundtrack to her life.
The song/album that reminds me of childhood: It would have to be All the Best: The Hits. I couldn't think of childhood Shea without thinking of Tina Turner, running around the house singing Tina Turner, finally seeing her in all her glory on our black and white television. Wanting to be like this power woman that sang and gave you hope that your little dreams of being on TV like her were actually possible, little Shea was in complete awe.
The first album I remember buying: Actually, the first complete album I ever bought was actually in prison when I traded a carton of Newport cigarettes for The Miseducation of Lauryn Hill. After that I started buying every song I could afford. Music under those conditions was absolutely conducive to my mental health. 
The song/album people might not expect me to love: I think one of the many songs that people would not expect Shea Diamond to love would be "Achy Breaky Heart" by Billy Ray Cyrus. People know that I was born in the country, they may even know I'm crazy about Dolly Parton—but they wouldn't know about Billy Ray Cyrus or my unhealthy obsession with the late Elvis Presley.
Trending Stories
Rapper and Influencer Brax Dead at 21
How Mom Wrote Off Anna Faris
Chris Hemsworth Didn't Allow His Trainer to Join The Bachelor
The song/album that makes me think of falling in love: The ultimate song for love in my book is "Loving You" by the incredible singing styles of Minnie Riperton. This song expresses the genuine reason you love someone, it expresses the lengths in which you will go to show that love. Then there is also the innocence of the singing you would do when you're in love with someone and nothing else in the world matters. So you just start singing to yourself, "la la la la, la la la la, la la la la la la la la la la, do do do, do do ah" (only in the voice of Minnie Riperton).
The song/album I turn to when I'm at my lowest: I would have to say the song that I turn on when I'm at my lowest is "I Am Her" by Shea Diamond. With over 30 trans women killed in 2020, Black trans women are rarely treated like the beautiful women they are and they are not told that they are enough. "I Am Her" is a song that empowers me, reminding me that no matter what happens in this life, we will always be reminded of the greatness that we can bring to the music world, as well as the message of hope that we can and will be respected and protected in this world. We are Her.
The song/album I hope I never hear again: Vanilla Ice's "Ice Ice Baby." I used to love this song. I think this song played more than any other song. Somehow, looking back on all that ice that was stated in the song and the fact it made us all do the running man to the first rapping white man, listening to this song in 2020 just doesn't seem cool at all! I think Vanilla Ice may feel the same way about the song.
If I could only hear one song for the rest of my life: It would definitely be my girl Aaliyah because she was a beast—young, beautiful, gifted and taken from us way too soon. Listening to Aaliyah send you back to a time when we all had small waist lines and the world seemed new. If your girl only knew. "Rock the Boat," "Try Again," "We Need a Resolution," "4 Page Letter," I can literally go on and on. She is gone, but never forgotten. As an artist, I'm grateful for what she brought to music, as her sound is still unmatched.
My own song that I'll be happy to retire: As a Black trans woman being erased, deemed disposable, I can't afford to retire a song. The stage was never set for a Black trans woman to be on it, but we can be tolerated as spectators. I sang "I Am Her," the first song I wrote, over a million times before pop icon Justin Tranter discovered it. We all have to run this race we call life, but there will definitely be more obstacles for trans women to jump over while fighting for our lives. You will hear Shea Diamond songs, your grandkids and their kids will all hear it. I won't silence myself, nor will I allow the world to silence me.
My own song that I'll never get tired of performing: "American Pie." This song reminds us all that the LGBTQ+ [community] is here to stay and, yes, we want our piece of the American dream that has been withheld from us for too long. We deserve love. We deserve support. We deserve happiness, adequate healthcare, safe housing and we deserve any opportunity afforded to any other red-blooded American. The feeling I get when I perform this song is like a queen sitting on her throne. I feel the power of our trans ancestors moving, reminding me what they fought for, and I sit in that privilege that they provided. Today, we are finally able to ensure our people are represented. Someone around the world is just now discovering the "American Pie" song for the first time.
The Happiest Season soundtrack is available now. 
Source: Read Full Article