There simply is no drama quite like hip-hop megastar drama, and Kanye West and Drake appear to have re-stirred up theirs with simultaneous album drops. As might have been expected, certain tracks from West's "DONDA" as well as tracks from Drake's "Certified Lover Boy" both include lines that can pretty easily be interpreted as digs at the other. This includes Drake's song "Love All," featuring Jay-Z. Just to keep things interesting, Jay has lent his talents in collabs on both albums, which the internet found pretty deliciously ironic.
Some notable lyrics in Drake's "Love All" include the refrain, "People never care 'til it's R.I.P. /N****s turned they back on me for no good reason/Loyalty is priceless and it's all I need," as well as, "Lotta fallin' outs help me build foundation." Hrm… could Drake be referring to any falling out in particular here? And what is Jay-Z doing on this track? Let's investigate.
Drake has harsh words on "Love All"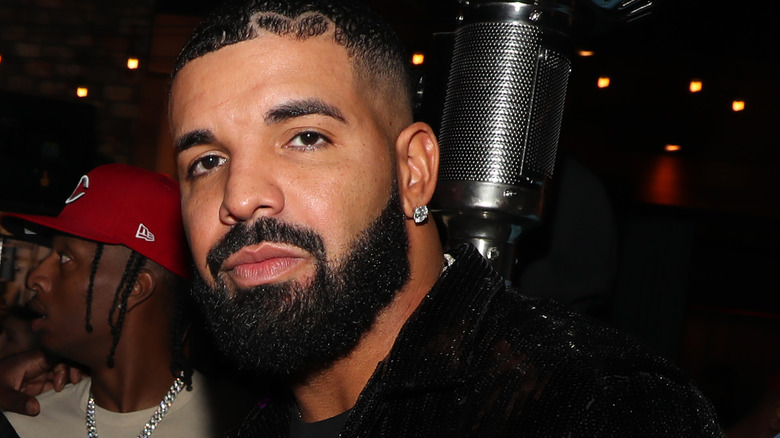 One reason that the Drake and Kanye West feud always gets so much attention is because so much of it happens not only on social media — it happens in the lyrics to their songs. While "Love All" might not be the most explicitly anti-Kanye song on "Certified Lover Boy," there are certainly clues to indicate that this beef is exactly what the lyrics are referencing.
Per GQ, responding to rumors that he used ghostwriters, Drake released "Duppy Freestyle," in which he bragged about writing for West's album "Life of Pablo." Could this be what Drake's referencing when he raps, "Hard to tell people that I'm all out of favors/Call me for songs or they call me for paper"? Potentially. But there's more to be said about the next few lines, in which Drake says, "Turnin' off my phone for the night now, baby/Pourin' out my soul and it might sound crazy/Some of my n****s don't love me/We should sit down before s**t turns ugly/We should sit down since you said things about me."
Knowing how much of their drama the two have taken to social media, we think there is a non-zero chance that this is about West. Now, let's get to the Jay-Z of it all.
Jay-Z's verse on "Love All" goes extremely hard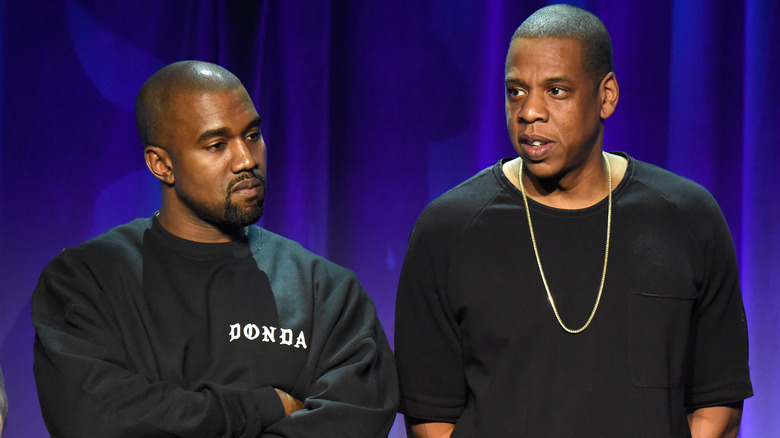 Jay-Z's verse on Drake's "Love All" track is, well, a little more hardcore than what Drake himself has to say. The verse opens with, "N****s wanted to kill me and y'all still with 'em/N****, y'all chill with 'em, and y'all wonder why we not friends?" Um, Jay are you okay, buddy? We're not sure who exactly tried to murder Jay-Z, but context clues indicate he might be referring to someone whose career he has chosen not to support.
"Best thing I can do is not build with you/When I could destroy you, that takes some f***in' discipline/I could send a team to come drill you/I got a billion or two and I know where the f**k you live/N****s gotta chill with talking gangsta/You should just thank us, humble yourselves a little bit." Seeing as Jay has had some rumored conflicts with West before, you might be tempted to think he's talking about Ye here. Except the fact that Jay-Z literally just did "build" with West, collaborating with him on "Donda."
Jay also references "back and forth on the internet," that he has chosen to stay out of. Honestly, at this point it sounds like he could be shading both Drake and West at the same time. Which, if true, is kind of amazing.
Source: Read Full Article