The Weeknd has been making headlines a lot lately. First the Grammys snubbed the chart-topping singer. And then The Weeknd took the stage at Super Bowl LV in Tampa, Fla. But what music did he actually perform at the half-time show? Here's the breakdown of which songs The Weeknd brought to the big game.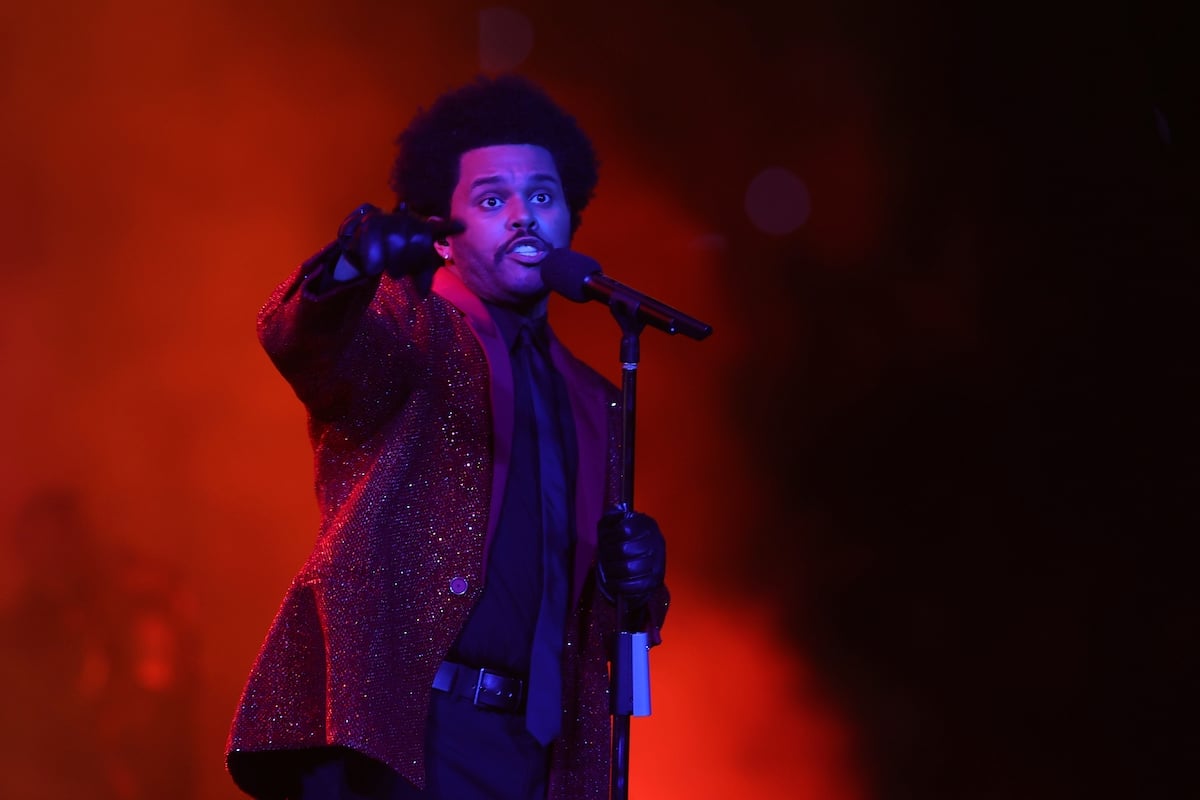 'The Weeknd' is among the hottest musicians in the world
The Weeknd first gained attention in 2010 when he posted his music to YouTube. However, over the past decade or so, he has become one of the most-talked-about artists working today. Following a trio of mixtapes in 2011 and his debut album Kiss Land in 2013, The Weeknd smashed onto the pop charts in 2015 with singles "Earned It," "The Hills," and "Can't Feel My Face."
Off the success of his Beauty Behind the Madness album, The Weeknd continued his hot streak with Starboy. The album features hits such as the title track, "I Feel It Coming," and "Party Monster." And 2020's After Hours has marked perhaps his greatest triumph so far. Bolstered by number-one hits like "Heartless" and "Blinding Lights," this album led to his Super Bowl performance.
The 'Blinding Lights' singer performed during Super Bowl LV
In a break from recent years, The Weeknd took the stage solo at the Super Bowl LV Pepsi Halftime Show. Audiences have likely become accustomed to scheduled performers bringing big-name guests with them. However, The Weeknd opted for a 14-minute set focused exclusively on his own catalog. In fact, the performance felt like an extended greatest hits medley.
The selections ranged from "House of Balloons/Glass Table Girls" off The Weeknd's very first mixtape to his latest hit, "Save Your Tears." Other tracks in his performance included "Starboy," "The Hills," "Can't Feel My Face," "I Feel It Coming," "Earned It," and "Blinding Lights."
The Weeknd's halftime performance received mixed reviews from fans and critics. Perhaps the reason why lies in the fact that the artist focused on his own relatively young career. Without the benefit of surprise guests or unexpected track selections, audience members who aren't already The Weeknd fans might have felt left out of the excitement.
The Weeknd ditched his recent performance art for the show
Another reason why The Weeknd might have disappointed fans in his own performance style at Super Bowl LV. In much of the promotional material for the After Hours album — including his music videos — The Weeknd has leaned into a more psychedelic and surrealistic approach.
In the video for "Save Your Tears," for instance, he made headlines by donning a bizarre prosthetic face. The look even led some to speculate The Weeknd received plastic surgery. Although some stylistic touches remained, the Super Bowl LV performance played things remarkably straight instead.
Source: Read Full Article