There was a time when practically everyone in the world knew about The Beatles. In fact, the band affectionately called 'the fab four' is still considered to be the most influential musical collaboration in modern history.
Today, two of The Beatles are gone, but their children are making sure the names John, Paul, George, and Ringo are never forgotten. What are the Beatles' kids up to these days? Here's what we found out: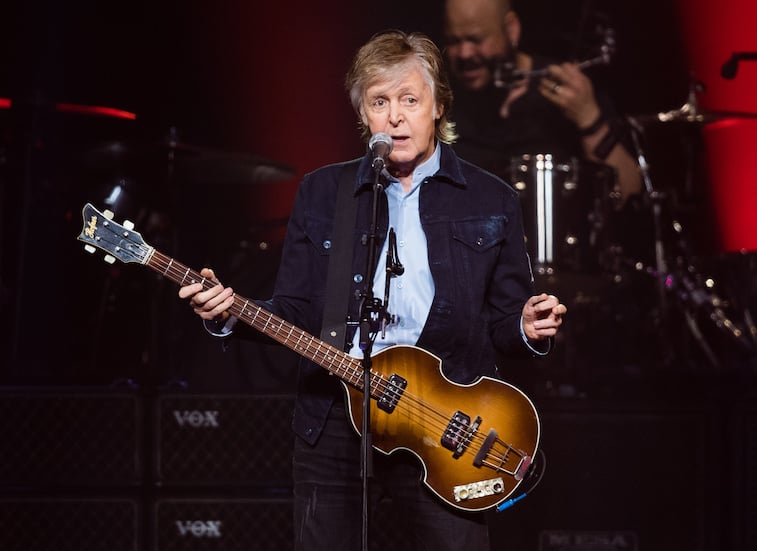 The children of John Lennon
Julian Lennon
The only child of John Lennon and his first wife, Cynthia Powell Lennon, John Charles Julian 'Jules' Lennon is an accomplished musician and author in his own right.
Born April 8, 1963, in Liverpool, England, Julian is the eldest of the Beatles' children. Named in honor of his paternal grandmother, Julian was the inspiration for the songs, "Hey Jude" and "Lucy in the Sky with Diamonds." After his parents divorced in 1968, young Lennon saw very little of his dad who remarried and started a new family with conceptual artist Yoko Ono in 1969.
https://i.pinimg.com/564x/3a/a0/8d/3aa08d62905160b401eb811d91aafffd.jpg
In 1998, Lennon told a reporter at The Telegraph UK that his relationship with his dad remained 'distant' and uneasy until the guitarist's murder in New York City in 1980.
Four years later, young Lennon released his first album. The well-received Valotte featured a poppy single, "Too Late for Goodbyes," that achieved top 10 status on American and British music charts within weeks.
His best-selling song to date, "Too Late for Goodbyes" peaked at the No. 1 spot on US music charts in March 1985.
Currently, Julian is touring to promote his latest children's book, Love the Earth. Third in a series, the book is co-written by Bart Davis and enchantingly illustrated by Smiljana Coh.
Sean Taro Ono Lennon
https://i.pinimg.com/236x/23/93/2f/23932f67cced981f6ba1dc3a884679b3.jpg
Born in New York City on John Lennon's 35th birthday, Sean lost his dad to an assassin's bullet when he was just five years old. At age 11, Sean was sent to a Swiss boarding school for four years, after which he returned to Manhattan and finished his formal education at the Dalton School.
When he was six years old, Sean's storytelling talent was featured on his widowed mom's solo album, Season of Glass.
As he was reaching his musical maturity, Sean performed on a number of albums with the Plastic Ono Band. In 1996, when Sean was 21, he went on the road as a bassist with the band Cibo Matto. While in their employ, Sean was encouraged by Adam Rauch of The Beastie Boys to sign a recording contract with Grand Royal Records who released his first solo album, Into the Sun, in 1998. In 1999, Sean released an EP, Half Horse, Half Musician.
Currently, Ono Lennon writes songs and performs with Primus frontman, Les 'Colonel' Claypool. The psychedelic-tinged Lennon-Claypool Delirium released its second studio album, South of Reality, earlier this year.
Kyoko Chan Cox
Upon his marriage to Yoko Ono, John Lennon became stepdad to a young daughter named Kyoko. Born during her marriage to American film producer Anthony Cox, Kyoko was the inspiration for the avant-garde Lennon-Ono collaboration, "Don't Worry Kyoko (Mummy's Only Looking for Her Hand in the Snow).
Shortly after Lennon and Ono wed, Cox kidnapped the little girl and raised in an oddball cult called The Living World Fellowship. Although Lennon did not raise her, Kyoko is considered to be a Beatles kid.
Kyoko and Yoko reunited more than a decade after John's murder and have been hanging out a lot since the 1990s. Currently, Kyoko Cox works as a schoolteacher and is busy raising kids of her own, explains Ultimate Classic Rock.
Paul McCartney's kids
When Beatles bassist Paul McCartney married American shutterbug Linda Eastman in 1969, baby Mary was already on the way. Shortly after the pair tied the knot, Paul adopted Linda's firstborn, Heather. Another daughter, Stella McCartney, was born in 1971. Six years later, on September 12, 1977, Linda presented Paul with his only son, James.
Linda, who performed with her husband's post-Beatles band, Wings, passed away after a bout with breast cancer in 1998.
Four years after Linda's demise, McCartney married erstwhile fashion model, Heather Mills. The pair produced one child, Beatrice, in 2003. Five years later, the Paul and Mills divorced. Before the divorce was final, however, Paul became involved with his current wife, Nancy Shevell. To date, the couple has produced no children.
Today, Mary McCartney is an avid photographer as well as the author of two vegetarian cookbooks. Heather McCartney (the only Beatles kid born in the US) enjoys dual citizenship and a career as a pottery maker.
Stella McCartney is a well respected, vegetarian fashion designer. James McCartney evinced musical talent at a young age and appeared on three of his mom and dad's solo albums, Flaming Pie, Driving Rain, and Wide Prairie. James released an album of his own songs, Blackberry Train, in 2016.
Paul's daughter Beatrice was raised by her estranged parents and served as a flower girl during the wedding of her father and Nancy Shevell in 2011. Now 16, Beatrice shows an avid interest in marine biology.
Ringo Starr's kids
After Beatles drummer, Ringo Starr, met Maureen "Mo" Cox at Liverpool's Cavern Club in 1965, the pair became inseparable for a decade. Together, the pair produced three children named Zak, Jason, and Lee. Zak arrived the same day that the Beatles hit, "Yesterday" landed in record stores.
https://i.pinimg.com/736x/4b/91/23/4b912395bc7c64fa4c6081e9444149af–ringo-starr-baby-love.jpg
Jason Starkey followed two years later. Ringo's only daughter, Lee, made her debut on November 11, 1970. After their 1975 divorce, Maureen married Hard Rock Cafe founder, Isaac Tigrett and remained his wife until her death by leukemia in 1994.
Today, Ringo's son Zak is the most famous of his kids and has played drums with a number of popular bands, including Oasis and The Who.
George Harrison's only child
The youngest Beatle was married to Pattie Boyd from 1966 to 1977 during which time the couple produced no kids. A year after their divorce, George married Olivia Arias with whom he had one child, Dhani Harrison, on August 1, 1978.
The 40-year old who sometimes performs as 'Ayrton Wilbury' is a well-respected musician who's performed at Lollapalooza numerous times.
Before his dad's death from lung cancer in 2001, Dhani contributed his talent to George's last album, Brainwashed. Currently, Dhani Harrison is admired around the world as a songwriter and multi-instrumentalist.
https://78.media.tumblr.com/f214ccb6ec5b718e861f2d89ecb2438b/tumblr_nly792Xndn1uohesdo6_500.jpg
For a while, it seemed as if The Beatles would be around forever. Now that the Beatles' kids are carrying on their names with their own exceptional talents, John, Paul, George, and Ringo are sure to be remembered for a long, long time.
Source: Read Full Article