Rapper Saweetie has had a lot to celebrate these days. This past July, the "Icy Girl" inked a deal with McDonald's, giving fans a chance to taste her very own "Saweetie Meal." The Saweetie-approved combo included a Big Mac, 4-piece Chicken McNuggets, medium World Famous Fries, a medium Sprite, Tangy BBQ Sauce, and a special "Saweetie' N Sour" sauce. For the rapper, this collaboration simply made sense given her love for junk food.
"I think McDonald's just saw that I genuinely love the meal," Saweetie told Forbes. "I'm always remixing their meals on my live," she continued. "I only really go live when I eat. So, the fact that I'm here right now with these beautiful packages and cartons of Saweetie Meal behind me is like a dream come true. So, just a match made in heaven." That's not all for Saweetie's recent business deals, however. 
Just months after partnering with McDonald's, Saweetie has now been appointed the newest MAC Global Ambassador. "I'm definitely a MAC girl," she said in a promotional video for the makeup brand. According to MAC SVP and Global Creative Director Drew Elliott, Saweetie is such a big fan that she has (literally) ingested tons of MAC product. "She has always loved our products, she told me she has swallowed pounds of M·A·C lip gloss in her life," Elliott said, via US Weekly. So, it's fair to say that life has been pretty "sweet" for Saweetie. But, is "Saweetie" her real name?
Saweetie's real name might surprise you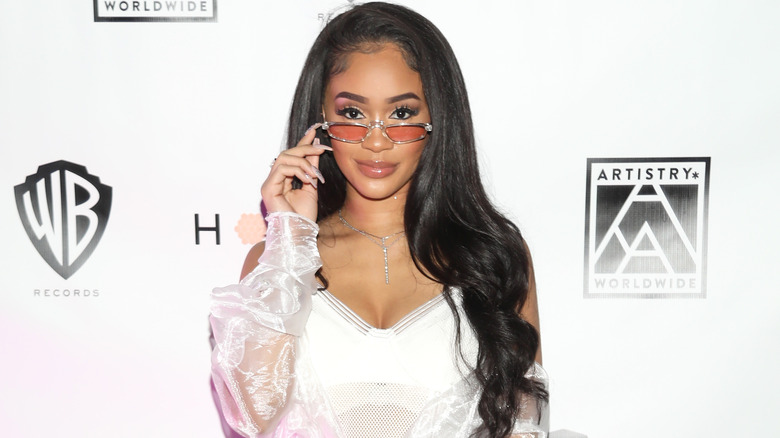 No, "Saweetie" isn't the rapper's real name. Saweetie's full name is actually Diamonté Quiava Valentin Harper. So, the next question is: Where does Saweetie come from? As it turns out, it's because her grandmother used to call her "Sweetie." "I got my name from my grandma," Saweetie said in a 2018 interview with Power 106. "I put it on my MySpace and my MySpace was poppin'," she continued. 
"People would see me out and they would be like 'Oh Saweetie' and I would be like 'That's me!' and then it kinda just stuck. What kinda solidified it was my stepmom had got me a chain with my name on it and so I figured that it was just over — my name was just Saweetie." In another interview with TIDAL, Saweetie explained why she decided to spell "Sweetie" with that added "a." "Everybody had their nicknames on Myspace," she said (via Complex). "So I was like, 'OK, I like Sweetie, but I don't like the word 'sweetie,' so I'm going to spell it this way."
And how do you pronounce "Saweetie," you may ask? In the same Power 106 interview, Saweetie pronounced it as "sah-wee-tee," so we'll take that as the correct example. Over the years, fans and celebrities alike have hilariously struggled with pronouncing the name. For example, Tracee Ellis Ross once admitted that she thought it was pronounced as "sah-wah-tee." Mispronunciations aside, fans think that Saweetie's real name may have actually been a better choice for her stage name.
Fans think Saweetie should have stuck with her real name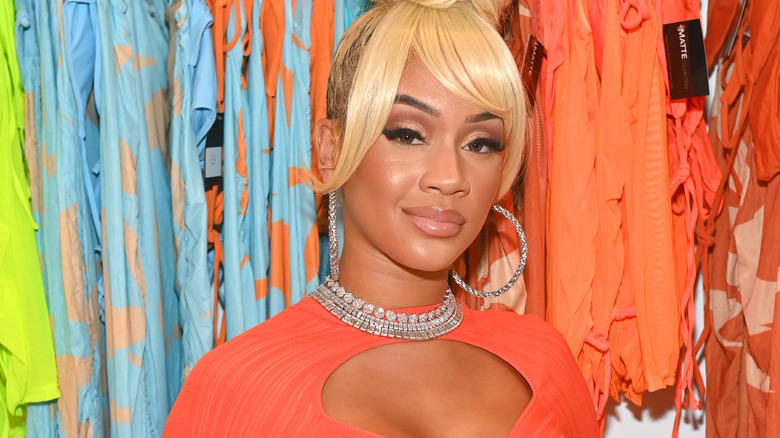 Once fans found out that Saweetie's real name was actually Diamonté Quiava Valentin Harper, they instantly fell in love with it. "I just found out Saweetie's real name is Diamonté and I love that for her," rapper Yung Baby Tate tweeted. "Saweetie's real name is Diamanté [sic]? That might be the coldest name I've ever heard," one fan wrote. "Idk what I expected Saweetie's real name to be but it wasn't Diamonté," another fan commented.
Meanwhile, others think that "Diamonté" fits Saweetie's "Icy Girl" persona so well that she should have used it as her stage name. "I will never not be upset at the fact that Saweetie's brand is all about being an 'Icy Girl' with grillz, chains, jewels etc…and yet she picked a stage name. Instead of her real name. Which is Diamonté…." another person tweeted. "Like that is absolutely a missed opportunity if you ask me. Your whole aesthetic is icy, and ya name DIAMONTE??!? Couldn't be more appropriate," they continued.
"[T]his girl real name is diamonté and her whole image is based around being an icy girl but she go by saweetie… just slow," another tweeted. "I still can't get over she uses the stage name Saweetie, and her real name is Diamonté," someone else added. "Icy Girl tripped over a phenomenal branding opportunity."
Source: Read Full Article