Ed Sheeran certainly knows how to move around the royal circles. Like the time that he claimed Princess Beatrice sliced his face while knighting James Blunt in jest at a party, per The Sun. Unfortunately for everyone who believed the tall tale, Blunt later set the record straight with ShortList, admitting: "Ed was drunk, messing around, and he cut himself. We made a fancy story up; people fell for it. It was very embarrassing."
Still, Sheeran and Prince Harry rubbed shoulders at a couple of events, like the time they teamed up to promote World Mental Health Day, per USA Today. They posted an Instagram video and joked about their red hair in 2019. In July, they also attended the WellChild Awards, per Goss.ie. The two traded new dad stories with Sheeran saying, "You're still in the trenches now! How do you manage with two?" Harry seems to have everything under control, but admitted that "two is definitely a juggle."
However, it's Sheeran's meeting with Prince Charles that made headlines. Here's what went down between the heir to the British royal throne and the "Bad Habits" singer.
Ed Sheeran got too handsy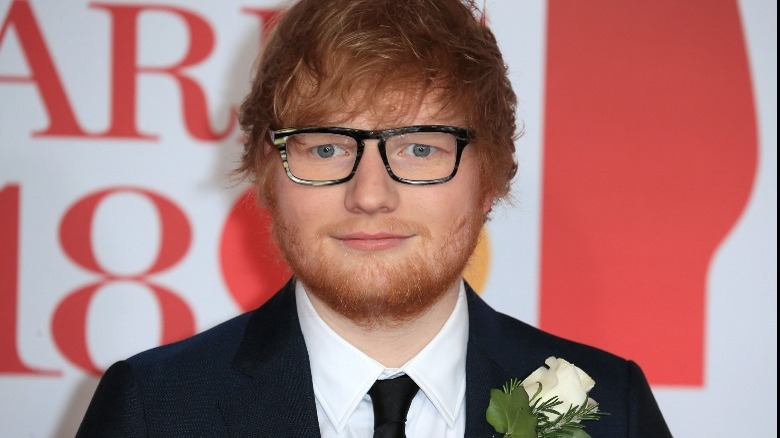 Ed Sheeran was awarded the Member of the Order of the British Empire — or MBE — in 2017, according to the Mirror. The outlet notes that the award is presented to those who achieved success in their professions; for Sheeran, it was  when he became the highest-streamed Spotify artist in 2017, and was therefore honored for his work in the music industry, as well as his charity work. And per The Mirror, Prince Charles presented the award to Sheeran. However, the "Shape of You" singer made a faux pas that set etiquette experts tongues wagging.
When Prince Charles presented the badge to Sheeran, the musician didn't just shake the royal's hand. He also touched Charles' arm — a big no-no. Apparently, physical touch beyond a handshake is not permitted. However, Charles didn't make a big deal and continued talking to the crooner. Afterward, Sheeran revealed, "He was asking me if I was still selling lots of records and I told him I've got a concert in New York tomorrow, and he was quite surprised I was flying after this." Even though Sheeran broke protocol, he still impressed the prince by his commitment to his career.
Sheeran also shared why the award was so special to him. "My grandfather was a massive royalist," he revealed. "He had all the commemorative plates and stuff, and he died on this day four years ago, so it's actually quite a nice full circle thing, I guess he'd be pretty proud." #GrandsonGoals.
Source: Read Full Article