You're going to need to keep the Kleenex handy when you tune in to 9 Months With Courteney Cox, the Friends alum's docuseries chronicling diverse couples' different paths to parenthood.
"Infertility, illness, disability. This season on 9 Months, the stakes couldn't be higher," Cox, 55, says in a trailer for the show's second season, which premiered Mother's Day on Facebook Watch. 
In episode 1, viewers followed along as Kateka and Stu attempted their last round of IVF; Charisse, who lives with Cerebral Palsy, made a big announcement; and Patrishia and Don faced pregnancy complications after a miscarriage. Episode 2 checks in again with Kateka and Stu while also introducing Alexa and Jon, whose desire to start a family is stymied by health challenges, and identical twin sisters Tiesha and Dienesha, who share a very special bond. 
These twin sisters are both pregnant — and they're due on the same day  
Twin sisters. Two incredible blessings. Tiesha & Dienesha share their story on episode two of 9 Months with Courteney Cox, premiering tomorrow at 6 pm PST / 9pm EST, only on Facebook Watch.
Twin sisters Tiesha and Dienesha live together in Alabama with Tiesha's fiancée Erika and Dienesha's daughter Gabriella. And their household is soon going to be a lot more crowded, since both twins are currently expecting. 
Tiesha's path to becoming a parent began after she watched her twin become a mother. Once she met Erika — who had long dreamed of starting a family but was unable to carry a child — the couple decided to get pregnant. Now that Dienesha is also expecting again, the sisters are experiencing another milestone together. 
"I really thank God that he made us pregnant at the same time," says a tearful Tiesha in the episode. 
A brain tumor complicates a couple's plans
We also meet Virginia couple Alexa and Jon, who are eager to have a baby. Unfortunately, after Alexa was diagnosed with an inoperable brain tumor, doctors advised her against getting pregnant. 
"Pregnancy pretty much meant the difference between life and death for me," Alexa says. Instead, the couple decided to use a surrogate, and Alexa's friend Merrill stepped up and offered to carry the child. 
Later this season, viewers will also meet a single woman who decides to have a child via IVF after the breakup of her marriage, a woman with achondroplasia who is nervous about the impending birth of her second child, and a wheelchair-bound woman who learns she is pregnant just days before her husband is diagnosed with colon cancer.  
'9 Months With Courteney Cox' offers an unfiltered look at pregnancy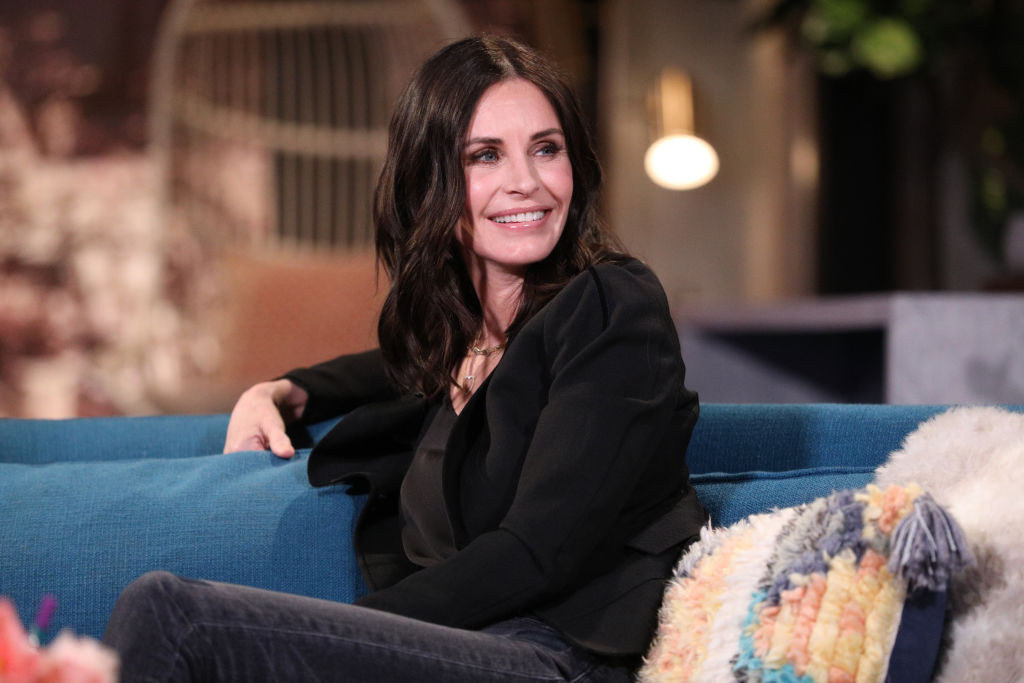 RELATED: Courteney Cox Is Binge-Watching 'Friends' During the Quarantine, But How Did She Do On a Quiz About Monica Geller?
The self-shot 9 Months offers an intimate look at people's dynamic and complex pregnancy stories. Those stories have a special resonance for host and executive producer Cox, who faced fertility issues and experienced multiple miscarriages before giving birth to her now 15-year-old daughter Coco at age 40. 
"It's not an easy thing, being pregnant," Cox said in a recent appearance on The Ellen DeGeneres Show. Viewers who want to talk about their own experiences with pregnancy and parenting can join the show's official Facebook Group, where they can post stories about their own pregnancies, inspire one-another, and give advice to new parents and expecting families. 
New episodes of 9 Months With Courteney Cox are available every Sunday and Thursday at 6 p.m. PT/9 p.m. ET on the show's Facebook Page. 
Source: Read Full Article