[Warning: spoilers for The Handmaid's Tale season 3, episode 4 "God Bless the Child," ahead.]
Alexis Bledel is WRECKING me this season on The Handmaid's Tale. Just think of all Emily's been through this entire series. She was separated from her wife (Clea Duvall) and son, raped repeatedly, suffered through female genital mutilation, killed a man after stealing his car, was sent to the colonies, stabbed Aunt Lydia (Ann Dowd), and survived a daring escape to Canada with baby Nicole. Honestly, I'm sure I'm missing things that happened to this poor woman. Can you imagine?
Of course not. But furthermore, what would it be like to try to recover from all that trauma? In season 3, episode 4, Emily is finally ready to reunite with her wife and child. Perhaps "ready" isn't the right word. As she looks around her family's home, you can see, from her expression alone, her processing how much she's missed and how reluctant she is to disrupt their lives and routine. It's heartbreaking. She's not even ready to hug her son. Excuse me while I start sobbing again.
Bledel spoke to E! News about Emily's new journey. "Yeah, what does she do with it? That's sort of a huge question for her," she says. "It's not being kind of aggravated or triggered in the same way anymore, but she's still used to reacting in that way, with anger, so she has to learn to be a gentle person again with herself, with others. And that's incredibly challenging when you've been through what she's been through."
Bledel relates Emily's time in Gilead to a POW in a war zone. "In her mind, toward the end of her time in Gilead, she was under the impression she was at war in a way," she says, which makes a lot of sense when you consider how much the former biochemist was forced to strategize and lash out while under extreme duress. "She was fighting back for her own survival and for a cause."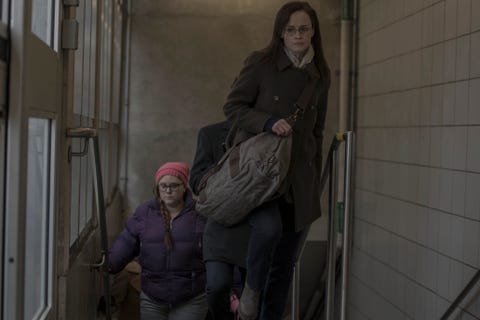 So, like any traumatized soldier returning from war, the adjustment period is going to be excruciating. "I think she's dealing with a real shock to the system, being back in a society that she recognizes," Bledel explains. Obviously, as we've already seen, it's going to be a struggle for Emily to reconnect with her family, despite however many years she's been dreaming of this moment. "She's been kind of hardwired to react to things, like guards with guns around every corner and things exploding, threats, things being taken away from her at every turn."
Despite how exhausting it must be for the actress to access this kind of emotion (she says listening to '90s alternative rock is a comfort and has turned to meditating as a form of self-care), her performance has been the absolute heart and soul of this season. I almost can't believe I'm saying this about Rory f*cking Gilmore, but get this woman another Emmy ASAP. In fact, just give her all of them (I don't care that THT won't be up for consideration until 2020).
Source: Read Full Article