Cassie Randolph is thanking her fans after ex-boyfriend Colton Underwood came out as gay. Colton appeared on Good Morning America for a sit-down interview with Robin Roberts on April 14. He explained how he's accepted his sexuality and is ready to share his authentic self with the world.
Cassie is currently on vacation in Mexico and had remained silent since the interview. However, she recently spoke out via her Instagram Stories: "Thank you everyone for all the kind comments and messages. It means so much ❤️ And yes, some of you are asking about my youtube for this week. I decided to take the week off, but will have one again next week!!"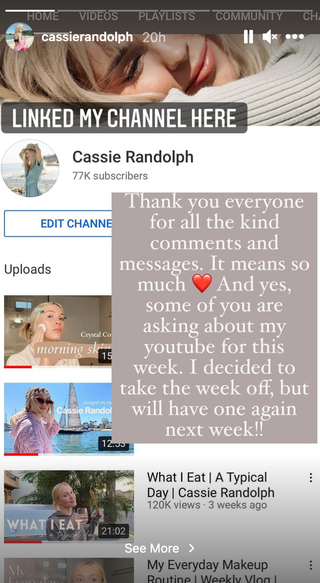 Cassie and Colton began their relationship on season 23 of The Bachelor. They didn't leave engaged, but as boyfriend-girlfriend. However, their relationship was short-lived and they shared news of their split in May 2020.
"Colton and I have broken up, but have decided to remain a part of each others lives," Cassie shared in a now-deleted Instagram post. "With all that we have gone through, we have a special bond that will always be there. I love Colton very much and have an enormous amount of respect for him. We have both learned and grown so much these past couple years, and will always have each others back. Always."
https://www.instagram.com/p/CHgiolwn9PX/?utm_source=ig_embed&utm_campaign=loading
A post shared by Cassie Randolph (@cassierandolph)
Unfortunately, their split turned out to be far from amicable. Cassie filed a restraining order against him in early September 2020. According to People, Cassie originally filed the order after finding out Colton was coming back into town after a trip to Colorado, with a source saying, "When she found out he was coming back in town, she was scared and felt she needed to pursue legal help." Colton was said to be "completely blindsided" by the restraining order.
She reportedly dropped her restraining order against him in November 2020. TMZ reported that Cassie dismissed the order "with prejudice" (so, she can't refile it) and also requested the police investigation be dropped.
Colton released a statement to TMZ, saying: "Today, Cassie asked the court to dismiss the temporary restraining order against me. The two of us were able to reach a private agreement to address any of Cassie's concerns. I do not believe Cassie did anything wrong in filing for the restraining orders and also believe she acted in good faith. I appreciate everyone's respect for privacy regarding this matter."
According to sources, Cassie was not made aware of Colton's GMA interview before it aired and there's no evidence that they've been in contact with each other.
If you're a victim of stalking, contact the National Center for Victims of Crime hotline at 1-855-4-VICTIM (1-855-484-2846). If you or someone you know is a victim of domestic abuse, contact the National Domestic Violence Hotline at 1-800-799-7233 or text LOVEIS to 22522.
Source: Read Full Article