NBC has some pretty big episodes coming up, including the Chicago Med Season 7 finale. This season has been a momentous one, involving some significant casting changes and other twists and turns. Without a doubt, there will be more surprises in store before the season ends. Here's everything you need to know about the schedule for Chicago Med Season 7 until the finale airs.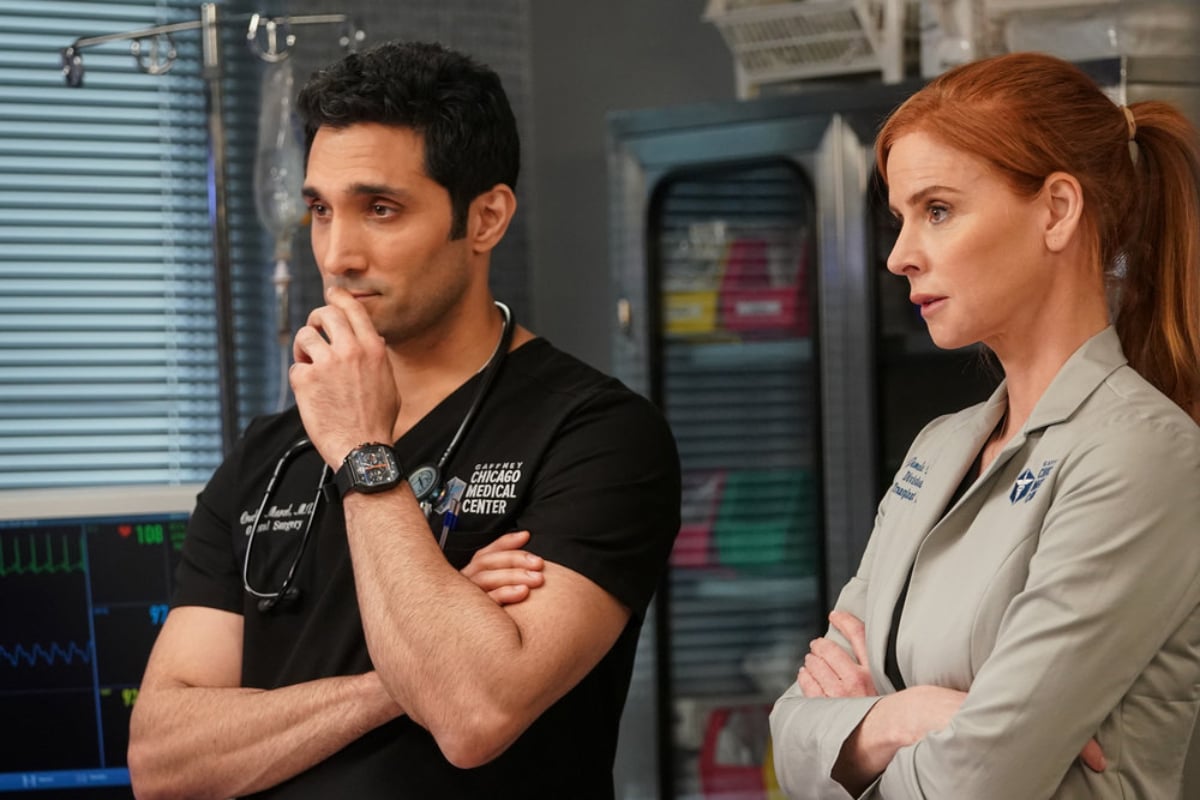 Is 'Chicago Med' new tonight, May 4?
Unfortunately, there is not a new episode of Chicago Med tonight, May 4. The One Chicago shows have been on yet another hiatus since April 20. Instead, NBC will air a rerun of Chicago Med Season 7 Episode 9, titled "Secret Santa Has a Gift for You."
In this episode, Will Halstead gets confirmation of the Vascom kickbacks that he has been investigating for Sharon Goodwin. However, Goodwin and Halstead are placed in a difficult position when they are encouraged by hospital higher-ups not to report the incident to the FBI.
This is also the holiday episode for Chicago Med Season 7. Dr. Crockett finds himself in an awkward position when he becomes romantically involved with Dr. Pamela Blake. Meanwhile, Vanessa also grapples with her secret about Maggie.
When does the 'Chicago Med' Season 7 finale air?
Chicago Med Season 7 will return soon will return with episode 20 on May 11, 2022. The episode is titled "End of the Day, Anything Can Happen." According to Rotten Tomatoes, the official synopsis reads, "Scott helps the daughter of a mob boss; a grandmother comes to Med desperate to save her grandson; Choi struggles with some shocking news about his father; Halstead and Taylor care for Maggie's high school classmate."
All of the One Chicago finales will air at the end of May. The schedule for the rest of Chicago Med Season 7 is as follows:
Episode 20 airs on May 11, 2022.
Episode 21 airs on May 18, 2022.
Finally, Episode 22 — the finale — airs on May 25, 2022.
Luckily this isn't the end of Chicago Med. In fact, Deadline reports that all three One Chicago shows have been renewed for three more seasons. Deadline also already confirmed that Steven Weber, who plays Dr. Dean Archer, will have a series regular role in season 8.
There's more drama to come in the final episodes of 'Chicago Med'
So far, there's not a ton of information about specifically what the Chicago Med Season 7 finale will be about. However, we do know a little bit of what's to come. Brian Tee is back as Dr. Ethan Choi for the rest of the season. In episode 19 he was shocked to learn that his father was in love with a man from his military days.
Dr. Hannah Asher recently returned to the show as a series regular. Although she has been clean for almost two years, she may still face some prejudice now that she is back at the hospital. Additionally, although things have been going well for Maggie and Vanessa, executive producer Andrew Schneider teased to TV Insider that there are "more explosions to come" for these two.
Chicago Med airs Wednesdays at 8 p.m. EST on NBC.
Source: Read Full Article