Last season of Bachelor in Paradise featured love, heartbreak, and of course, plenty of drama. And that's where Caelynn Miller-Keyes first connected with Dean Unglert. The Bachelor and Bachelorette favorites hit it off on the beaches of Mexico — and while Unglert decided to ditch Miller-Keyes midway through the season, he returned after realizing how much he cared for her. Now, the two are still together.
So, what does a future look like for Miller-Keyes and Unglert? They're clearly taking things slow, but do they want kids? Unglert said in the past that he's not interested in having children, but his tune may be changing. Here's what he said on his podcast, Help! I Suck at Dating …, on May 6, 2020.
Dean Unglert and Caelynn Miller-Keyes appear to be getting serious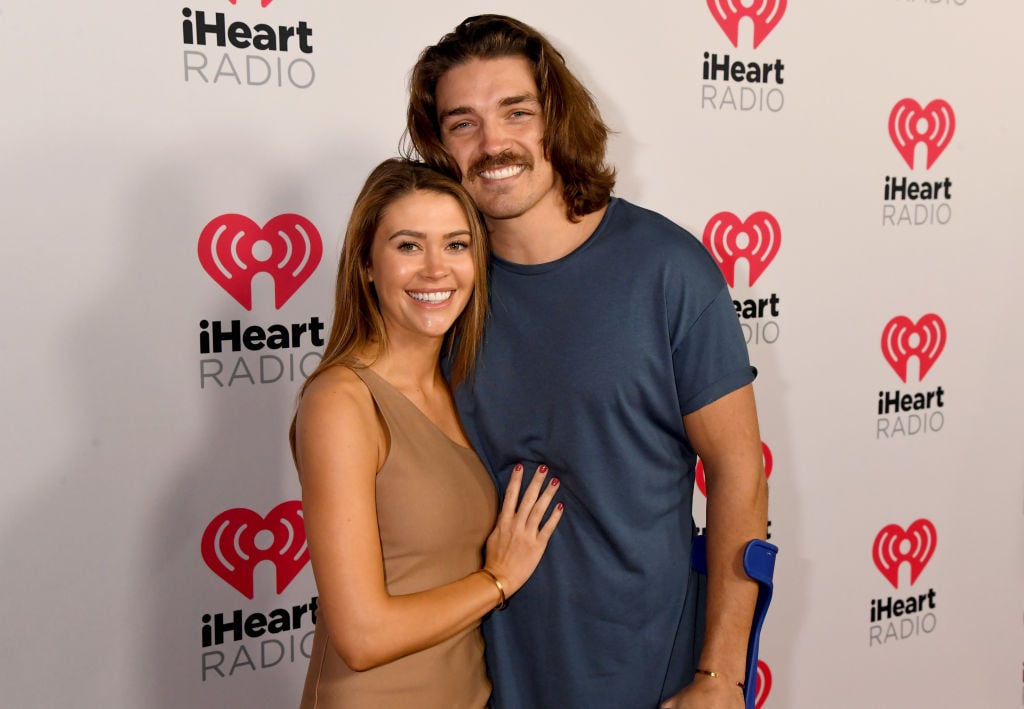 Unglert and Miller-Keyes didn't appear to be a good match at first, but they've certainly proven Bachelor Nation fans wrong. When they first started dating, Unglert was known for living out of his van, and Miller-Keyes was known for her past in pageantry. Now, they've gone on plenty of adventures together. And they seem to be closer than ever.
Unglert's talked on his podcast about his relationship with Miller-Keyes, too. There's speculation that he and Miller-Keyes are engaged or married already, though neither of them will speak on it. But Unglert did say that he feels like his partnership with Miller-Keyes is much more serious than his partnerships with past girlfriends.
"But I'm getting more and more comfortable with who I am, so that allows me to be more confident and transparent, I guess. And I think that, in turn, just leads to a deeper connection with a significant other in Caelynn, in this case, because it's just like, we are who we are," Unglert revealed. "We're not gonna tell each other to do things that aren't who you are. And so it's like, you're kind of getting closer and closer with this person."
Unglert said in the past that he doesn't want kids
https://www.instagram.com/p/B-Fe50kpz7v/
Unglert seemingly had a tumultuous childhood, and those who watched Rachel Lindsay's season of The Bachelorette saw Unglert's difficult relationship with his father unfold. This may inform his decision regarding having kids in the future.
"The older I get, I feel like the less and less I want kids," Unglert told Us Weekly. "I remember when I was a teenager, I was always so dead-set on having kids, but the world's in flux. I don't know if it's necessarily the most responsible thing to do to bring a child into this world. That being said, she wants kids, so I don't know."
It's clear Miller-Keyes has always wanted a more traditional relationship, though. "I sure hope I'm done dating. I really enjoy his company and our time together, but who knows?" Miller-Keyes told HollywoodLife in regards to potential marriage. "We've only been dating for six months, so I can't definitely say he's the one, you know?"
Unglert's stance may be changing
https://www.instagram.com/p/B9p4G76pj7T/
Has Unglert changed his tune about marriage and kids? We're not sure — though it seems like the longer he's with Miller-Keyes, the more he's thinking about their potential future together, as he's "happy" with where they're at.
When Unglert was asked if he wants children on Help! I Suck at Dating …, he replied with, "That's a good question. I don't know. I think that we both want to be parents, but we don't know what that means, if we're ready for it." Unglert than added that he's "not ready" for kids just yet. And the push for children may have to come from Miller-Keyes more than himself.
"Although I wanted to have kids my entire life, the older I get, the seemingly less I want to have children, for whatever reason," Unglert adds. "That could change. … The older I get, the more and more I start to think about how I could see a life without children, but I could also see a life with children."
We'll have to wait and see how Unglert and Miller-Keyes' relationship progresses!
Check out Showbiz Cheat Sheet on Facebook!
Source: Read Full Article