In the before times, before a global pandemic triggered nationwide lockdowns, I'd never gone on a date. But after moving most social interactions from IRL to online because of this extraordinary event, I had my first romantic partner at 21. Separated by the Atlantic ocean and connected by a Discord channel for TikTokers, we had our first date—an eight-hour Zoom call—exactly one year ago today. In the following months, we shared dinner over FaceTime, bonded through virtual paint and sips, Netflix watch parties, and retro online two-player games, and even penned handwritten letters.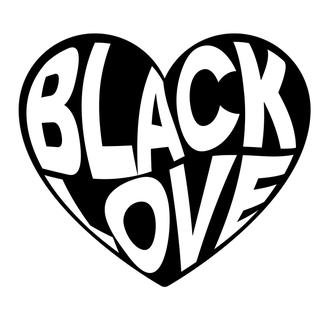 Once I stopped focusing on our obstacles (time difference, travel restrictions), my anxieties subsided and gratitude remained, because I'd allowed myself trust the process no matter how strange the path. As someone who found love in a non-traditional place and during unprecedented times, I realize I'm also drawn to love stories that color outside the lines, challenging arbitrary social taboos and presenting complicated routes to happily ever after. And as a Black woman and television critic, I've discovered two special series that've given me hope for my own relationship and reminded me that Black love can blossom in the most unexpected, nuanced ways.
Black love can blossom in the most unexpected, nuanced ways.
The ABC sitcom Abbott Elementary follows the shenanigans of six educators trying their best at an underfunded Philadelphia public elementary school. Creator of the series Quinta Brunson also stars as Jeanine, a bright-eyed second-grade teacher ready to save the world, and is joined by Tyler James Williams (of Everybody Hates Chris fame) as Gregory, a substitute teacher with little interest in over-investing in a temporary scenario. His deadpan humor next to her high-spirited disposition creates the perfect dynamic for the show's slow-burn romance. In episode 3, Jeanine encourages Gregory to decorate his bare, uninspiring classroom. Encouraged by Jeanine's zest for educating, he sidesteps his stoicism, covering his classroom with student drawings and impressing his colleague in the process. At one point, the two characters stand side by side, gazing at the final result as Jeanine helps Gregory decipher the varying artwork—all portraits of himself.
Gregory and Jeanine's will-they-won't-they dynamic steadily advances the series while also adding levity to the surrounding systemic failures common to many inner-city schools. My mother has taught at a similar school for my entire life, so I've seen firsthand how the defective infrastructure, lack of funding, and incompetent leadership pushes teachers to their limits, asking them to choose between caring for their students or maintaining sanity in an apathetic system. We all know what it's like to try and maintain hope in an environment that seems hopeless and to balance the thrill and trepidation of a new connection when we can hardly navigate on our own chaos. Like a pandemic, these overwhelming challenges could easily lay a bleak foundation for a trauma-filled narrative, and yet Abbott Elementary centers hope and prioritizes both romantic and platonic love, a crucial move for a predominantly Black-led primetime series that continues to smash records.
Abbott Elementary centers hope and prioritizes both romantic and platonic love.
The Ava DuVernay-created Queen Sugar has also helped me reconsider my expectations of love and relationships. With the seventh and final season slated to air later this year, the award-winning OWN series tells the story of the Bordelon siblings as they run their Louisiana family farm in the wake of their father's sudden passing. Among the many couples navigating beautiful, messy Black love are the siblings' aunt and matriarch Violet, an affectionate, independent 60-something woman played by Tina Lifford, and the much-younger Hollingsworth "Hollywood" Desonier, a vivacious oil rig worker and longtime friend of the Bordelons portrayed by Omar Dorsey.
Depictions of older Black women in movies and TV often pigeonhole them into the Mammy stereotype, sexless maternal figures stripped of real agency and existing only as caregivers. But true to the series' radical nature, Violet is never treated as anything less than a full human being with her own wants and needs, one of which happens to be love. At the same time, Hollywood is a big and tall, dark-skinned Black man best known for his gentle kindness and fierce loyalty, rather than aggression, absence, or other racial stereotypes. Their eventual marriage, one of the brightest moments of the entire show, reinforces the revolutionary notion that regardless of age, Black people are deserving of soft spaces and vulnerable moments.
Regardless of age, Black people are deserving of soft spaces and vulnerable moments.
As I navigate life through this so-called new normal, I've come to rely on TV as a north star of sorts, even in 2022 when Black love stories remain less prominent than white ones. But from that marginality, these shows have proven there's power in embracing unconventional narratives. Because my first relationship doesn't look like the cookie-cutter examples I've been fed my whole life on predominantly white TV shows. When I think back on the origins of my own love story, the meet-cute will be a message on Discord. For Jeanine and Gregory, it's a chance meeting in a school bathroom, and for Violet and Hollywood, it's a long-lived solace. When Black narratives center love, they so often embrace the unconventionality that I'm learning to accept in my own post-pandemic love life and I can't wait to discover even more.
Source: Read Full Article