MTV's The Challenge is back with Total Madness, and fans are loving a few of the rookie players this season. While we have veterans like Johnny "Bananas" Devenanzio and Wes Bergmann taking control of the game early on, newbie Jay Starrett is already making a name for himself as a Challenge beast and smart player.
Starrett had a major target on his back early on, but his experience on Survivor clearly prepared him for what's in store with The Challenge. And he just went after Bergmann with a major burn via Twitter when Bergmann insinuated that The Challenge is much more difficult than Survivor. Here's what happened.
Jay Starrett went from 'Survivor' to 'The Challenge'
https://www.instagram.com/p/B-vMRVfh6h0/
Those who recognize Starrett on The Challenge know him from the Survivor: Millennials vs. Gen X. While he didn't win his first reality show, he played an incredibly strategic game that got him quite far. And it certainly helped him survive the Challenge house.
"[Being the only person from Survivor] gave me an advantage in terms of strategy and gameplay — I know how to strategize with numbers and people I've never met before," Starrett explained to HollywoodLife. "But being the only Survivor out there did not help at all, otherwise. Everyone was like, he's alone, he has no allies, let's throw him in."
It's true that no one seemed to want to work with Starrett except for a few of the other rookie players. And Starrett expressed to HollywoodLife that he would've loved to work with Bergmann — but Bergmann's new allegiance to his old ally, Devenanzio, didn't work in his favor.
"I was hoping that Wes [Bergmann] was not working with [Johnny] Bananas because Wes is usually down to work with the rookies, and is down to start scheming, and I'm a schemer and down to strategize," Starrett noted.
Wes Bergmann is a major player on 'The Challenge: Total Madness'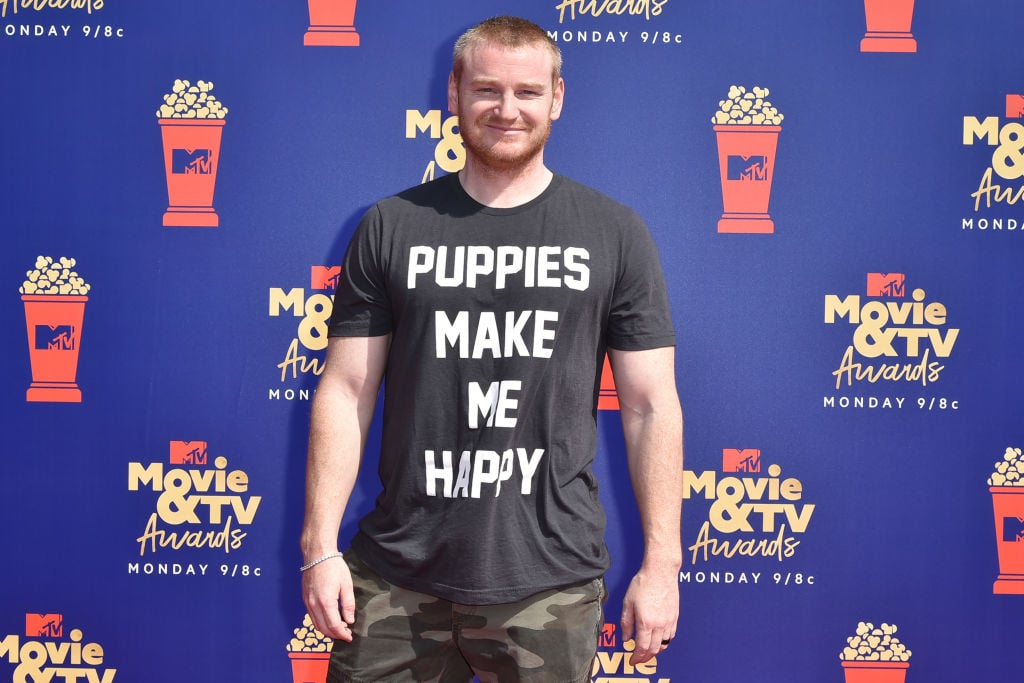 Bergmann's a well-known Challenge player — and it's usually him vs. Devenanzio when they're on a season together. He's changing up his strategy for Total Madness, though. Bergmann and Devenanzio thought their best chance at winning was to combine forces and try to get to the end together, and so far, it seems to be working.
But, just as Starrett mentioned, Bergmann loves working with everyone in the house. And he knows Devenanzio doesn't typically reach out to the rookies, which he views as a critical error in his strategic gameplay.
"He does a very bad job of actually playing the game with everyone in the house," Bergmann during an interview with the Bachelor Party podcast. "What he wants to do is sit around with three people, basically, like, maybe even less, and he doesn't want to make new partnerships, he doesn't want anything to be formal, he wants everything to be very ambiguous."
Bergmann and Starrett went at it on Twitter about 'Survivor' and 'The Challenge'
Bergmann isn't short of opinions. And he took a stab at Survivor on Twitter on April 29. "Survivor is harder than the challenge. Cut to this elimination," he tweeted along with a meme showing a child with a soured look on his face eating an apple.
Starrett then commented back with a photo of Bergmann getting carried by Kenny Santucci during the finale of a past season. "I'll just put this here since you want some attention….. hydrate ;)," Starrett captioned the tweet.
Plenty of fans weighed in, too.
"Survivor players have way better social game than The Challenge players. On top of that, living in a remote island while playing the game is no joke. That's just the truth!" one fan tweeted on the thread.
"Survivor is a way harder game to win based SOLELY on the jury aspect," another wrote. "The challenges is easier because if you are physically fit, make the right moves, betray the right people, and win final, it's all on you. In survivor you have to betray the people AND get them to let you win."
It looks like the people have spoken — and Bergmann is on the outs with his opinion. We're looking forward to seeing how they both continue to play on The Challenge no matter what!
Check out Showbiz Cheat Sheet on Facebook!
Source: Read Full Article