Lifetime's Married at First Sight Season 10, this time set in Washington, D.C., premiered on Jan. 1. The five new couples who were set up by matchmakers (Pastor Calvin Roberson, marriage and family therapist Viviana Coles, and sociologist Pepper Schwartz) to legally marry at first sight promise some of the most explosive drama of any season so far. 
Here's a preview of this season's Married at First Sight couples, as well as a preview of what to expect from each arranged pair on Season 10. Post-premiere, fans have a few concerns about each couple so far and wonder if they'll really make it.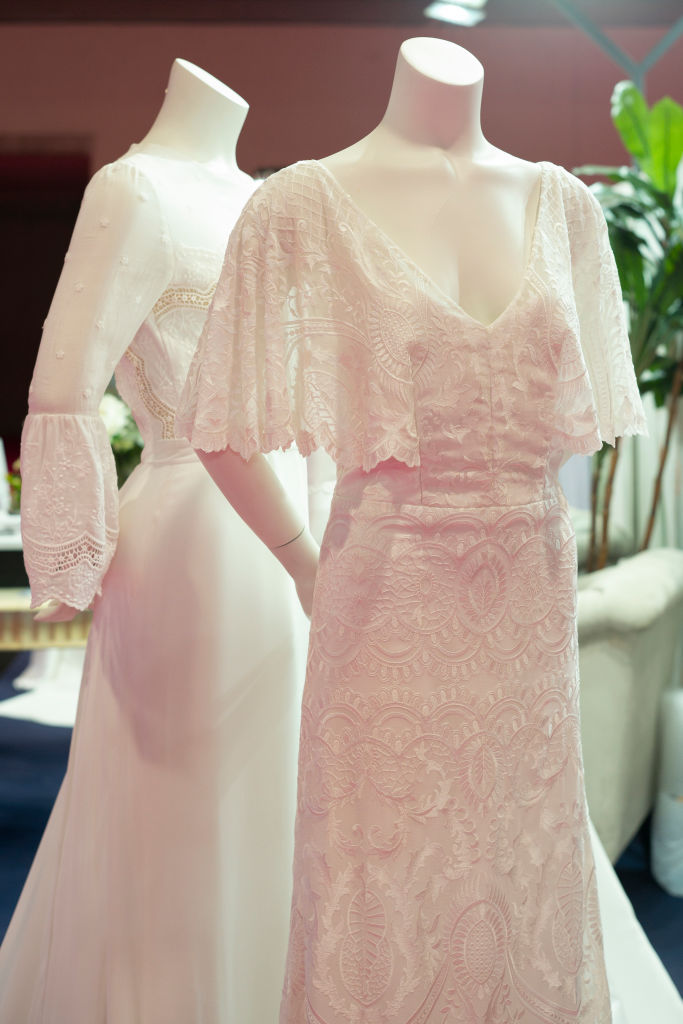 Jessica and Austin
31-year-old nurse manager Jessica Studer and 31-year-old network technician Austin Hurd are in many ways a match made in heaven. They're both close with their families, very ready to get married and have kids, and devoted to steady, consistent careers. 
But some Married at First Sight fans worry that Jessica's opinion hinges too much on her twin sister's viewpoints, or that Jessica only wants to get married to "catch up" with her twin. Some fans also think Austin may rely too much on his mother's opinions.
One Twitter user wrote during the season premiere, "Annndd Jessica is looking for a REPLACEMENT for her identical sister because she's not hitting the 'milestones' like her sister?!?! The experts are doing this on purpose at this point. Is this Married at First Sight The Broken season??"
https://www.instagram.com/p/B6zE3TApkD0/
Taylor and Brandon
27-year-old Taylor Dunklin and 34-year-old Brandon Reid are both highly ambitious and successful. Taylor is an outgoing scientist with multiple jobs, while Brandon is a fun, social sales manager with a tight-knit family. 
https://www.instagram.com/p/B6yxrS1JGzN/
While Taylor and Brandon seem well-matched in nearly every aspect, Taylor's strong personality and Brandon's skeptical family members could spark some conflicts. "While I hope Taylor and Brandon make it, I think she's too much for him to handle," one fan wrote on Twitter.
Katie and Derek
25-year-old Katie Conrad and 26-year-old Derek Sherman are one of the youngest couples ever to marry on the show, Coles told the New York Post. They're also likely one of the most dramatic, as they almost don't make it down the aisle after Katie gets a panicked call from an on-again, off-again ex who's been playing with her emotions. 
Katie is a mental health professional whose type 1 diabetes diagnosis makes her want to settle down, get married, and have kids at a young age. Meanwhile, Derek is a reserved cybersecurity engineer who's excited about the project but inexperienced in love. 
Most fans think that Katie and Derek's relationship will go up in flames because she's not ready to get over her ex (or for marriage in general). "The fact that Katie keeps going back and forth between the guy who ghosted her means she's def too immature to get married," one viewer tweeted.
Meka and Michael
25-year-old data analyst Meka Jones is driven and outgoing, describing herself as a nurturing "alpha female" on the Married at First Sight premiere. 31-year-old Michael Watson, a curriculum developer who works with students with developmental disabilities, is kind, empathetic, and goal-oriented. 
Both Meka and Michael were raised by single parents and didn't have their fathers around. In particular, Michael's family history, which includes no marriages at all, worries some fans as well as the experts, who think he might not have had enough healthy examples to base his relationship on. "Great insight from Pastor Cal about how the absence of a father figure  could possibly be an issue between Meka and Michael," a fan tweeted.
Mindy and Zach
34-year-old Mindy Shiben, a figure skating coach, and Zach Justice, a 32-year-old fitness coach and personal trainer, are both obviously into adventure, health, and nutrition. 
But despite the couple's shared interests, Mindy's complicated past could pose problems for the couple, especially if Zach doesn't offer her enough empathy and support. Mindy's sister tragically died just a year before Married at First Sight began filming, and she also suffered a recent heartbreaking miscarriage. What's more, her family doesn't support her decision to appear on the show. 
https://www.instagram.com/p/B6Ovk4rJN9t/
Some Married at First Sight fans wonder if Zach will be mature enough to support Mindy adequately through her pain. "Damn Mindy seems fragile," one viewer wrote on Twitter. "I hope Zach doesn't pull any Luke gaslighting bullsh** on her."
Source: Read Full Article