Michelle Young's latest take on love in an upcoming episode of Celebrity Family Feud might surprise some viewers.
In a Cosmopolitan clip exclusive (which you can check out above), Michelle and her team were asked to come up with an answer to the question, "Where are all the good men?" She seemed a little shy to share their response, and ultimately Steve Harvey's reaction says it all.
"They don't exist," Michelle said before blowing some kisses to her then-fiancé Nayte Olukoya. Like so many things in Hollywood, this episode was filmed months ago *before* Michelle and Nayte's breakup, for anyone confused.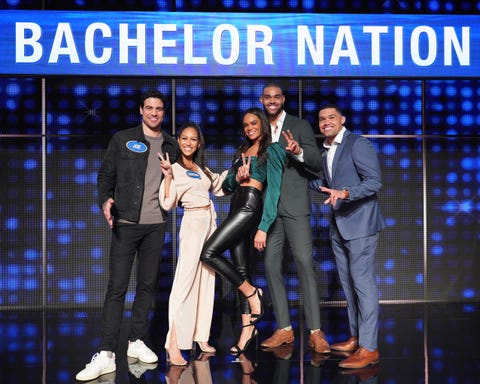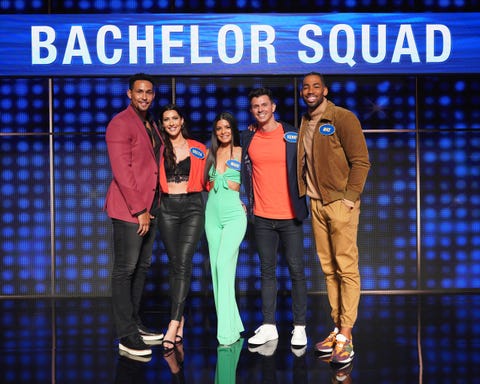 Michelle and Nayte are not the only familiar Bachelor Nation faces in this special ABC mashup. Several other Bachelor faves will be making appearances going head to head as part of two special teams: Team Bachelor Nation and Team Bachelor Stars.
Michelle Young, Nayte Olukoya, Joe Amabile, Serena Pitt, and Rodney Matthews make up Team Bachelor Nation. Team Bachelor Squad features Becca Kurfin, Thomas Jacobs, Kenny Braasch, Mari Pepin-Solis, and Mike Johnson.
Each team will face off for a specific charity; Team Bachelor Nation will be playing for First Book, a nonprofit set to create equal access to education, and Team Bachelor Squad will play for Big Brothers Big Sisters of America. No matter which team comes out ahead, they'll both get to take home at least $5,000 for their charities, which is such a win!
The special Bachelor episode of Celebrity Family Feud will air on August 7, 2022 at 8 p.m. ET. Rhys Darby will also face off against Jay Pharoah in the first half.
Source: Read Full Article