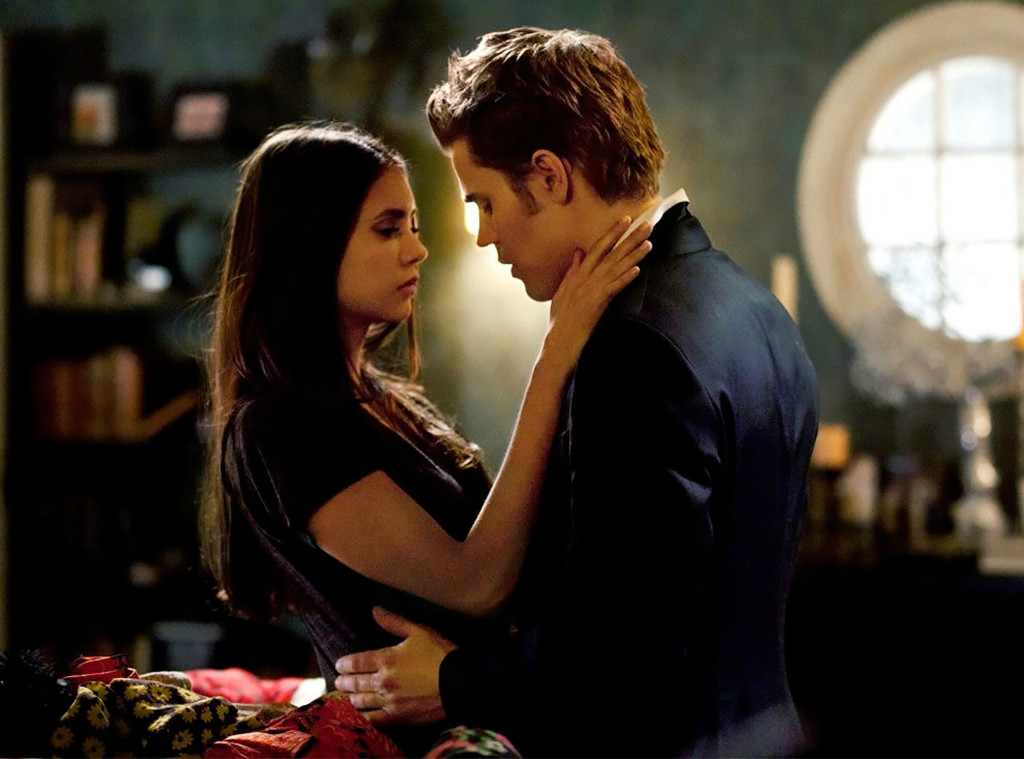 The CW
Nina Dobrev and Paul Wesley are proof that co-stars can have great chemistry on-screen, while pretty much despising each other off-screen.
While the duo heated up TV sets on the CW's beloved series, The Vampire Diaries, for many seasons, they actually didn't get along for the first few months of filming. Dobrev shared this surprising revelation during an interview with former TVD co-stars Candice King and Kayla Ewell for their Directionally Challenged podcast.
"We despised each other so much, that it read as love," Dobrev said with a laugh. "We really just didn't get along the first maybe five months of shooting."
However, the two ended up "getting to a good place" and are now the best of friends!
While this feud may come as a surprise to many, Dobrev and Wesley aren't alone. Let's take a look at more co-stars who weren't (and still aren't!) exactly BFFs.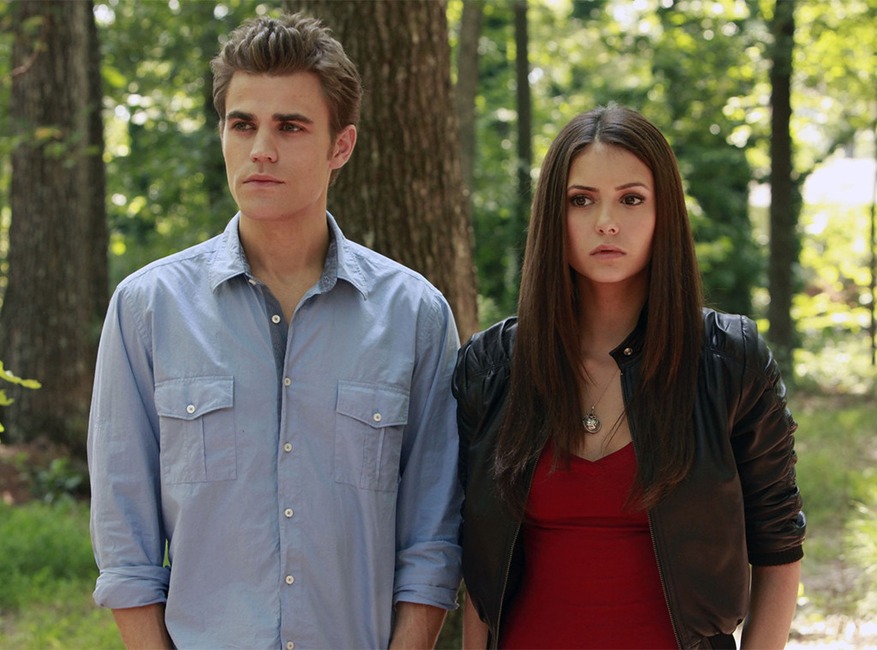 The CW
Paul Wesley & Nina Dobrev, The Vampire Diaries
"Paul and I didn't get along at the beginning of the show," Dobrev shared on the Directionally Challenged podcast, hosted by Vampire Diaries stars Candice King and Kayla Ewell, in June 2019. "I respected Paul Wesley, I didn't like Paul Wesley."
"We despised each other so much, that it read as love," Dobrev laughed. "We really just didn't get along the first maybe five months of shooting."
Though they didn't get along in the beginning, Dobrev confirmed that they "ended up getting to a good place." Now, Dobrev and Wesley "hang out a lot" and are "really good friends."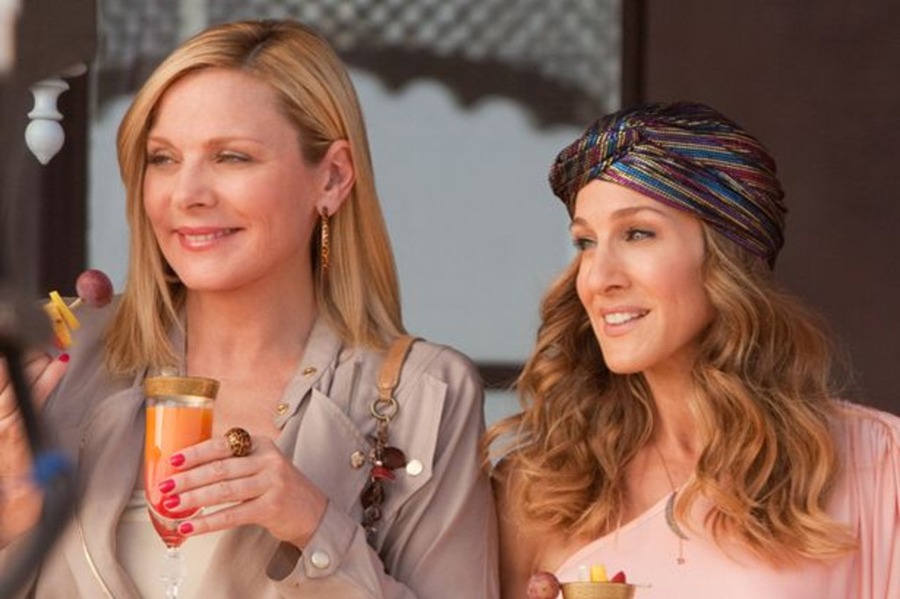 Warner Bros.
Sarah Jessica Parker & Kim Cattrall, Sex and the City
Sex and the City's Parker and Cattrall have long been the subject of feud rumors. In Sept. 2017, DailyMailTV reported that Warner Bros. Pictures canceled plans to soon begin production on a third Sex and the City movie after refusing to meet demands by Cattrall. A source told E! News this is untrue and the actress later tweeted, "The only 'DEMAND' I ever made was that I didn't want to do a 3rd film….& that was back in 2016."
Parker confirmed the demise of Sex and the City 3 and said she was "disappointed." Cattrall later told Piers Morgan that no one reached out to her when the report began circulating and that she thinks Parker could have been "nicer" about it, adding, "I don't know what her issue is, I never have."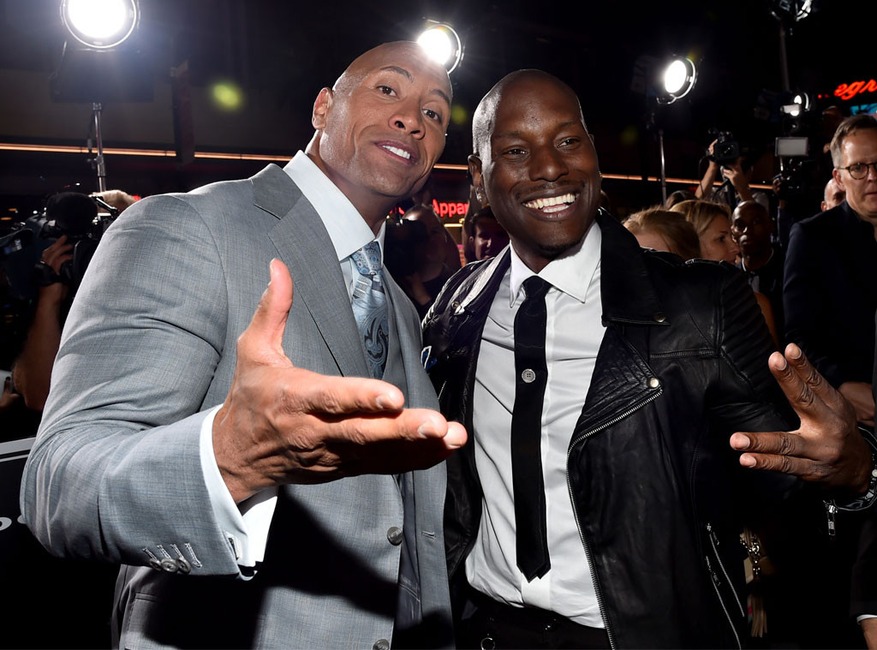 Alberto E. Rodriguez/Getty Images
Tyrese Gibson & Dwayne "The Rock" Johnson, Fast & Furious
In Oct. 2017, Universal Pictures announced that a standalone spinoff Fast & Furious movie starring The Rock and fellow cast member Jason Statham would hit theaters in 2019 and that the ninth Fast & Furious film would be released the following year, a year later than originally scheduled.
Tyrese, who plays recurring character Roman Pearce, blamed Dwayne for the delay, called him a "clown" and a "selfish champ" and threatened to quit his role if the actor returned to the main franchise.
"At the end of the day, the only thing I want to do is make a great movie for the fans," Johnson told EW. "I never ever get wrapped up in the sludge of the bulls–t that can be connected at times to a franchise. So I never get dragged into it. I never respond to any of that."
Article continues below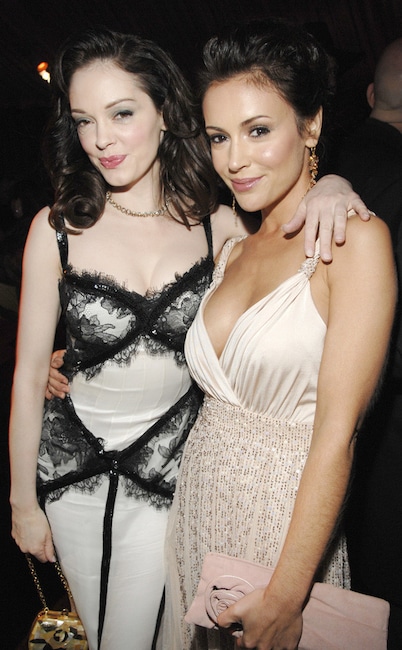 Kevin Mazur/WireImage for InStyle Magazine
Rose McGowan & Alyssa Milano, Charmed
In Dec. 2017, McGowan took to Twitter to slam her former Charmed co-star after she publicly voiced support for Georgina Chapman, the estranged wife of producer Harvey Weinstein. McGowan is one of several women who accused him of rape and dozens have alleged he sexually harassed them. He has denied allegations of non-consensual sex.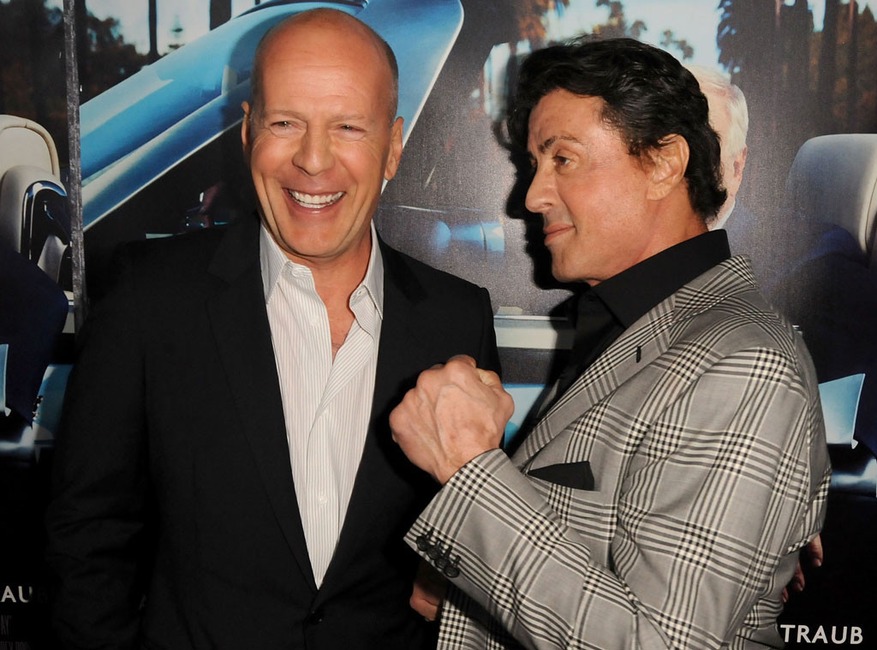 Jeff Kravitz/FilmMagic
Bruce Willis & Sylvester Stallone, Expendables 3
In 2013, Stallone tweeted about movie, writing, "WILLIS OUT… HARRISON FORD IN !!!! GREAT NEWS !!!!! Been waiting years for this!!!!" He also added, "GREEDY AND LAZY …… A SURE FORMULA FOR CAREER FAILURE." He later said he needed to stop tweeting because he always gets in "trouble."
In 2014, Stallone tweeted, "Made up with BRUCE W. A stand up guy, my mistake…."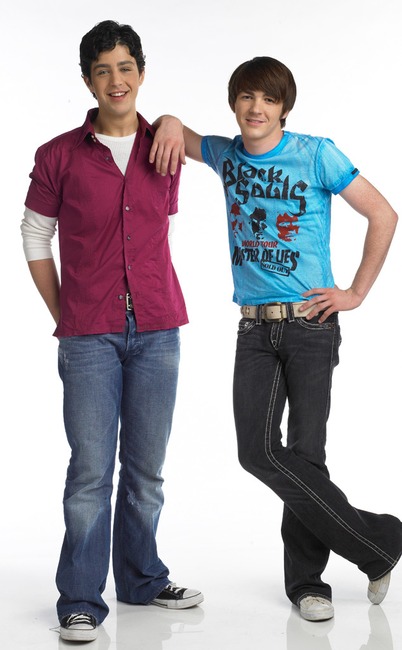 Nickelodeon
Josh Peck & Drake Bell, Drake & Josh
After one-half of the Nickelodeon duo didn't receive an invite to Josh's wedding, the newly minted groom addressed why they don't spend much time together anymore. "When people see Drake and I together—and it rarely happens just because he's working and I'm working—[people] are like, 'What? What are you doing here?'" he shared on the Allegedly podcast.
"I have no good answer for people—and I get it all the time, which is like, 'Where's Drake?'" Peck commented. "I wish I had a better answer, but probably at home? Whole Foods? I don't know."
Article continues below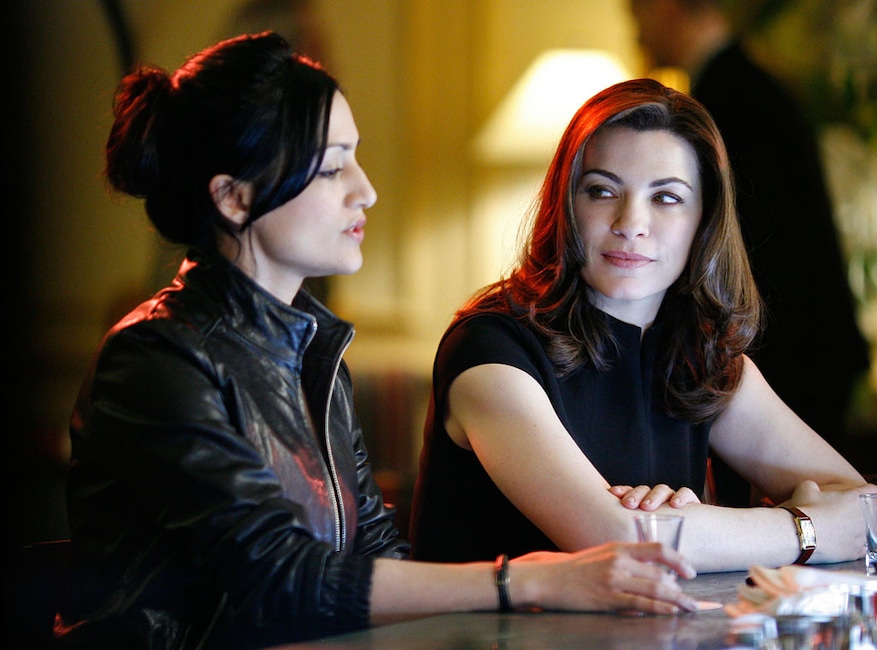 CBS
Julianna Margulies & Archie Panjabi, The Good Wife
How bad were things between the two Emmy winners? Well, they didn't share a physical scene together in over two years and in Panjabi's final episode, the scene they did share was revealed to be faked. Yep, they couldn't even be in the same room, forcing the legal drama to use CGI magic.
While Margulies has remained quiet about the CGI controversy, Panjabi told E! News, "All I can say is this: the decision making process is not something I'm privy to."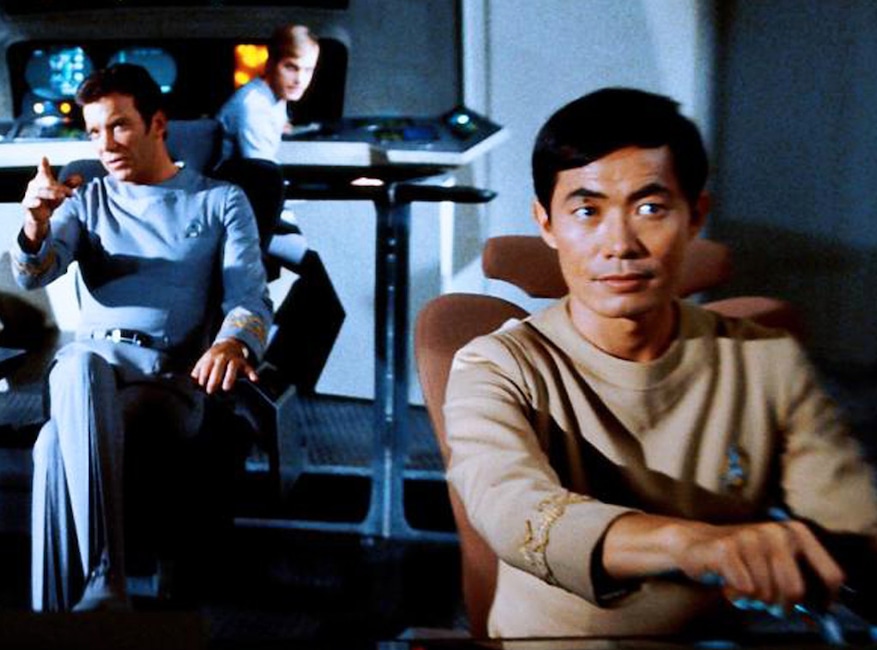 CBS
William Shatner & George Takei, Star Trek
While it has long been rumored that these two had trouble working together, with Takei referring to Shatner as a "douche" and Shatner calling Takei "psychotic" and "sick," Takei recently opened up to the New York Times Magazine to clarify that the feud isn't real. "It's all coming from Bill," he said. "Whenever he needs publicity for a project, he pumps up the so-called controversy between us." Somehow this does not surprise us.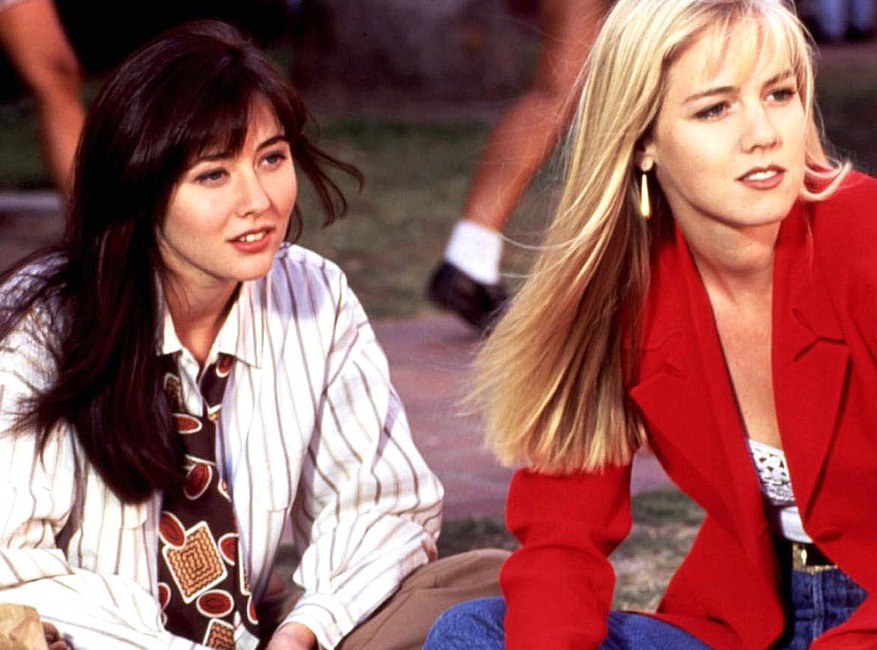 Fox
Shannen Doherty & Jennie Garth, Beverly Hills 90210
Garth confirmed rumors of a feud with her Beverly Hills 90210 costar in an interview with E! News last year. "There were times when we loved each other and there were times when we wanted to claw each other's eyes out," she said of their years shooting the series. She blamed their squabbles on the fact that they're both "strong, independent women," but said that now, they get along just fine.
Article continues below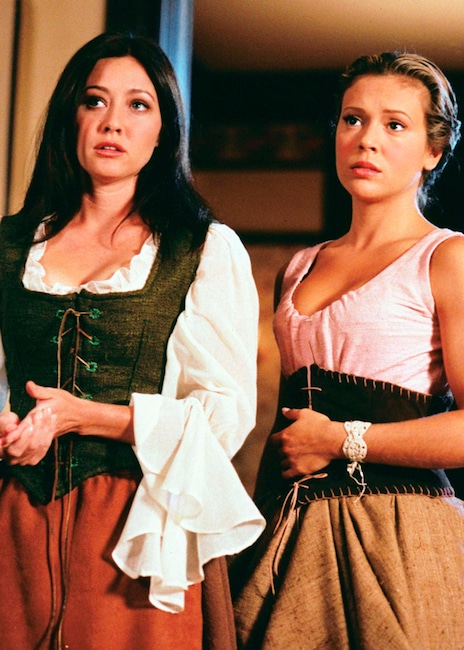 The WB/Richard Cartwright
Shannen Doherty & Alyssa Milano, Charmed
Not even the power of three could save the original Charmed sisters. Doherty was only on the WB show for three seasons before she left, and her friction with Alyssa Milano is often blamed. At the time, Doherty didn't deny her problems with Milano, though she did tweet that there's "no drama" after Milano appeared on Watch What Happens Live and compared the Charmed set to being in high school.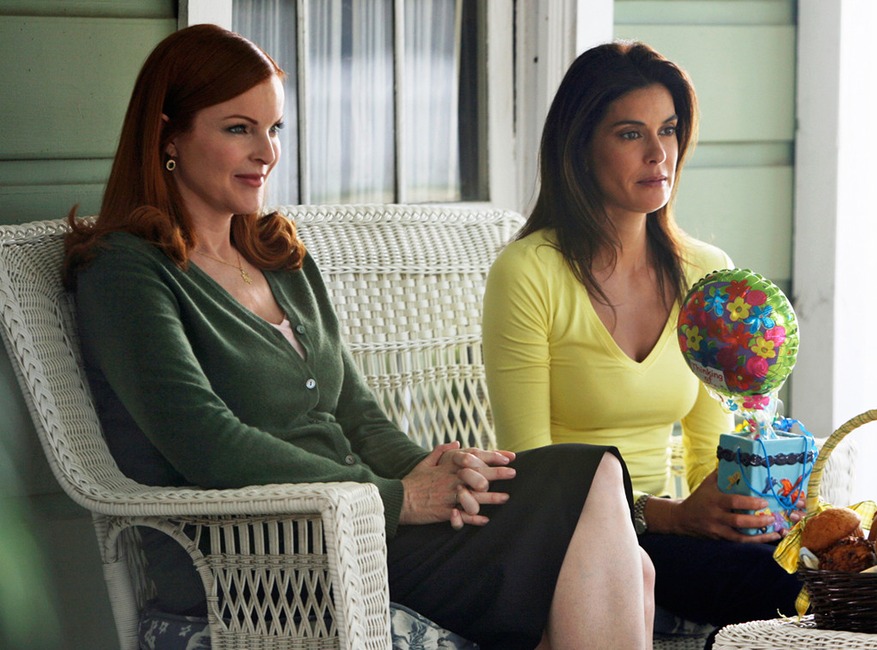 ABC/DANNY FELD
Marcia Cross & Teri Hatcher, Desperate Housewives
Rumors swirled about fights among the entire Desperate Housewives cast, but the best-known catfight occurred during a Vanity Fair photo shoot when Marcia Cross "lost it" over Teri Hatcher being moved into the center of the group shot. There was apparently some tension over the fact that Hatcher was getting more awards and magazine covers than anyone else, and Cross just couldn't take it anymore. If you need any more evidence that something was amiss on the set of that show, Hatcher's signature was noticeably missing from the gifts given from cast to crew at the end of the series.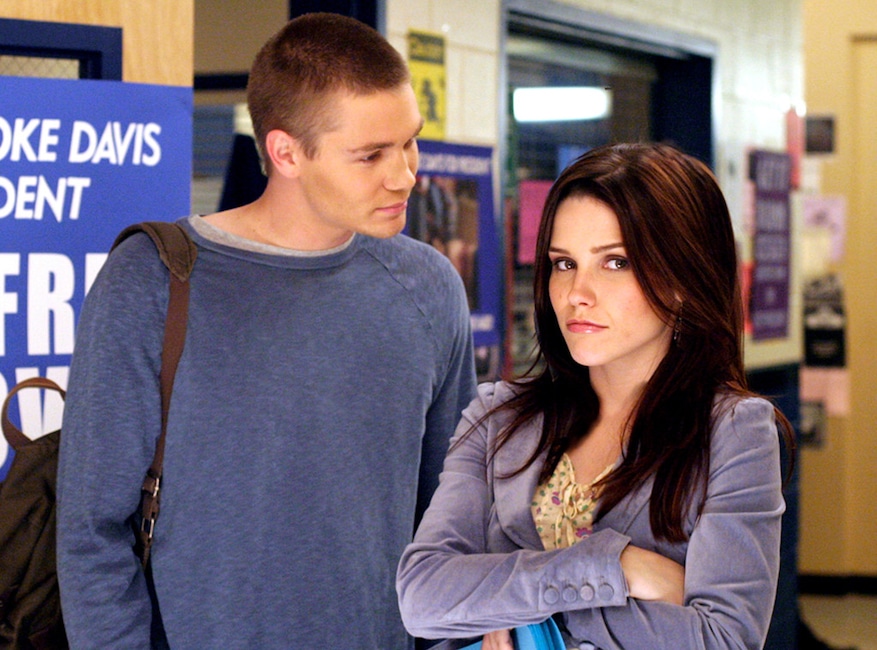 The WB/Fred Norris
Chad Michael Murray & Sophia Bush, One Tree Hill
"My mother once said to me that if you don't have anything nice to say, not to say anything at all." That's what Sophia Bush said on an episode of Watch What Happens Live when asked about her ex-husband and ex-costar, Chad Michael Murray. Somehow, despite having divorced after just five unhappy months of marriage, these two managed to work together for four more years.
Article continues below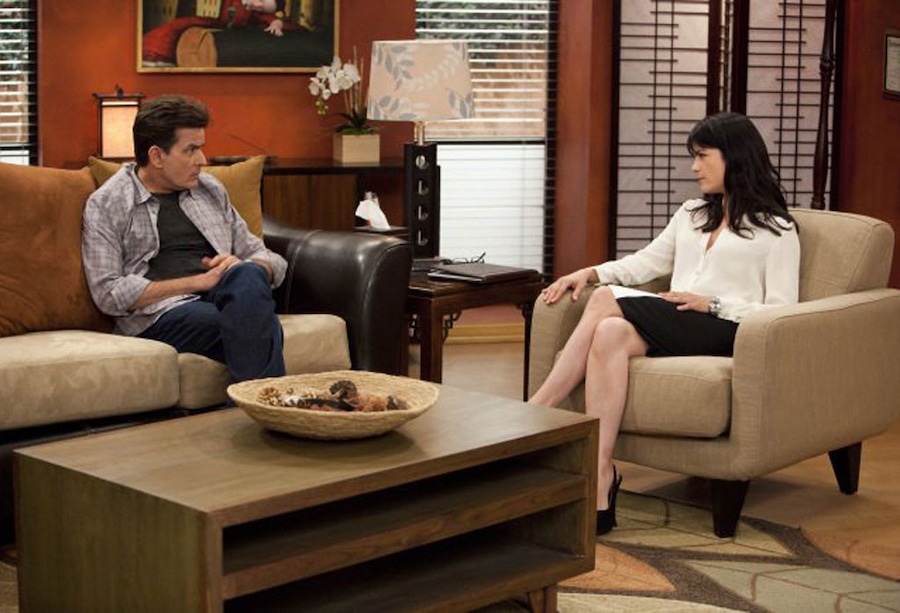 FX
Charlie Sheen & Selma Blair, Anger Management
Reports stated that Charlie Sheen fired Selma Blair with a rude text in which he called her a "c–t." He claimed that she was just written off the show to make his character more interesting, but she threatened a lawsuit, alleging that she was fired for complaining about him.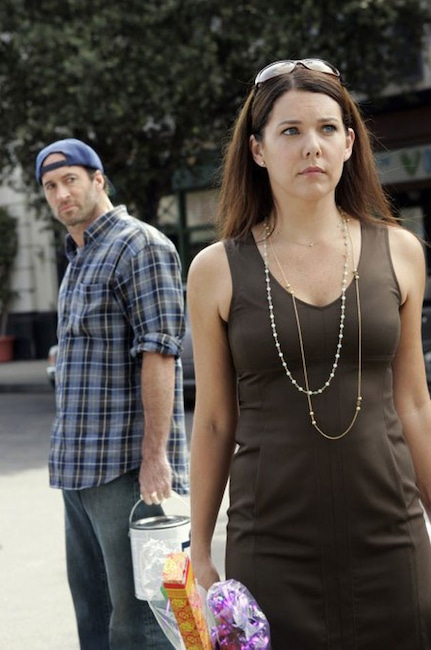 CW
Lauren Graham & Scott Patterson, Gilmore Girls
We hate to even speak of this, but Luke and Lorelai were not so Luke and Lorelai off-camera. They didn't exactly hate each other, and despite rumors that flew after Lauren Graham admitted she wanted Lorelai to end up with Christopher way back in 2005, they didn't not get along. They just weren't the BFFs we all dreamed them to be, at least according to Graham. "It's fine," she told TV Guide of her relationship with Patterson. "I think these characters have great chemistry and that does mirror our chemistry as people. We're not intimates." In fact, when asked if she and Patterson are "best friends," Graham gave a big fat "No." Dreams. Crushed.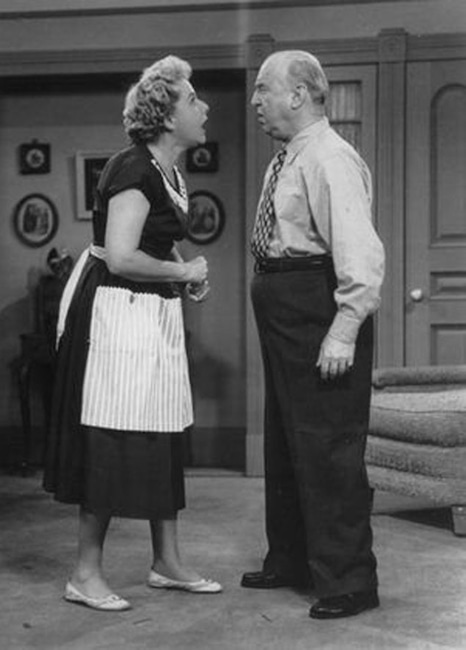 Desilu Productions
Vivian Vance & William Frawley, I Love Lucy
Yep, Fred and Ethel sort of hated each other, and it all started on the first day they met. Vivian Vance was not thrilled that the guy playing her husband was old enough to be her father, and when William Frawley overheard her saying so, a never-ending, name-calling war was started. Ai yi yi yi yi!
Article continues below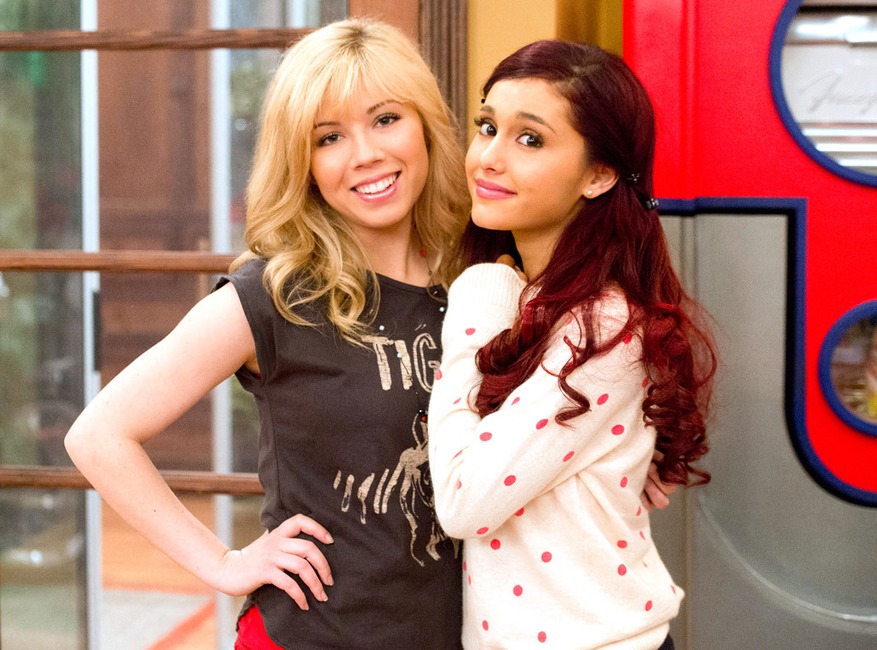 Lisa Rose/Nickelodeon
Ariana Grande & Jennette McCurdy, Sam & Cat
Jennette McCurdy told E! News that there was no bad blood between her and popstar/Sam & Cat co-star Ariana Grande as recently as March, saying they "butted heads at times, but in a very sisterly way." However, shortly after Sam & Cat was canceled, an episode of Jennette's webseries featured a not-so-flattering character named Gloriana with a high singing voice and a habit of not shutting up about sparkles. Watch and take from that what you will.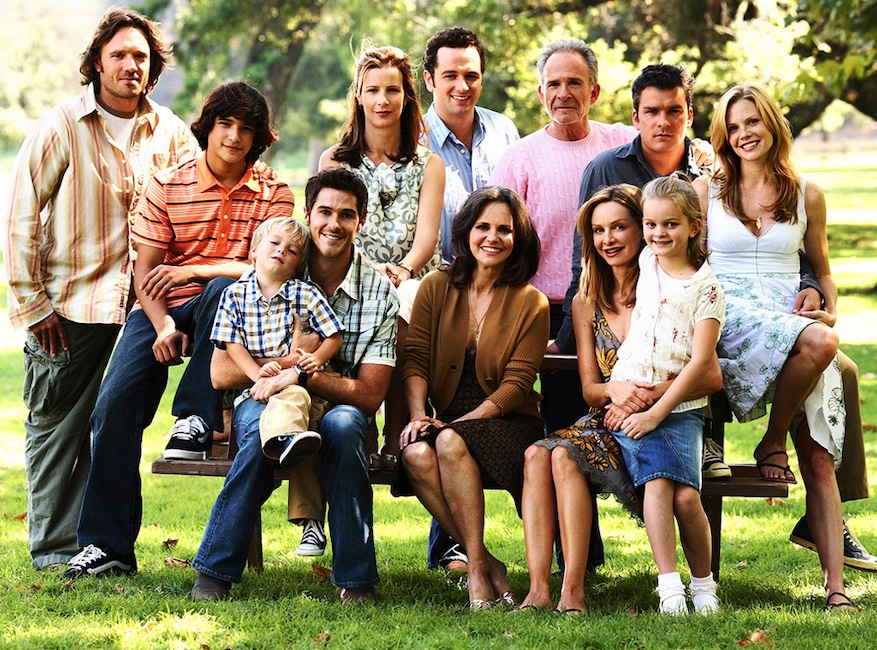 ABC/SCOTT GARFIELD
Balthazar Getty & the cast of Brothers and Sisters
E! Online reported in 2008 that Getty was so difficult on set that he was reducing co-workers to tears. He was late to set, arrived in foul moods, and couldn't remember his lines. It didn't help that the cast had gotten close to the wife he left for a high-profile affair with Sienna Miller, whose ex, Matthew Rhys, was one of Getty's co-stars. He was written off the show later that year, though it was apparently due to budgetary and story line considerations.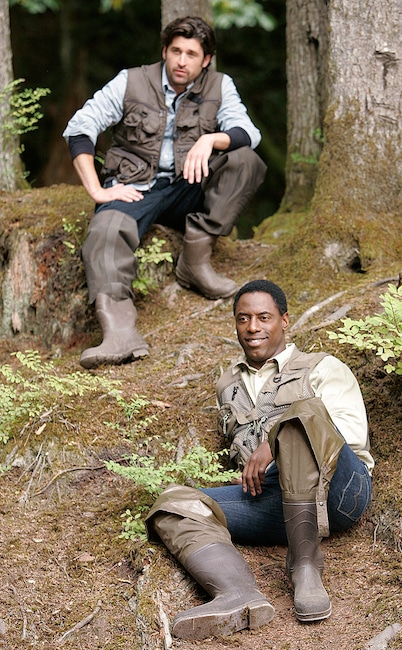 ABC/CRAIG SJODIN
Isaiah Washington & Patrick Dempsey, Grey's Anatomy
Everyone remembers that Isaiah Washington was fired from Grey's Anatomy for rude comments made about T.R. Knight, but it's not as well-known that Washington made those comments while engaging in an actual physical fight with Patrick Dempsey. The two later made up and were able to joke about the "incident," but things were certainly tense on set at the time.
Article continues below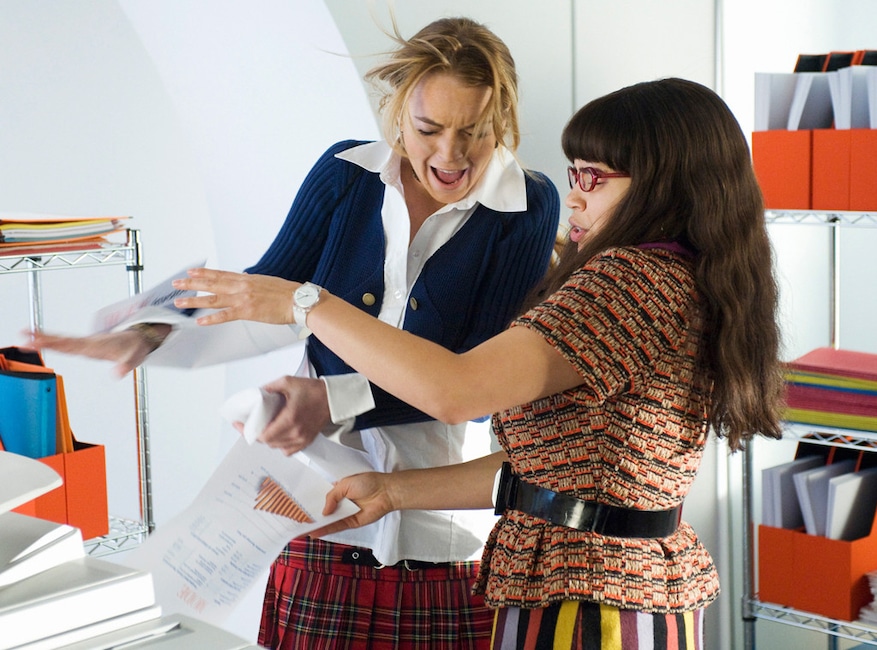 ABC/DAVID GIESBRECHT
America Ferrera & Lindsay Lohan, Ugly Betty
Lindsay Lohan was set to appear on Ugly Betty for six episodes until her appearance was suddenly cut to four. Various rumors blame both Lindsay and America for the change, and cite an incident in which Betty was supposed to (or not supposed to) pants Lindsay's character, and Lindsay wasn't wearing underwear. Vanessa Williams also noted that "America is the consummate professional…If you don't come with the same drive and panache…I think that's where the unbalance was."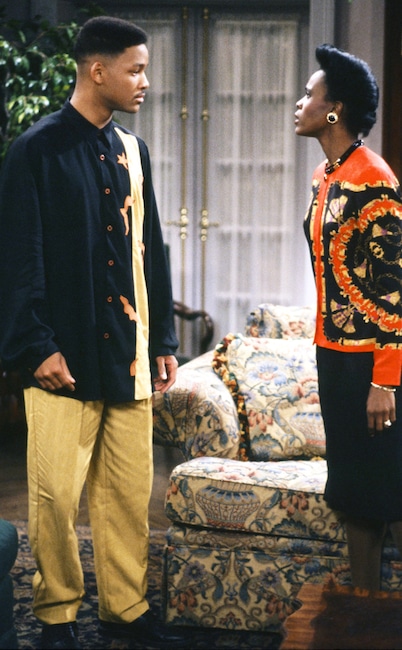 Chris Haston/NBCU Photo Bank
Will Smith & Janet Hubert, The Fresh Prince of Bel-Air
Remember when the original Aunt Viv mysteriously disappeared from The Fresh Prince of Bel-Air with no explanation? Apparently actress Janet Hubert wasn't very fond of Will Smith, and he wasn't so thrilled with her either. It was his decision to replace her, and she later said there would never be a reunion, telling TMZ, "I will never do anything with an a—hole like Will Smith."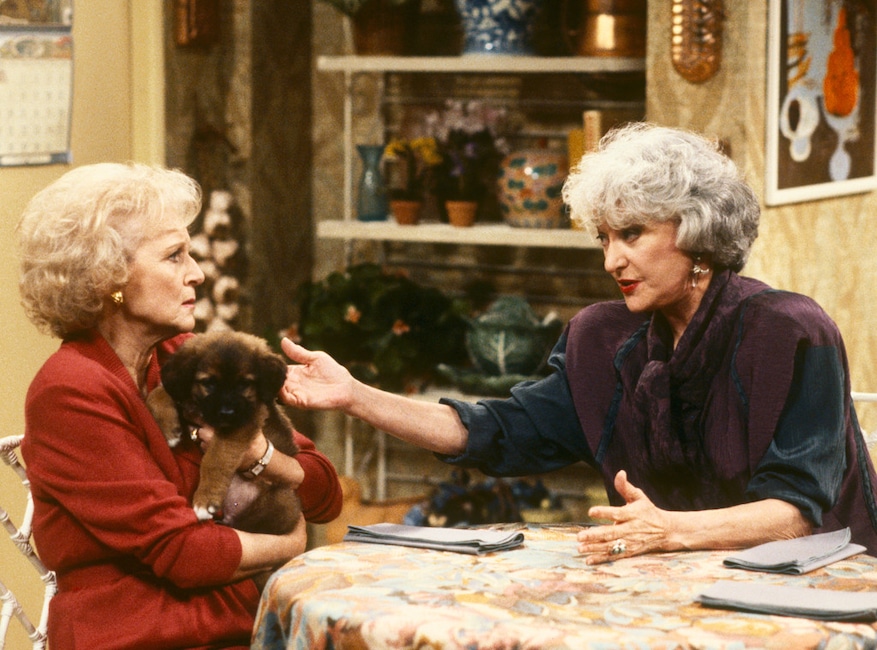 ABC Photo Archives/ABC via Getty Images
Bea Arthur & Betty White, Golden Girls
For some truly unfathomable reason, Bea Arthur just hated Betty White, no matter what Betty did to befriend her. It makes no sense, and yet this is one feud that has unfortunately never been debunked.
Rue McClanhan revealed in an interview that she didn't get along with Arthur either. "Bea and I didn't have a lot of relationship going on," McClanahan said. "Bea is a very, very eccentric woman. She wouldn't go to lunch [with me] unless Betty [White] would go with her."
Article continues below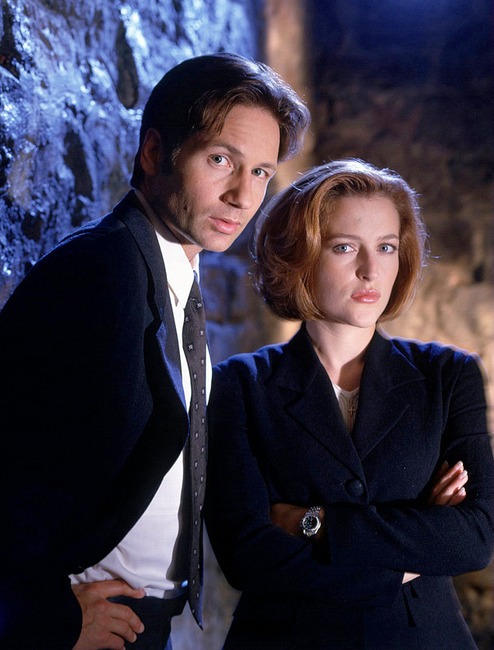 Mark Seliger/FOX
Gillian Anderson & David Duchovny, The X-Files
Nine seasons is a lot of time to spend together, so you can imagine that Mulder and Scully might have gotten a little tired of each other on occasion. However, it seems any hint of a problem went away before they even filmed X-Files 2. At the time, Duchovny explained, "We've forgotten why we hate one another and can only remember why we love one another."
And we have the kissing photos to prove it.
Don't miss E! News every weeknight at 7, only on E!
Source: Read Full Article