The Marvelous Mrs. Maisel's Emmy-winning star, Rachel Brosnahan, plays the 1950s-housewife-turned-comic Midge Maisel on the Amazon TV series. While Midge starts out new and rather unpolished in her stand-up career, Brosnahan believes the main character has a "secret weapon" up her sleeve.
'The Marvelous Mrs. Maisel' cast member Rachel Brosnahan on Midge's 'secret weapon' in stand-up comedy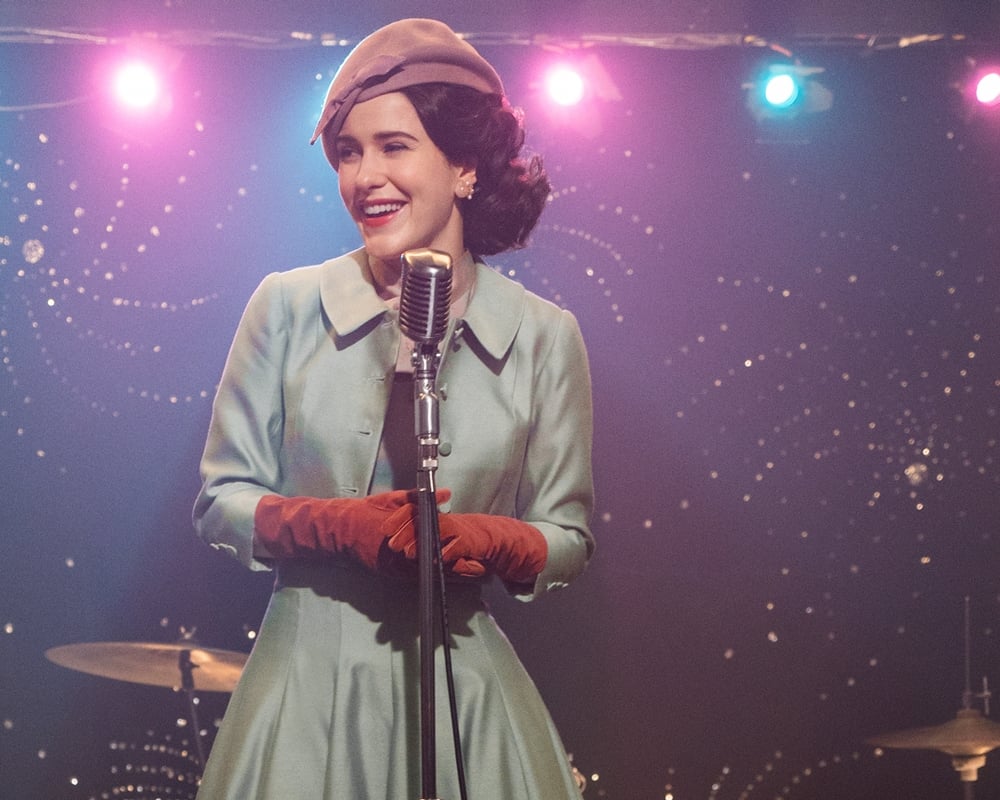 In 2018, Brosnahan told Variety about what makes her character, the vibrant Midge Maisel, so unique amongst other women of her time — but also, other stand-up comedians.
"She asks questions that other women of the time might not ask, so that's a challenge," the actor shared. "… most people have never met a girl like her." Whether she's dealing with potential suitors or professional connections, Midge is an unstoppable force. Brosnahan explained:
Midge throws everybody off-kilter. That's what she does. You kind of get swept up in this storm of Midge Maisel. She's so charming and she's so charismatic and intelligent and talented that the whirlwind wins.
When all of that talent, intelligence, and charm gets on a stand-up stage, the results are magical — even though Midge is usually just talking about her day, or her week. It doesn't need to be more high-brow for her, as the actor told Variety.
"The whole point is you go up and you talk about your life," Brosnahan explained of her character's stand-up. The Marvelous Mrs. Maisel star continued on Midge's creative approach:
And her comedy will always be drawn from her life and what she's experiencing in that given moment, or what she experienced earlier that day, or what she experienced earlier that year.
Midge stands in stark contrast to what many other comics of the era would do — as The Marvelous Mrs. Maisel Season 1 pointed to, many comedians would simply copy others' jokes. But her personal touch is what makes the main character stand out in her profession.
"That's her secret weapon," Brosnahan revealed. "That's what she's good at, and I don't think that's going to change."
How Rachel Brosnahan has changed from season 1 to season 3 of the Amazon series
Series co-creator Amy Sherman-Palladino told Variety that despite Midge's skyrocketing career, they attempt to show her "journey of success … as real as possible." But it's a much different story than one being told about modern success in comedy.
"… stand-up was a different animal back then — there wasn't [much] TV so stand-ups worked clubs and it was a longer road to make your bones back then, and make your name," Sherman-Palladino explained.
In a more recent interview with Gold Derby, the Marvelous Mrs. Maisel lead reflected on her time playing the wildly bold, brave stand-up comedian. While playing Midge for 3 seasons has caused Brosnahan to "maybe talk a little faster," she has even noticed changes in her personality, too.
"… I really admire her confidence," the actor explained. "I admire how willing she is to leap into a brand new situation." The Maisel star has taken on some of Midge's bolder qualities — such as sharing intimate details of her personal life onstage.
"She doesn't know how to do anything at less than 150 and I've definitely tried to borrow a little piece of that into my own life, for sure," Brosnahan shared.
Source: Read Full Article