After delays for reruns and holiday specials like Rudolph the Red-Nosed Reindeer, the CBS sitcom The Neighborhood Season 4, Episode 8 finally returns. However, with so much time between episodes, it can be easy to forget. Here's everything to know about the new episode airing before Bob Hearts Abishola.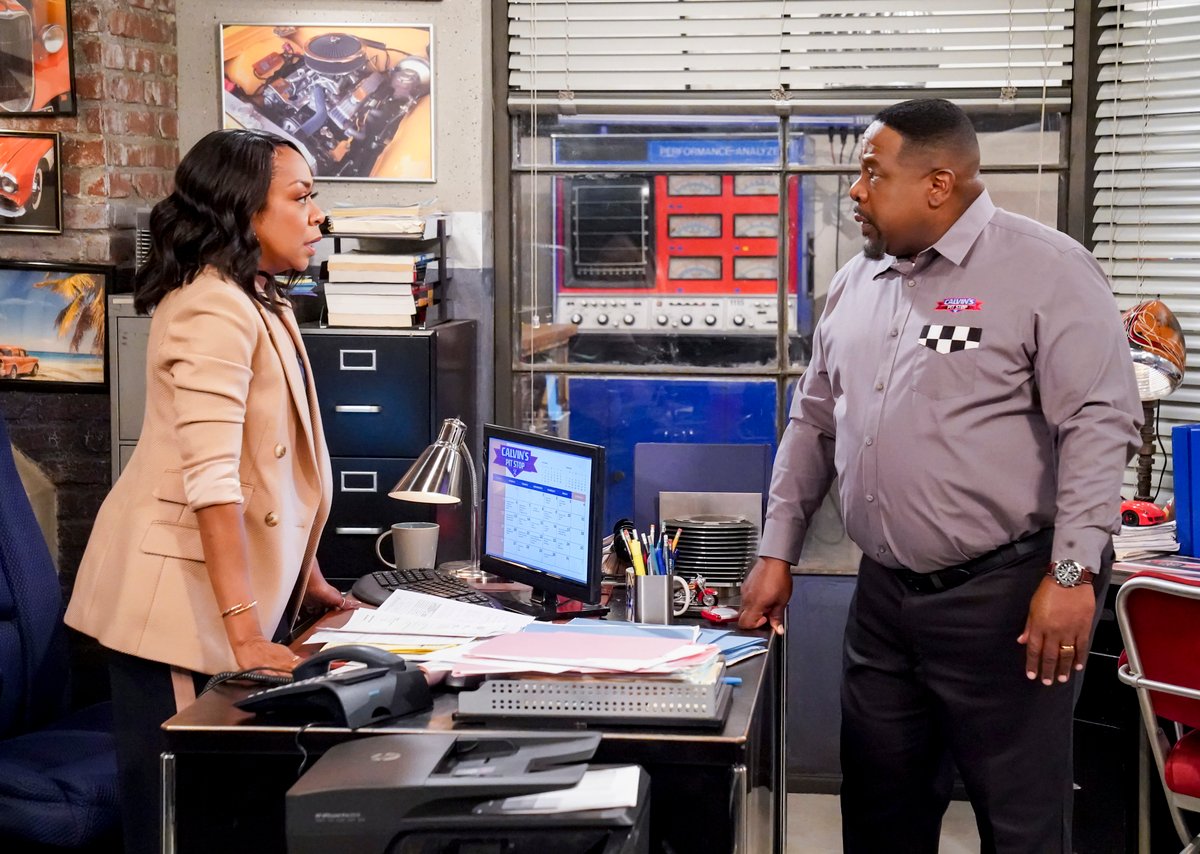 What happened in 'The Neighborhood' Season 4 before episode 8?
The Neighborhood Season 4 has already tackled several complex issues.
Romantic relationships have gotten a lot of focus in season 4. Calvin butted heads with Pittsburg legend Jerome Bettis, who guest-starred as Tina Butler's ex.
Marcel Spears' Marty dealt with his parents trying to set him up with a date. However, Sheaun McKinney's Malcolm and his relationship takes the focus in The Neighborhood Season 4, Episode 8.
Meanwhile, Beth Behrs' Gemma dealt with a miscarriage early in season 4. The Butlers tried to comfort her, with Cedric the Entertainer giving a comforting speech on their front porch.
What will 'The Neighborhood' Season 4, Episode 8 be about?
CBS revealed the title of The Neighborhood Season 4, Episode 8 as "Welcome to the Family Business."
"When Tina struggles to keep up with her job at Calvin's auto shop, due to her burgeoning baking business, he faces a tough decision: should he fire his own wife? Also, Malcolm delays breaking up with a girlfriend when her son becomes an unexpected asset to his youth baseball team," Futon Critic lists.
Calvin and Tina (Tichina Arnold) have run into issues over the business before. In The Neighborhood Season 2, Episode 17, Calvin tried to film a commercial for the auto shop. However, Tina and Dave (Max Greenfield) continuously messed it up.
Malcolm has run into difficulty with women in the past as well. He dated Sofia (Edy Ganem) until she took a job in France.
As he tried dating more, it seems The Neighborhood Season 4, Episode 8 looks to bring him even more relationship issues.
When does episode 9 air on CBS?
Once Cedric the Entertainer's The Neighborhood Season 4, Episode 8 wraps up, some fans wonder when episode 9 could return. Season 4 has already seen several delays between episodes.
Luckily, fans do not have to wait long for another new episode. The Neighborhood Season 4, Episode 9, "Welcome to the Splurge," returns on Dec. 6, 2021.
"Calvin decides to splurge on an expensive jacket, then worries it's too special to risk wearing outside the house. Also, Dave and Gemma worry their new friends' daughter is a bad influence on Grover," the Futon Critic notes.
Fans have plenty to look forward to before Christmas as Cedric the Entertainer's Calvin indulges in some self-gift-giving on Monday nights before new episodes of Bob Hearts Abishola Season 3.
Source: Read Full Article