On screen, Jim and Roy butted heads over, the lovely, Pam Beesly. At one point, Roy even made his feelings known by sucker-punching Jim. But in real life, did the actors, John Krasinski and David Denman, continue their grudge?
They're both handsome men in the competitive world of Hollywood, and actors have been known to create rivalries. Let's look at the evidence and see if we can solve this mystery once and for all.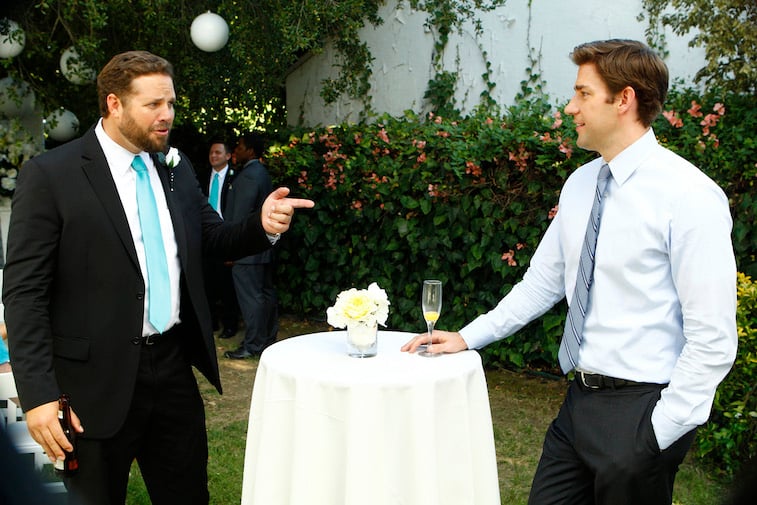 Which actor was better friends with Jenna Fischer?
In an interview with the Hollywood Reporter, Denman claims that in real life, he was better friends with Jenna Fischer, the actress that played Pam, than Krasinski was. At least, in the early days.
"Jenna and I, we got along really well," Denman said. "I think we may have even got along better than her and John did at the beginning of the show. We would hang out together, we would work out together sometimes. Our lives intersected quite a bit."
Could this comment be a bit of the character Roy coming out to one-up Jim?
At first, we're tempted to think Denman and Fischer's relationship was a natural product of doing more scenes together than Fischer and Krasinski did. After all, the two were engaged for the first two seasons.
However, reviewing old episodes of The Office confirms that isn't true. Even though Roy and Pam were engaged, we don't see them together all that often, because Roy is always down in the warehouse. Jim, on the other hand, sat right across from Pam that entire time.
The actors Fischer and Krasinski actually had many more scenes together than the engaged couple. Maybe Denman and Fischer just got along really well, as Denman says.
Did John Krasinski try to keep Denman off set to get closer to Pam?
Once Denman was written off as a regular the show, after the first few seasons, it would make sense that Krasinski might want to encourage Denman to stay away. That way, Krasinski's character would have a better chance with Pam.
However, it looks like that wasn't the case. Denman told the Hollywood Reporter, "I found out a lot of the times I came back, Krasinski was fighting to have Roy come around. He wanted to mix things up, create more tension and more conflict and stuff."
Denman's comments make perfect sense, considering that overcoming conflict makes a couple stronger. It's also great for ratings. Even the most diehard fans would get bored watching a couple act out the perfect relationship, with no conflict or hardships.
A storyline needs the characters to struggle. There has to be some risk that the relationship might not end happily, or nobody would watch the show. Krasinski knew this, and so in that way, he recognized that he needed Denman.
David Denman has a habit of injuring John Krasinski
Does Denman feel such tension with Krasinski that he actually, physically hurts him? In season one of The Office, the episode titled Basketball has the actors playing a game in the warehouse.
Jim and Roy's conflict over Pam translates to the court, with the pair competing over the ball. Denman ended up elbowing Krasinski in the face. Even though he drew real blood, Denman says it was a complete accident.
In 2016, Krasinski and Denman would once again work on a project together, in the form of a movie, titled 13 Hours: The Secret Soldiers of Benghazi, in which Krasinski plays Jack Silva, and Denman plays Dave "Boom" Benton.
The project would carry on the tradition of Denman accidentally hurting Krasinski. Denman said, "We were doing training and we were firing all these guns. He was sitting next to me and the shell comes flying out and they are hot. Sure enough, my shell landed on his neck and burned his neck." Denman laughed while recounting the story. "Every time I'm around this guy, I'm hurting him! It's not personal."
Denman says it's not personal and every time he's hurt Krasinski has been an accident, but could there be some underlying emotions that are subconsciously making him do this? It's unlikely that Denman is really upset that Krasinski's character won Pam in the end.
As far as we know, Denman doesn't have real feelings for Fischer, and he's been married to actress Mercedes Mason since 2014. But maybe Denman is jealous of the fame Krasinski received for his role in The Office? After all, far more people recognize Krasinski than Denman.
However, Denman doesn't seem to be looking for fame. He told the Hollywood Reporter, "I always liked being under the radar and sort of having a blue-collar acting career."
Do Jim and Roy get along in real life?
Although we don't have any evidence that Krasinski and Denman are actually friends, the pair seem to get along well when they work on a project together.
There's no evidence that their on-screen rivalry over Pam translates to any issues in real life. Both men are great actors that seem happy with their careers. I suppose if we want to see the two fight it out, then we'll have to settle for re-watching The Office.
But then, any excuse to watch The Office seems like a good idea.
Source: Read Full Article