We all know royal weddings are an affair like no other. Britain's most famous family is always sure to put on a grand display when a prince or princess ties the knot since the world will be watching.
What the bride wears is so important and the accessories chosen are just as important as the gowns. With that in mind, Princess Anne decided to pay tribute to her mother, Queen Elizabeth II, the day she got wed her first husband. Here's the super sweet way the Princess Royal honored the queen.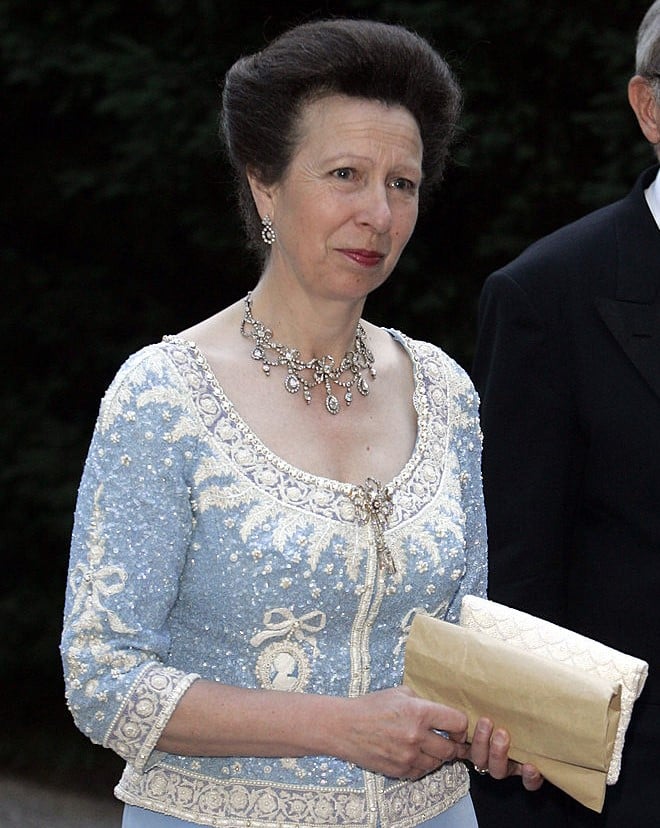 Anne paid tribute to her mother by wearing this
The royal brides have shown off some truly stunning headpieces on their wedding days. Like when Meghan Markle married Prince Harry and donned Queen Mary's bandeau tiara, which belonged to Her Majesty's grandmother. Or the gorgeous Cartier Halo Tiara Kate Middleton chose when she said "I do" to Prince William. That tiara is also called the Cartier Scroll Tiara, which was a gift to the Queen Mother from King George VI. Princess Eugenie also wore a beautiful piece that once belonged to the Queen Mother when she and Jack Brooksbank walked down the aisle.
So of course, the queen's only daughter had multiple options to choose from when it came to what she wanted to wear on her big day and she picked a very special piece.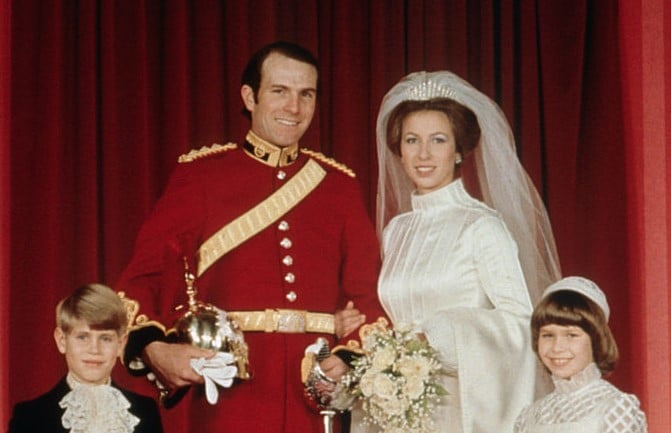 The Princess Royal married Mark Phillips on Nov. 14, 1973, and wore
Queen Mary's Russian Fringe tiara, which is the same tiara her mom wore on her wedding day.
The tiara Queen Elizabeth II wore first when she married Prince Philip was made for her grandmother, Queen Mary, in 1919. It is by Garrard and encrusted with 47 diamond bars and diamond spikes. On Elizabeth's wedding day in 1947, the tiara actually snapped while she was on her way to Westminster Abbey. A court jeweler was quickly notified and made the repair.
Unlike her parents' marriage that has lasted for several decades, Princess Anne and Phillips ended up divorcing in 1992. That same year she married Sir Timothy Laurence.
Anne's daughter paid tribute to her when she got married
Princess Anne's daughter, Zara, paid tribute to her on her wedding day.
She too had so many different diadems to pick from when she married
Mike Tindall on July 30, 2011. For the occasion though Zara decided to honor her mother by wearing a Greek key-patterned tiara that is said to be Anne's favorite.
The piece used to belong to Prince Philip's mother, Princess Andrew of Greece, and is often referred to as Princess Andrew's Meander Tiara. Queen Elizabeth II's mother-in-law gave her the tiara when she got married but Her Majesty never wore it in public. She ended up giving it to Princess Anne who has worn it frequently over the years.
Read more: When Is Kate Middleton Forbidden From Wearing a Tiara?
Source: Read Full Article