Throughout her career, Zooey Deschanel toggled different titles — aside from being a household name in the entertainment industry, the "New Girl" star has explored several different avenues, including producing and writing music. As if her resume isn't already impressive enough, Deschanel is an entrepreneur who founded the popular website, Hello Giggles. It's safe to say that Deschanel is well-accomplished in everything she sets her mind to. Deschanel continues to steal the hearts of her 6.8 million Instagram followers with her quirky personality and her signature look of dark hair with bangs.
Given her level of celebrity, the actor leads a public life — however, there's more to Deschanel than what meets the eye. Between motherhood, her professional career, and her love life, being booked and busy is an understatement for Deschanel. However, she seems to do it all flawlessly while maintaining privacy in certain aspects of her life. Deschanel's upbringing also contributes to her successful career. Let's take a look at the transformation of Zooey Deschanel from toddler to 41 years old.
Zooey Deschanel was born into entertainment industry royalty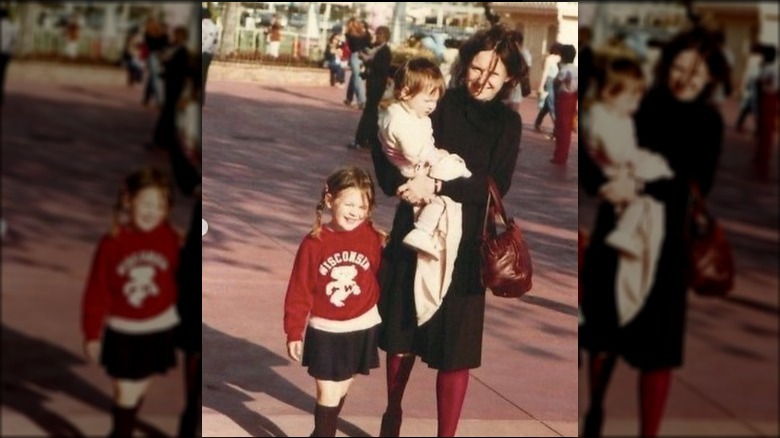 Zooey Deschanel is already an accomplished entertainment industry professional, but clearly the apple doesn't fall too far from the tree. Born Jan. 17, 1980 in Los Angeles, Calif., the actor was born into a household of established entertainment professionals. Deschanel and her sister, Emily, share an actress mom and a cinematographer father. Their mother, Mary Jo, has acted in television and films spanning from 1967 to 2017. Per IMDb, her work includes a guest appearance on "Criminal Minds," a small role in the film "My Sister's Keeper," and a recurring role in "Twin Peaks." As for their father, Caleb, his work has earned him several accolades, including six Oscar nominations and other prestigious awards including one from the Berlin Film Festival and another from the American Society of Cinematographers. Caleb has credits on several films such as "It Could Happen to You," "The Patriot," and "The Lion King," per Showbiz Cheat Sheet.
Growing up in entertainment royalty, it was inevitable for Deschanel to have desires to grace the big and small screens. Her father told The Hollywood Reporter that "from a very early age, our daughter Zooey wanted to crawl into 'The Wizard of Oz' and be in that movie," adding, "She's always been that way." Caleb also noted that the Deschanel sisters had apparent talent as early as their preteens. He continued, "They went to a high school that did a fundraiser every year, a cabaret show … And both kids, since they were 12 or 13, would get up in front of 2,000 people and not feel nervous."
Zooey Deschanel got her big break in 'Almost Famous'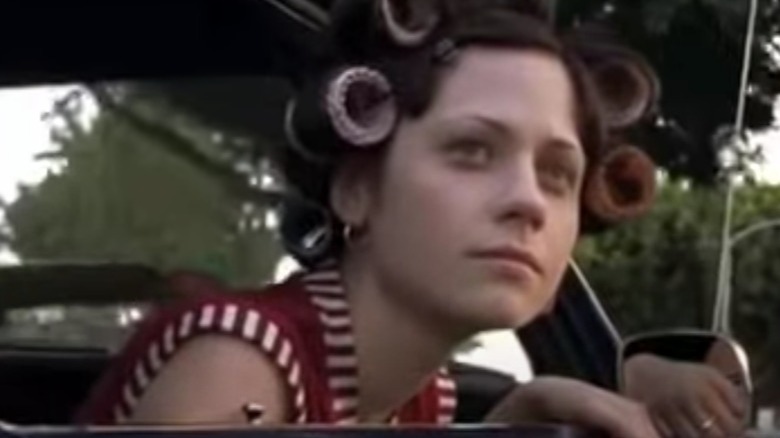 Zooey Deschanel already knew she wanted to act at a young age, and later pursued it as a young adult. According to her Hollywood Foreign Press Association biography, she began her acting career by starring in TV sitcom "Victoria's Closet" and the 1999 film "Mumford." She dropped out of college to pursue acting full-time, starting off with Cameron Crowe's 2000 critically acclaimed film, "Almost Famous." Deschanel is best noted for her role as the main character's flight attendant older sister, where she tells him, "One day, you'll be cool."
Although the film didn't initially perform well in the box office, 'Almost Famous' was the actor's breakout opportunity. Looking back on her early days, Deschanel credits her entertainment upbringing for her instant launch to fame. "I was just really lucky that I have really good parents,"she told InStyle in November 2018. "And because they were in the business, I kind of went into it with a very down-to-earth sensibility. I was lucky that way."
Deschanel's early acting roles weren't always as quirky as they are now. The "Hitchhiker's Guide to the Galaxy" star has starred in TV shows and films across a spectrum of genres. During an interview about her starring role in 2003's "All The Real Girls," she explained to Venice magazine, "Generally, most of the characters I do are somehow me, just maybe me at a different moment. Sometimes it's the me who's alone, you know? Because nobody ever sees that person who's alone. It's like the me driving in my car alone, nobody ever sees who that person is."
Zooey Deschanel's role in 'Elf' skyrocketed her career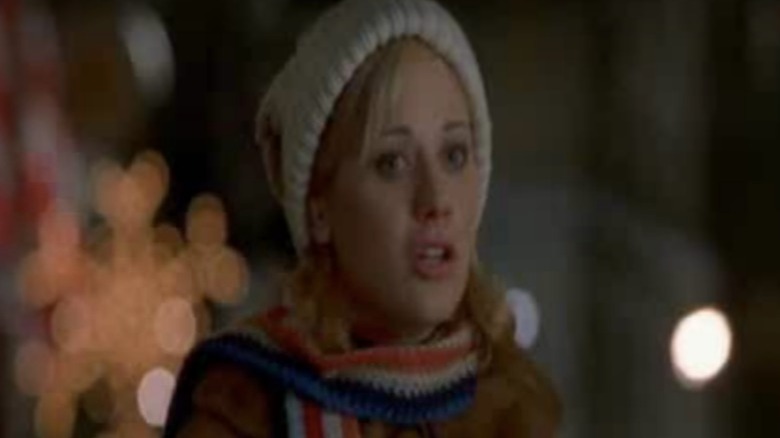 Zooey Deschanel may have already started her acting career at the time, but her role as Jovie in the 2003 holiday comedy "Elf" elevated her career to new heights. Starring alongside Will Ferrell as his love interest, Deschanel's comedic and musical skills shined through. Over a decade later, "Elf" remains the actress' most notable film of her career. Forbes also named the film as the fifth highest-grossing Christmas film of all time, earning over $220.4 million worldwide.
Deschanel described working on set of the film as "a challenge to not laugh," per her 2003 interview with About.com. Fortunately for Deschanel, Christmas has always been one of her most anticipated holidays since she was a child. "[Christmas] was the best, actually. I was just watching a video of myself from when I was six, opening presents, my God, veraciously," she added. "I love Christmas and I really got in to the spirit of it – early on in the year usually. Maybe June, July, perhaps May or April, I would begin to talk about what we would do on Christmas."
In retrospect, she told InStyle in 2018 she is still shocked by the film's popularity, "I was 21 when I made that movie, so I didn't really have a lot of perspective on anything. All I know is when I read that script, I was laughing out loud the entire time and I felt like it was something that was special." She also mentioned she didn't know how much of an impact "Elf" had until she realized, "Oh, when you have something good that's a holiday thing, it comes back every year!" Deschanel keeps us in holiday spirit every year — we love to see it!
Music is Zooey Deschanel's second calling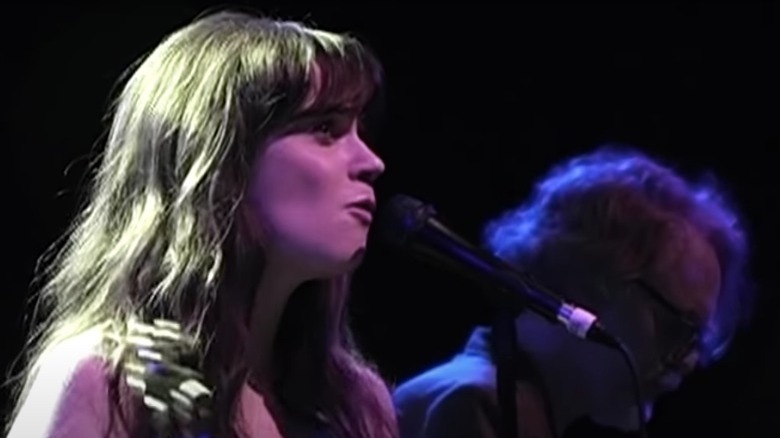 Zooey Deschanel is good at a number of things, and music is one of them. "Elf" fans may have experienced hearing her singing chops for the first time, but Deschanel's love for music started as early as her desires for acting. She told About.com in 2003, "I learned to sing when I was very small but I've been taking voice lessons since I was 11. That's 12 years, more than half my life. I can't even remember the first time I started singing." Her singing career took off when she met indie rocker M. Ward and formed the group, She and Him.
The Grammy-winning star told NPR of working with Ward, "It wasn't until I met Matt (M. Ward) that I really felt like I had found just the right person to work with on this stuff." Despite releasing several records and holiday tunes, Deschanel doesn't have any desire to gain fame from her love of music. She told Pitchfork, "I don't really have so much interest in being a 'star' in this format. I just really enjoy playing music."
Potential music career aside, Deschanel is an avid ukulele player of nearly two decades. As she told Vulture in 2011, she began playing the instrument because she liked the sound and thought it was cute. "It's the perfect size," she says. "There's something about guitars, they're just so big, you know what I mean? You're just like, 'Ugh!' It just seems so overwhelming. And the ukulele is, like, the opposite of overwhelming."
Zooey Deschanel became a star on 'New Girl'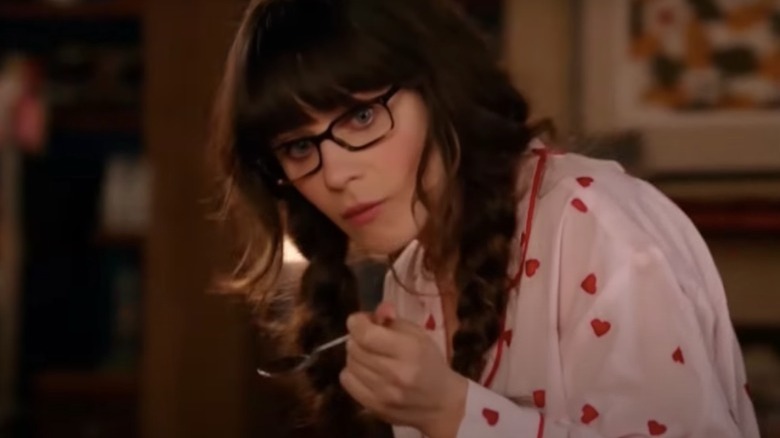 Millions of viewers can agree that Fox's "New Girl" wouldn't be the same with Zooey Deschanel's eccentric personality. The show initially hit the small screen in 2011, and follows the path of loft-dwellers living in their 20s. Deschanel best fit the role of Jess, according to "New Girl" writer Liz Meriwether. Meriwether told New York magazine, "I didn't think I could find someone as weird as I am."
Deschanel — who is already familiar with taking on a variety of genres in film — took on the challenge of the small screen and nailed it. She even put her music skills to work by writing and performing the show's theme song. Per an interview with Newsweek, Deschanel said, "When I decided to do New Girl, these people were like, 'Oh, you're doing television?' It was kind of looked down upon to do television if you were a movie actor. My thought was it's an opportunity to make funny content, and it's not really about the length." "New Girl" aired for seven seasons before it ended in 2018.
Zooey Deschanel has an interesting love life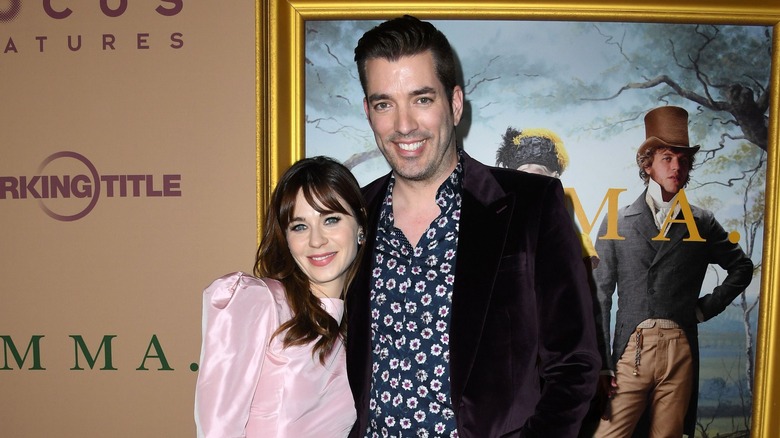 Despite having an impressive career resume, Zooey Deschanel has a rather interesting love life. Known for having a public relationship history, Deschanel has been married twice in the past. Her first marriage was to Death Cab for Cutie frontman Ben Gibbard. The two tied the knot in 2009 but by 2012, they finalized their divorce, per Nine. At the time, Deschanel cited "irreconcilable differences" as the reason for the divorce (via People).
A few years later, Deschanel met her future husband Jacob Pechenik on the set of the Bill Murray comedy, "Rock the Kasbah." The two got engaged in 2015 and married shortly after. They welcomed two children together, daughter Elsie and son Charlie. Unfortunately, the two announced their split in September 2019, finalizing the divorce by 2020. A rep for the pair gave a statement to People, stating, "After much discussion and a long period of contemplation we have decided we are better off as friends, business partners and co-parents rather than life partners."
Shortly after her split from Pechenik, the "Yes Man" star met future beau Jonathan Scott while filming for "Carpool Karaoke" in September 2019, per Us Weekly. A day before the news of Deschanel's relationship with the "Property Brothers" star went public, Scott told the outlet, "I am seeing someone. … It's definitely special for me because I am the guy who raises the bar in what I'm looking for in a partner. I was caught a little off guard. It was definitely a pleasant surprise." While there's no wedding bells in sight yet, it seems that Deschanel has no problem giving love another chance.
This is what Zooey Deschanel has been up to since 'New Girl' ended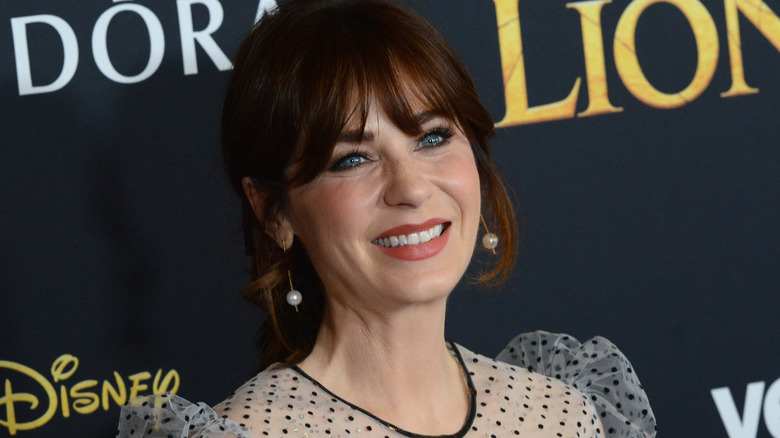 Now that "New Girl" has wrapped up after seven seasons, Zooey Deschanel is focused on other areas of her life and career outside of acting. Although she's been absent from our screens over the past couple of years, she is busy with motherhood, as well as her own business ventures. In June 2021, the actor joined Boston-based startup Merryfield as a co-founder and chief creative officer. She shared the news in an Instagram post. "I'm passionate about making sure that consumers have access to brands that are free of unnecessary chemicals and safer for the planet, and Merryfield helps me do that," she wrote.
As far as acting, she plans to return under one condition (via InStyle): "I'm just looking for something that would be exciting and fulfilling for me." She further explained that she is currently focused on being a mom to her children. She added, "I'm really focused on them, so I want to make sure that whatever I do next is really good. It has to be really good for me to leave them [and go to work]." Deschanel has a lot on her plate — between motherhood, dating, and her entrepreneurial ventures, the future is looking pretty bright for her!
Source: Read Full Article