If you like to spend your Saturday nights binging a new Netflix series, then you've probably heard of the popular home renovation show "Dream Home Makeover." Ever since it first aired in 2020, the series has catapulted married couple Syd and Shea McGee into complete stardom. Yet, surprisingly, the two don't even watch home renovation shows. "We're like, 'We know what they did there,'" the couple's creative mind, Shea, told Oprah Daily. "Before, I could turn off my design brain. Now I can't. It took away the magic." Luckily, they don't need to watch anything else. Syd and Shea's series has become one of the most popular on Netflix.
Though the McGees have made themselves household names today, it wasn't easy building their empire. "Our journey has been messy, and we've made a lot of mistakes along the way," Syd admitted on their YouTube channel, and, yet, the two seem to be at the top of their game — and they're still only getting started.
Here are some things you never knew about Syd and Shea from "Dream Home Makeover."
Way before 'Dream Home Makeover,' Shea's brother introduced her to Syd McGee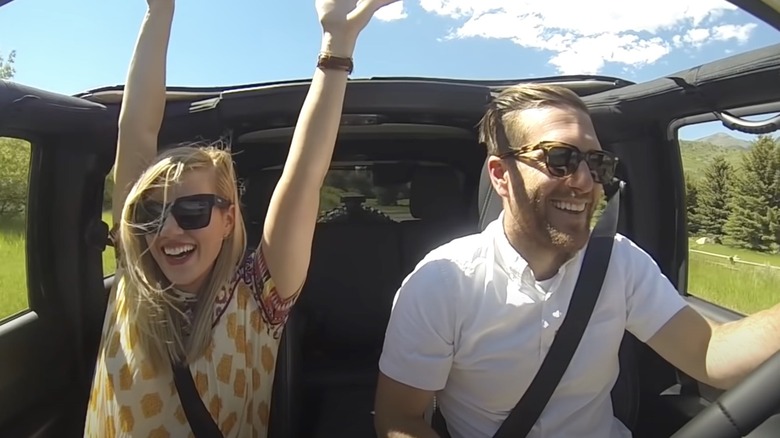 While Shea McGee was a college student at Brigham Young University in 2006, her brother needed help moving into his apartment. Yet, what was supposed to be a simple family trip to see him in Utah was a weekend that completely changed her life.
Before Shea even made that trek from Texas, her brother had warned her about his roommate. "My brother said, 'My buddy Syd will be there and you're going to like him, but don't, because he's my friend,'" Shea described in her book (via Oprah Daily). It turns out, he was right. "As I pulled into the lot, I knew I was in trouble," she admitted.
It turned out the feeling was mutual. "I could see her CD visor, kind of tell she had good taste in music, that we had some crossover," Syd laughed during an interview with People. "And I was like, 'This is pretty good.'" He didn't hesitate to ask for her phone number, either — even though her brother and mother were there.
It seemed to be love at first sight for the McGees. The very next day, the two went on their first date together. By 2008, they were married.
Neither Syd nor Shea McGee of 'Dream Home Makeover' has a degree in interior design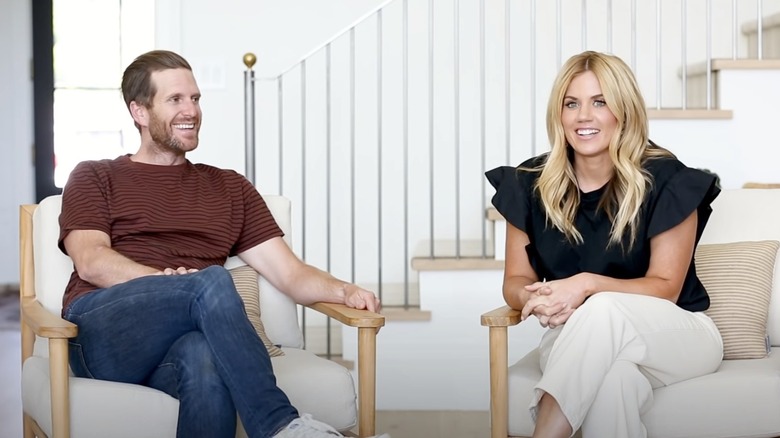 For being two of the biggest names in interior design, surprisingly, neither Syd nor Shea McGee of Netflix's "Dream Home Makeover" has a degree in the field.
Though Shea had always dreamed of becoming a designer, she had also been afraid of failing at it. "I can't draw!" she admitted to Domino. "So when I went to college, I studied communications instead." Yet, even after graduating from Brigham Young University, Shea couldn't stop thinking about interior design. When she had finally secured a full-time job in her field of public relations, "I was not passionate about my day job," she admitted to My Domaine. "And spent all of my spare time pouring over design magazines and blogs."
It was Syd that encouraged her to pursue interior design, so Shea enrolled herself in a few introductory classes at a local community college. "I realized that it was the perfect way for me to test out interior design without quitting my job," she explained.
Though Shea sometimes regrets not pursuing interior design fully at first, she's still grateful for all she learned in college. "The fact that I went to school for something else, and I learned how to promote myself and market myself, ended up proving to be a huge part of the growth of our business," she said on Guy Kawasaki's "Remarkable People" podcast.
'Dream Home Makeover' stars Shea and Syd McGee launched Studio McGee after Syd quit his job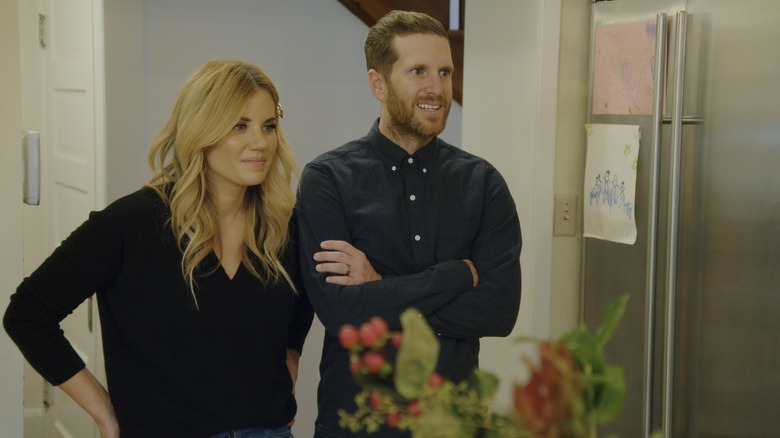 As Syd McGee watched his wife, Shea McGee, pursue her passion for interior design as a side hustle, he began to realize he wasn't passionate about his own occupation in the tech industry, either. In 2013, "I decided to quit my job," he said on The Kelly Clarkson Show. From that point on, there was a lot at stake for their small family living in California. "We had our 5-week-old baby and didn't really know what we were going to do," he admitted.
At this point, Shea's design gig wasn't anything big, as she had only been helping neighbors and friends design their own houses. Yet, the moment Syd quit his job, she immediately felt the pressure of being the only partner who was working. "I, all of a sudden, had to make this small business work to support us," she explained on Park City Television. Shea quickly made herself an Instagram account — using photos of their own home to start — and began searching for clients.
It was then that Syd decided to start helping his wife turn her dream of being a full-time designer into a reality. From that moment on, they were in it together, and, in 2014, they officially launched Studio McGee.
Syd and Shea McGee were almost broke while starting Studio McGee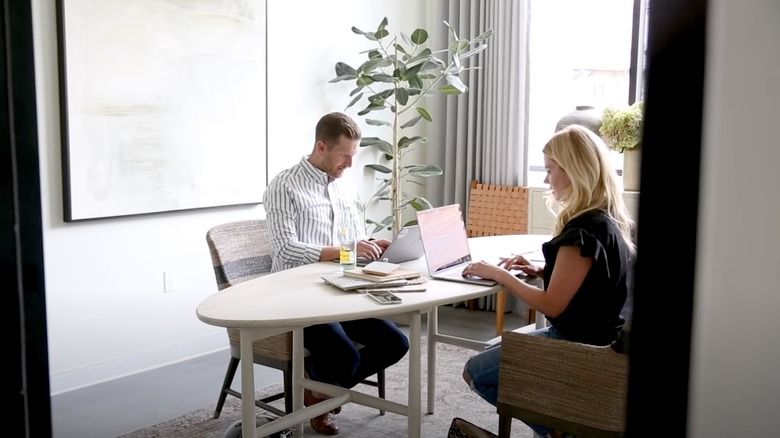 Building a business is no easy feat. Even though Syd and Shea McGee have an extremely successful one now, it wasn't always that way — especially in the beginning. In order to grow Studio McGee, "We were selling things to make ends meet," Shea revealed to People. "It just progressed to anything and everything that wasn't a necessity had to go." They cooked all their own meals, canceled their gym memberships, and cut their cable bill in order to make it work. Unfortunately, it still wasn't enough.
After a year of struggling to keep up with payments, the McGees made the tough decision to leave California. The two moved back to Utah, where they had originally met. "We knew it was less expensive and we were already kind of at a place where there wasn't a backup plan," Shea said. There, they were able to rent out a small office space, where they spent nearly all their time trying to make Studio McGee work.
In the end, it did work out. However, the few years they spent building their business were some of the hardest of their lives. "Money problems can be enough to break two people, and throw a new baby into it," Shea said. "It was a hard time. There were a lot of tears."
Syd and Shea McGee of 'Dream Home Makeover' have three daughters together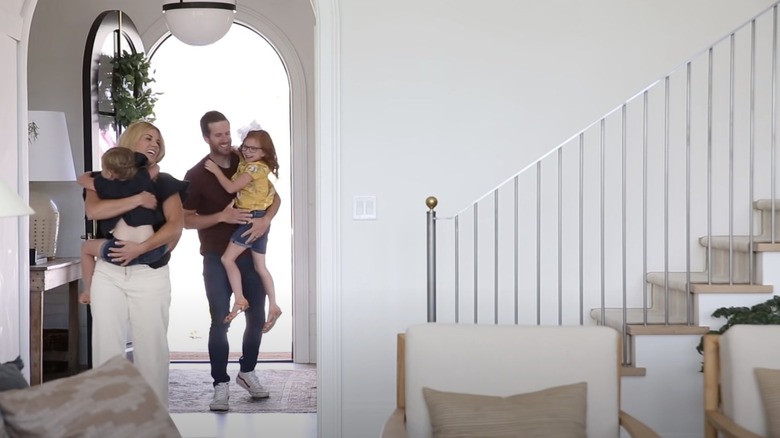 Fans of the Netflix series "Dream Home Makeover" are familiar with Wren and Ivy McGee. The two young girls have starred alongside their parents, Syd and Shea McGee, on the series from the very start. "They are integrated in what we do. They come along to job sites and they travel with us for work," Syd McGee explained to People. "They're just part of the team."
However, when Season 3 rolls around, we'll be seeing even more members of the McGee team. In July 2021, their third daughter Margot was born. Her name was something that Shea had admired for a long time. "I loved that it means pearl in French," Shea explained. "And I just felt like, oh, she's going to be the little pearl in our family." Margot's name fits in perfectly, too. All three of the McGee daughters have names that are based on elements in nature.
While the world has already gotten a few glimpses of their newest addition on Instagram, it will be fun for her to make her debut on Netflix soon — alongside her adorable older sisters, of course. "They steal the show in the best way," Shea said, and we couldn't agree more.
Shea and Syd McGee of 'Dream Home Makeover' have very different roles at Studio McGee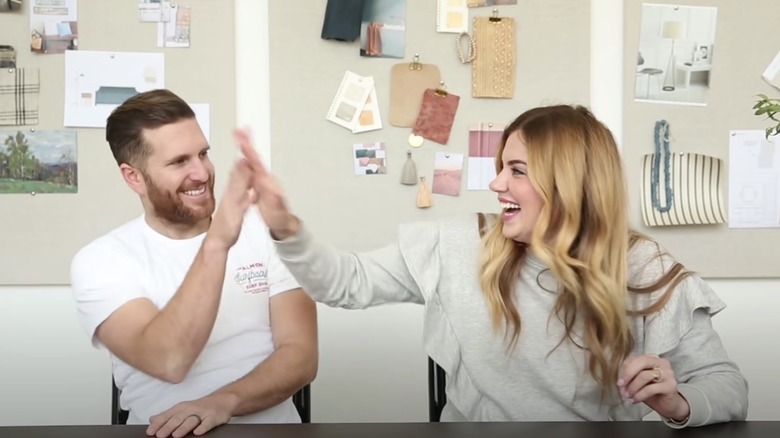 The McGees know what you're thinking. "A lot of people think Syd designs," Shea McGee explained on "Cake by Courtney." "He does not design. He is the CEO of our business." From spreadsheets to budgets, Syd McGee does anything and everything that has to do with numbers. However, it wasn't always that way.
When Studio McGee was first getting started, it took Syd and Shea a few months to figure out their roles. Being both spouses and business partners wasn't easy. "And now we've found that, like, if our roles and responsibilities don't really overlap, that's what works best," Shea told "A Well-Designed Business," so she's the one who focuses on all things creative — from picking out patterns to deciding on which backsplash looks best — not Syd.
Now, it seems as though these two have perfected practically everything in their business. However, that isn't to say that they don't still experience difficult days together. "But the good outweighs the bad," Shea told Wit & Delight. "The key for us is to have our very distinct roles and respect each other."
'Dream Home Makeover' stars Syd and Shea McGee will never pull design inspiration from this decade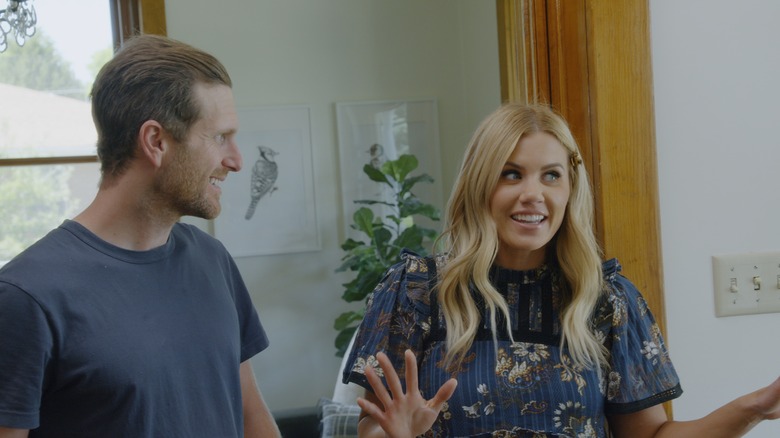 The Netflix series "Dream Home Makeover" has us all dreaming up what our ideal house would look like, and Studio McGee always makes it look like pure perfection. As an interior designer, Shea McGee has a lot of things she pulls inspiration from. However, there's one place she will never ever turn to when she needs design ideas — the 1980s. "I think the '80s were the tackiest!" she admitted to PopSugar. "The '80s were really hard on architecture and design in my opinion."
Instead, Shea likes to watch old Nancy Meyers movies for architectural inspiration, like "The Parent Trap," "The Holiday," and "What Women Want." In fact, Studio McGee's favorite way to design spaces is to mix different styles. There's a special secret to doing it, too. "When you're mixing different styles together, it's not just about putting all of the traditional elements on one side and all the modern elements on the other," Shea explained on the Studio McGee website. "You have to blend them together and evenly balance them." They always make it look effortless, of course, and add tons of value to these homes.
Syd and Shea McGee shot another TV show together before 'Dream Home Makeover'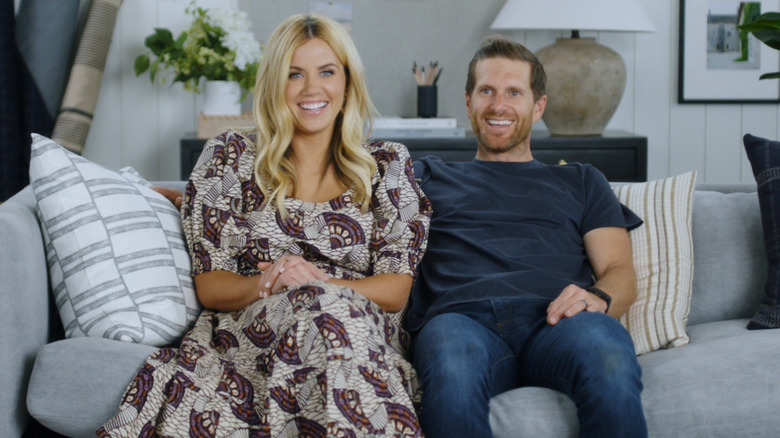 While we all know Syd and Shea McGee from "Dream Home Makeover," it isn't their first time working on television. Back during the early days of their business, Studio McGee, the pair received a call from a production company. The team was interested in making a show all about the McGees. Obviously, the two were very interested. "They came to town, filmed us, and it was kind of a disaster," Shea explained on their YouTube channel. Producers wanted Syd to pretend he was the team's contractor, which couldn't be further from the truth. "I could put up a towel rack and it will stay up, but that's kind of it," Syd later admitted to The Wrap.
As exciting as this opportunity was, Syd and Shea wanted to be themselves when it came to sharing their story. The series never aired, but the experience inspired them to start their own YouTube channel in 2016. There, they could be entirely in control of their own content, and they even "swore off TV" altogether, according to Shea. That is, until Netflix called. After all, "You don't say 'no' to a meeting with Netflix," she said. In October 2020, "Dream Home Makeover" premiered on the streaming service for the very first time. Today, it's even an Emmy-nominated series.
'Dream Home Makeover' stars Syd and Shea McGee's YouTube channel helped prepare them for TV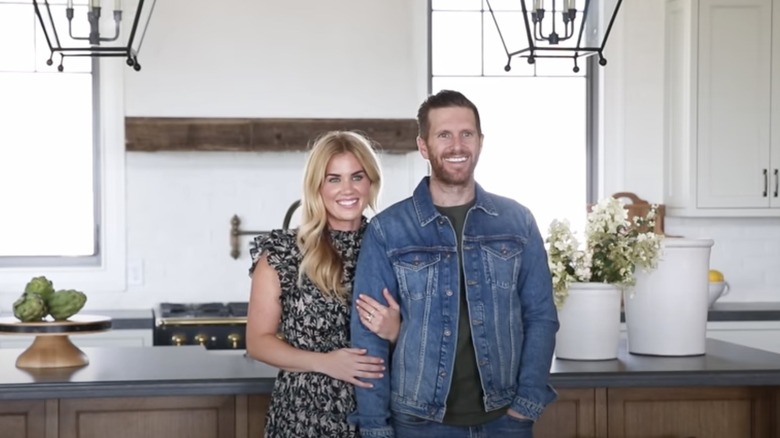 Syd and Shea McGee have come a long way since establishing their own YouTube channel back in 2016. The couple even attribute the success of their hit Netflix show "Dream Home Makeover" to their online experience. "I think that worked really well as, like, a launching off platform for us to become comfortable on camera," Syd told People. Additionally, because the couple already had an audience from their YouTube channel, they knew exactly what their followers wanted to see from them each and every week.
While the McGees never aspired to be stars, creating video content for their business seemed to set them up seamlessly for a television show. "Leading into our meeting with Netflix … that gave us a really kind of good idea of, like, 'If we were to do a show, what would it look like?'" Syd said. Shooting "Dream Home Makeover" next just seemed to make sense.
The interviews in 'Dream Home Makeover' were shot in the McGees' unfinished basement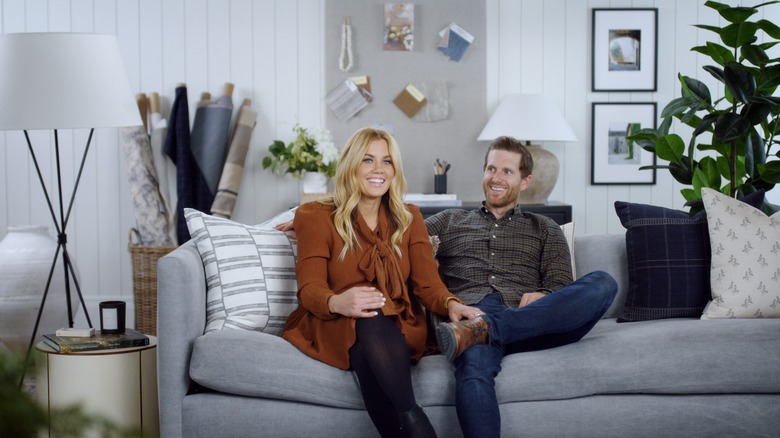 While you've been binging "Dream Home Makeover," you've probably taken notice of the amazing design studio Shea and Syd McGee sit in between takes. Sitting cozily on their couch, they talk all about behind-the-scenes stories and their opinions on design. However, you may be surprised to know that they're not actually sitting in any of their Studio McGee offices. This space was actually part of their unfinished basement.
The two revealed on their website that their home was the perfect place to shoot the show for a specific reason. Because they hadn't yet finished their basement, the production team was easily able to build the exact set they wanted there, which we now all see on the show.
Today, their basement is complete, and it's even more awesome than before. Deemed by the McGees as their "party zone," the space now includes a home gym, a game area, and even a skate ramp for Syd.
Syd and Shea McGee of 'Dream Home Makeover' have their own line at Target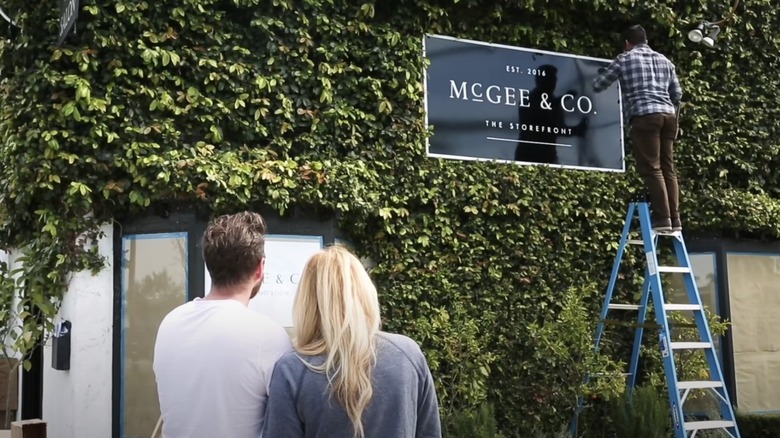 As the owners of their interior design business and hosts of "Dream Home Makeover," Syd and Shea McGee are passionate about making everyone's dream home both affordable and accessible. "I've always been inspired by the idea that design can be both beautiful and approachable," Shea explained on their YouTube channel, and everyone began taking notice.
A few years after opening their own brick-and-mortar stores called McGee & Co. and making it big on Netflix, another big name gave the McGees a call — Target. In 2020, the couple partnered with Threshold to design a line of their own products for the superstore.
Fans from all over the world quickly flocked to the superstore's website the moment the line had arrived. Within only a few short days of its introduction, the collection had completely sold out. "I stayed up until all night to be a part of the launch, and we were completely blown away by the response," Shea told My Domaine. The McGees have since signed a multi-year deal with Target to create multiple collections.
Syd and Shea McGee of 'Dream Home Makeover' get most of their business through social media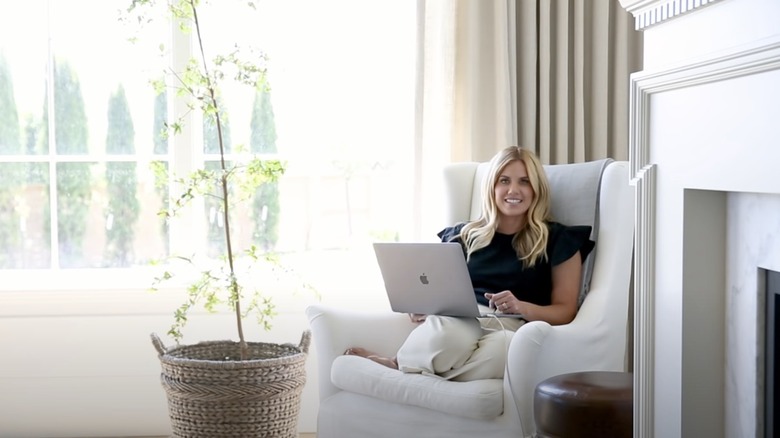 Everybody's on Instagram now, but it wasn't always that way. When Shea McGee, one-half of the "Dream Home Makeover" duo, was just beginning to market herself in 2010, "There were only a few of us interior designers posting and using that platform as a promotional tool," she explained on Guy Kawasaki's "Remarkable People." Shea took her cues from fashion designers online at first, and she slowly built her business from there.
To differentiate the business, they decided that Studio McGee would include shared photos of their own home as well as tips and tricks to help everyone create their own dream homes. In addition, Shea even admitted to People that she took some photography courses to learn how to post the perfect images on Instagram. "It has just put us out there and made it possible for a new design firm to compete with design firms that have been around for a long time," she explained on Park City Television, and it obviously worked.
Today, the McGees have more than 3 million followers on Instagram. The platform is where they get a majority of their business from, too. In fact, their business extends way beyond their home state of Utah. "We have projects in New York and in L.A.," she said. "And that wouldn't have happened had it not been for the reach that Instagram has."
Syd and Shea McGee of 'Dream Home Makeover' have a huge net worth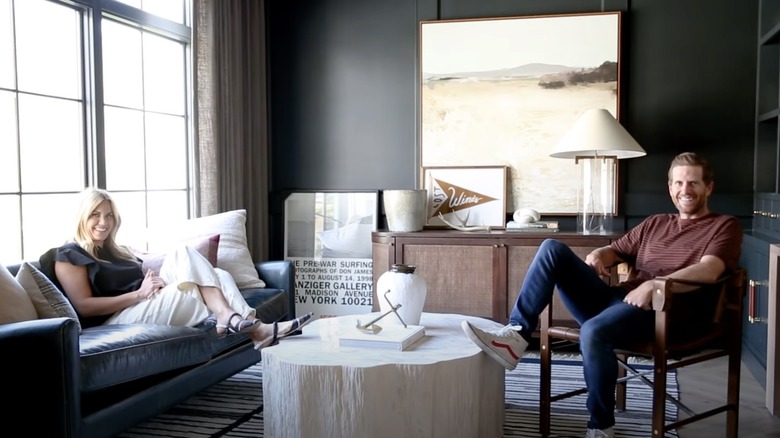 Way before "Dream Home Makeover," Syd and Shea McGee experienced tough times while first getting their business going. They were willing to take on as many projects as they could to get their names out there. "We worked 16- or 17-hour days," Syd told People. "We didn't say no to anything." And it all paid off — literally.
From their Netflix series "Dream Home Makeover" to their collection at Target and everything in between, these two have made themselves a good amount of money. According to The Tab, the McGees are worth somewhere around $5 million today. With their growing fanbase, we have no doubt that number will double — or triple or quadruple — over the next few years. It's all because these two risked everything to accomplish their goal of one day running their own business. "Never in my wildest dreams did I think we would be here now," Shea admitted to People.
'Dream Home Makeover' stars Syd and Shea McGee published a New York Times bestselling book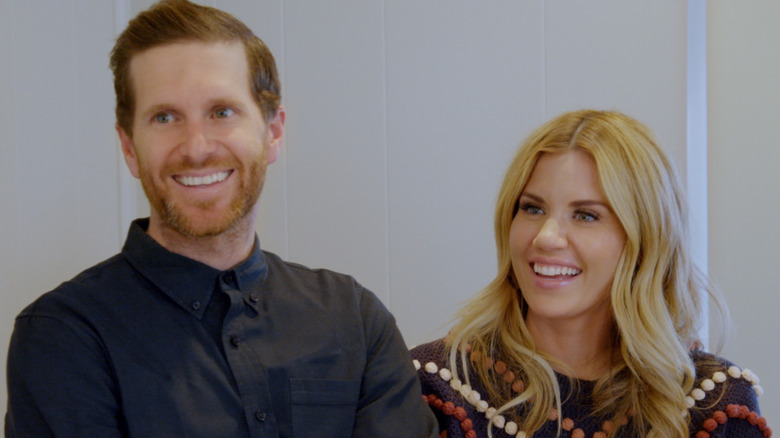 When the "Dream Home Makeover" team, Syd and Shea McGee, opened Studio McGee, they used the tagline "Make life beautiful," as they considered it to be the motto of their life story. When they decided to write a book about their journey into design, they knew their tagline would be the perfect title. "We're known for creating beautiful homes and imagery, but there is more to our story than that," Shea told The Amazon Book Review. "We wanted to share the messy middle of our journey and encourage others to pursue their passions even if the path isn't smooth." 
However, they needed to find the time to write it first. Their busy schedule didn't help them either: They were in the midst of shooting Season 1 of "Dream Home Makeover" while trying to write, but, as Shea admitted to PopSugar, they "weren't doing a great job at writing the book at that time. When COVID hit, we took a break [from filming] and that's when we were all in." In October 2020, their debut book "Make Life Beautiful" finally hit shelves around the world, even making it to The New York Times Best Seller list within weeks.
Now, the McGees are busy planning their next book. "'Make Life Beautiful' tells our story up until now," Shea told The Amazon Book Review. "But the next chapter of our story has yet to be written."
Source: Read Full Article