Event pulled in an average of 211,000 additional viewers on streaming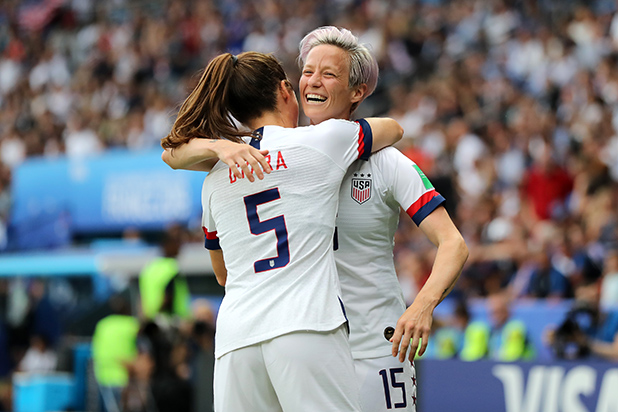 Elsa/Getty Images)
The quarterfinal match between France and the U.S. at the Women's World Cup pulled in a total of more than 6.3 million viewers for Fox on Friday.
The broadcast on Fox was watched by 6.1 million viewers, enough to make it the most-watched quarterfinal of any Women's World Cup. An additional 211,000 viewers tuned in to the match on Fox's collection of streaming services.
Viewership peaked at 8,239,000 viewers from 4:30 p.m. – 4:45 p.m. on the FOX Network, according to Nielsen fast national numbers.
American forward Megan Rapinoe lead the U.S. team to a 2-1 victory over France at the Parc des Princes stadium on Friday. The dramatic showdown between the two favorites to win the tournament came as the U.S. seeks to defend its 2015 title. The team will next face off against England on Tuesday.
The match was the most-watched soccer match on U.S. television since the men's World Cup final last summer.
For additional comparison, the 6.3 million viewers on Friday represents a 7% increase over the U.S. women's 2015 quarterfinal win over China, which aired in prime time to 5.7 million viewers. In 2011, the number for the comparable match was 3.9 million.
Source: Read Full Article